1LT George Vaughn Seibold Our Doughboy MIA [...]
Veterans Day Celebration with the launch of a new comic book  featuring World War I hero Dr. Frank Boston
By George Whitehair and Leigh Ferrier
Special to the Doughboy Foundation web site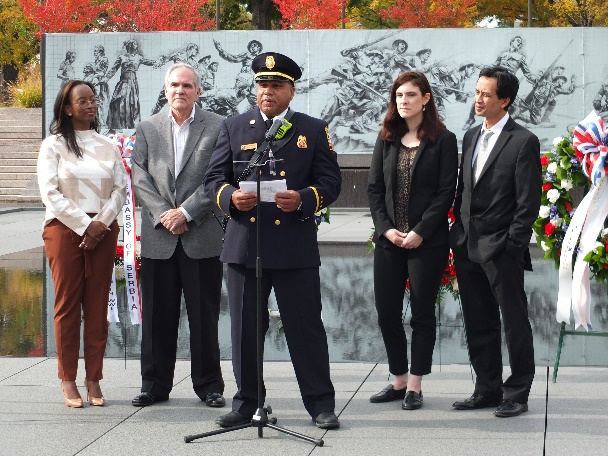 Participants in the event announcing the new comic book about World War I hero Dr. Frank Boston (left to right): Ouli Sow; George Whitehair; Washington D.C. Deputy Fire Chief Michael Knight; Heather Pham; Khoi Pham.Hidden History comes to the comics. The Boston Legacy Foundation returned to the National World War I Memorial in Washington, D.C. on November 11th, Veteran's Day, to continue to celebrate the legacy of Dr. Frank Boston, a WWI Veteran, alongside all of those who have served their country and to celebrate the release of the Doc Boston Adventures comic book. Joining this effort was Washington D.C. Deputy Fire Chief, Michael Knight, who was one of the keynote speakers.
By way of background, after serving in WWI, Dr. Boston returned to his community and applying his military experiences, he started both a Hospital and a First Aid Emergency Squad, both of which flourish to this day. For his contributions to society, Dr. Boston received two separate U.S. Presidential Citations and was recently honored by the Pennsylvania Senate and Pennsylvania House with unanimous resolutions issued in his honor. A Congressional Resolution was submitted to Congress and a Citation was issued by U.S. Senator Chuck Grassley and one from Congresswoman Madeleine Dean.
Dr. Boston has also been recognized by Pennsylvania Attorney General Josh Shapiro, Pa. VFW, U.S. Senator Bob Casey, U.S. Senator Joni Ernst, Fort Des Moines Museum, Congressman Brian Fitzpatrick, and many others.
To further recognize his contributions to society, a comic book is being published, called the "Doc Boston Adventures", which is based upon a true story when Doc Boston and his team of first responders saved lives during the 1936 floods.
This story is updated to reflect America today and introduce a unique and diverse group of young first responders, including - Chase and Penelope of European backgrounds; Ouli from Africa; Maya from South America, Sophal representing Asia; Murtuza, of Arabic origin; and of course, Doc Boston's beloved St. Bernard, "Tiny" and one of his horses, "Danny."