Veterans Day Celebration with the launch of a new comic book  featuring a WWI hero 
Published: 28 December 2021
By George Whitehair and Leigh Ferrier
Special to the Doughboy Foundation web site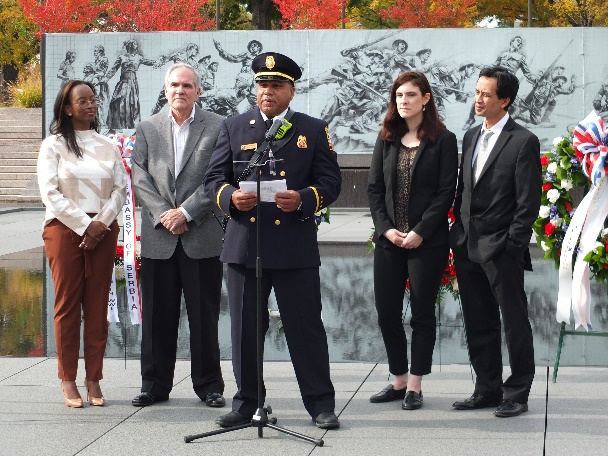 Hidden History comes to the comics.
The Boston Legacy Foundation returned to the National World War I Memorial in Washington, D.C. on November 11th, Veteran's Day, to continue to celebrate the legacy of Dr. Frank Boston, a WWI Veteran, alongside all of those who have served their country and to celebrate the release of the Doc Boston Adventures comic book. Joining this effort was Washington D.C. Deputy Fire Chief, Michael Knight, who was one of the keynote speakers.
By way of background, after serving in WWI, Dr. Boston returned to his community and applying his military experiences, he started both a Hospital and a First Aid Emergency Squad, both of which flourish to this day. For his contributions to society, Dr. Boston received two separate U.S. Presidential Citations and was recently honored by the Pennsylvania Senate and Pennsylvania House with unanimous resolutions issued in his honor. A Congressional Resolution was submitted to Congress and a Citation was issued by U.S. Senator Chuck Grassley and one from Congresswoman Madeleine Dean.
Dr. Boston has also been recognized by Pennsylvania Attorney General Josh Shapiro, Pa. VFW, U.S. Senator Bob Casey, U.S. Senator Joni Ernst, Fort Des Moines Museum, Congressman Brian Fitzpatrick, and many others.
To further recognize his contributions to society, a comic book is being published, called the "Doc Boston Adventures", which is based upon a true story when Doc Boston and his team of first responders saved lives during the 1936 floods.
This story is updated to reflect America today and introduce a unique and diverse group of young first responders, including – Chase and Penelope of European backgrounds; Ouli from Africa; Maya from South America, Sophal representing Asia; Murtuza, of Arabic origin; and of course, Doc Boston's beloved St. Bernard, "Tiny" and one of his horses, "Danny."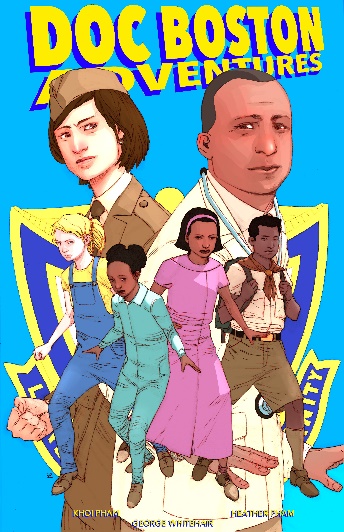 Leading this effort is Khoi Pham, who is a renowned Illustrator and has worked for DC Comics, Marvell, and Disney. His artworks include DC Comic's Teen Titans, Marvel's Mighty Avengers, X-Men Legacy, Scarlet Spider, Spider-Man, Daredevil, and many others. The story is written by Heather Pham and based on a story by George Whitehair, the lead researcher of the Boston story.
This comic book promotes STEM, teamwork, problem-solving, and the idea that all of us can become heroes and is directed towards middle school children, but everyone will enjoy this story.
Like our previous visits to Washington, D.C., this one was jam-packed with meetings, events, and making new friends. We had the pleasure of meeting with Lynda Webster, the wife of William Webster, the former CIA Director and Director of the FBI, who has helped champion our cause. Our Veteran's Day Celebration brought people together from all over the region and we had volunteers and supporters from the African community, Bengali community, Korean community, Nepalese community, and many more.
Those who fought in WWI need to be remembered for their sacrifices and contributions and hosting our event at the Memorial helped bring new interest to WWI and the efforts to preserve that legacy. For anyone wishing to celebrate all of our Veterans, including the "Buffalo Soldiers" and all the brave men and women who served, take the time to stop and visit the WWI Memorial. Our country has a rich, but forgotten history of the contributions of so many, that now is the time to support the efforts to preserve and recognize this rich legacy.
To learn more about Dr. Boston, visit www.bostonlegacyfoundation.org or follow us on Facebook/ Dr.Frank.E.Boston. To order the comic book, visit www.docbostonadventures.com.
About the authors
George Whitehair is the lead researcher and author of the Boston story and Leigh Ferrier, is an honors student from Arcadia University and one of the many volunteers who have devoted their time to bringing his story to life.
Related posts