"The War To End All Wars – The Movie" will bring WWI to museums across the U.S. for Veterans Day
Published: 20 September 2023
By Christine Stephan
Special to the Doughboy Foundation web site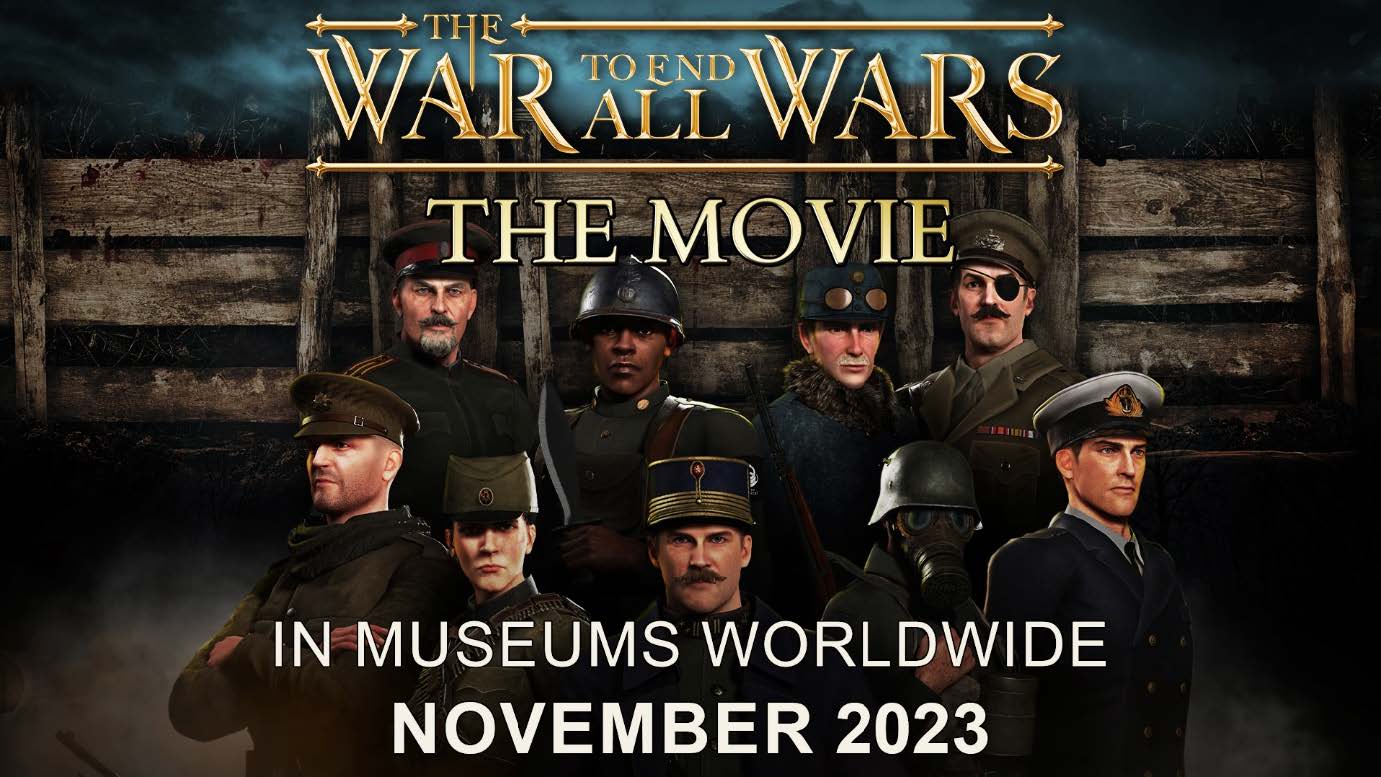 +90 museums spanning 27 territories and counting…
On June 12th of this year, the renowned Swedish heavy metal band, Sabaton, introduced a groundbreaking charitable museum initiative entitled "History Rocks".
Recognized worldwide for their passion for history, their mission to preserve cultural heritage and their deep connection to museums, Sabaton has crafted "History Rocks" with the goal of supporting museums across the globe by enhancing their visibility and enticing a fresh, untapped audience. In doing so, they aim to breathe new life into these historical treasure troves and underscore the significance of World War 1 — a pivotal moment in human history that forever altered the world. The band firmly believes that this era deserves more recognition, and "History Rocks" is their contribution to ensuring it receives the respect and acknowledgment it deserves.
At the heart of "History Rocks" lies the band's forthcoming animated film, "The War To End All Wars – The Movie." This cinematic experience delves into some of the most gripping and suspenseful stories from the First World War, narrated through Sabaton's music from their latest album, "The War To End All Wars", and coupled with vivid animated visuals. This film is the result of a partnership with Yarnhub, an animation studio specializing in historical content. It is a cohesive, thought-provoking, and emotionally charged piece, with a strong emphasis on storytelling. Meticulous research and dedication have gone into ensuring it portrays history as accurately as possible.
Since June 12, Sabaton has been tirelessly reaching out to museums worldwide, inviting them to participate in this global initiative by screening the movie. The goal is to drive millions of Sabaton fans worldwide, as well as all history enthusiasts, into these participating museums. With a colossal fan base comprising over 100 million annual listeners of all ages and nationalities who share a deep passion for history, Sabaton brings a powerful audience to this endeavor.
Participating museums can screen "The War To End All Wars – The Movie" without incurring any fees, and all revenue generated from these screenings will go straight back to them. The global premiere of the movie is scheduled to take place between November 4th and 19th – the two weeks surrounding the 105th anniversary of Armistice Day.
Sabaton's collaboration with museums is not new, but "History Rocks" represents an unprecedented scale. To date, over 90 museums, both large and small, spanning 27 territories, have eagerly joined this global movie premiere initiative, with more institutions joining daily. Notable participants in the United States include:
American Heritage Museum, Massachusetts
General Robert W. Cone NTC & 11th ACR Heritage Center, California
Heartland Museum of Military Vehicles, Nebraska
Howard County Historical Society, Maryland
Maryland Veterans Museum at Patriot Park, Maryland
Mesa Public Library – Red Mountain Branch, Arizona
Michigan's Military Heritage Museum – Michigan
Military Aviation Museum, Virginia
Military Heritage Museum, Florida
Military History Center of the Carolinas, South Carolina
Museum of the American G.I, Texas
Pacific Northwest Naval Air Museum, Washington
Texas Panhandle War Memorial, Texas
The National WWI Museum and Memorial, Missouri
The William C. Lambert Military Museum and Archive, Ohio
Tipton-Haynes State Historic Site, Tennessee
Wisconsin Veterans Museum, Wisconsin
Woodman Museum, New Hampshire
Wright Stuff Squadron Living History Museum, Ohio
Lora Vogt, Vice President of Education and Interpretation at the National WWI Museum and Memorial in Kansas City, MO who viewed the film ahead of its November premiere, shared her thoughts: "Certainly, there is artistic license taken in the movie, but what I found so extraordinary was the team's choice of stories. What a wonderful vehicle Sabaton has made to show the diversity of individuals and engagements of the war. Really fantastic! We look forward to sharing it with our audiences."
Museums interested in becoming part of this extraordinary global initiative can apply free-of-charge by visiting movie.sabaton.net and completing the dedicated museum form. The only prerequisite is that the institution possesses the necessary facilities for hosting a screening, including audio/visual equipment and an area suitable for such an event. Tell your local history history or military museum about this opportunity.
About Sabaton
Founded in 1999 in Falun, Sweden, Sabaton is a five-piece rock band that is world renowned for its fact-based music about history. The group has over 3 million monthly listeners on Spotify alone as well as millions of social media followers spanning Facebook, Twitter, Instagram, TikTok and YouTube. It prides itself on its dedication to telling history from a non-political and unbiased standpoint, and covers subjects including but not limited to WW1, WW2 and the Swedish Empire.
Considered one of the most hardworking bands in the industry, this group is self-managed, tours the world annually, and has acquired top billed spots at some of the world's biggest music festivals.

Over the years, the band has been awarded an impressive collection of gold and platinum album accolades in various countries.
Not only does Sabaton make music about history, but the band also releases educational animated videos on its main YouTube channel (https://www.youtube.com/@Sabaton ) and well-researched documentaries on its Sabaton History channel ( https://www.youtube.com/@sabatonhistory ), with the help of historians and researchers. Sabaton's official website ( https://www.sabaton.net ) also features a historical calendar with detailed articles about the story behind every song. The historical material Sabaton releases is often used as a teaching tool in educational institutions, as an alternative method of learning.
In early 2023 it was announced that Sabaton would be the recipient of The Swedish Skeptics Association's prestigious "Enlightener of the Year Award 2022". This accolade is an annual title that began in 1987. It is traditionally presented to academics, authors, journalists and media outlets that go above and beyond what is expected in order to educate people. The association hand-picked Sabaton specifically for its ability to deliver factual content and expressed that the band stands out from its contemporaries and peers in the music scene for its dedication giving truthful, historical accounts with the assistance of qualified historians and experts.
External Web Site Notice: This page contains information directly presented from an external source. The terms and conditions of this page may not be the same as those of this website. Click here to read the full disclaimer notice for external web sites. Thank you.
Related posts