The Epic Vision Driving 'A Soldier's Journey'
Published: 27 October 2022
By Zita Ballinger Fletcher
via the HistoryNet.com web site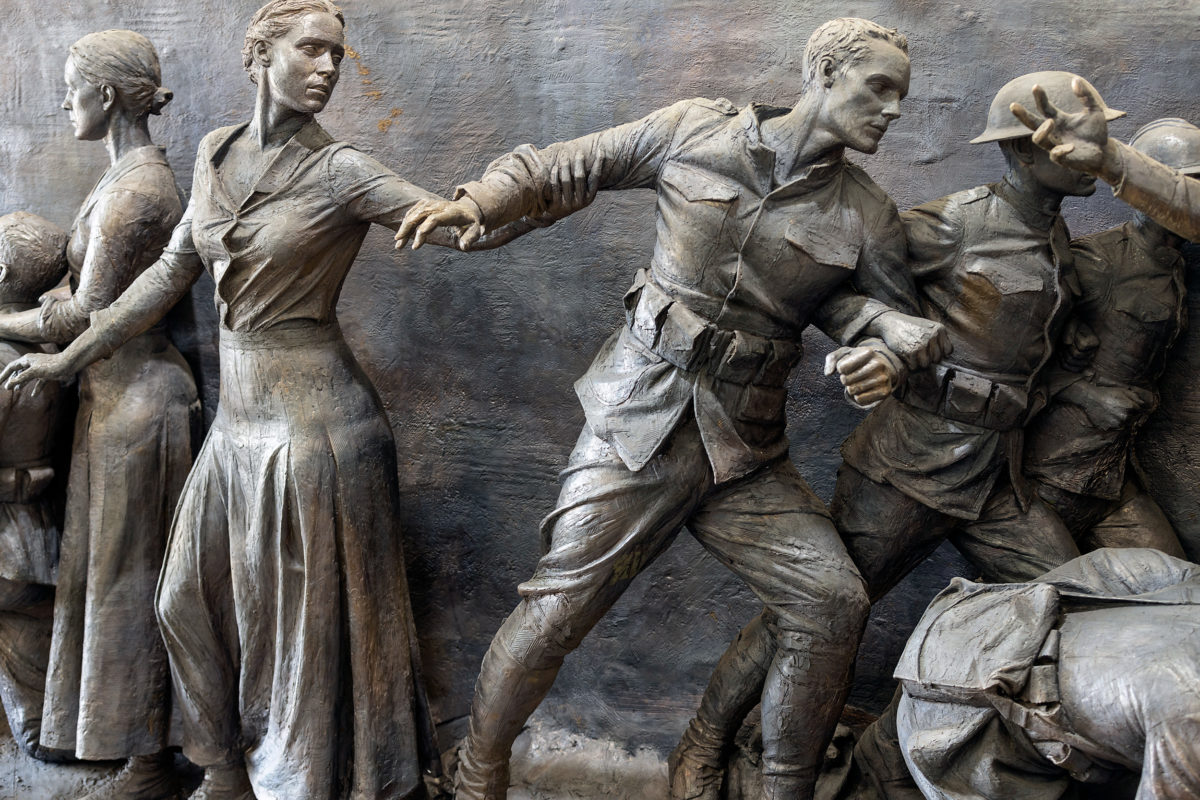 Sabin Howard is a master figurative sculptor and authority on modern classicism. Raised in New York and Torino, Italy, he studied at the Philadelphia College of Art, earned an MFA from the New York Academy of Art and taught undergraduate- and graduate-level art for 20 years. In 2016 the World War I Centennial Commission (created by an act of Congress in 2013) chose Howard to sculpt a bronze relief for the National World War I Memorial under construction in Pershing Square in Washington, D.C. On track to be completed by the end of 2023, his larger-than-life sculpture is 58 feet long, 10 feet high and comprises 38 bronze figures. Howard [sabinhoward.com] began sculpting the figures in August 2019 and continues work on the project at his studio in Englewood, N.J. He spoke with us about his methods, vision for the work and approach as an artist to the theme of war.
Is this the first time you have depicted human figures at war, and have you found it challenging to capture violent conflict in art?
It is the first time, absolutely. It's not the concept of doing violence in art. When I was posing models in the beginning in my studio, dressing them in uniform and coming up with the story line it became emotional, because I realized how tragic this war was. If you look at the millions of people who were killed, it is such a number outside our human concept of what is possible. If millions died, then how many people were affected?
 Do you use live models for all the figures?
Yes. It's so important. This is a really human project. I think so many times things get moved away from heart space and moved into cerebral space. The thing that affected me most was when I started the project—I started looking at pictures on Google of the people involved in the conflict. They remind me of my young daughters. There's a scene I saw where these guys, who must have been, like, 19 or 20, are on a train saying goodbye to their girlfriends, moms and dads. There is such an innocence to it. That was very impactful, because we are descendants of these people. It has deeply affected our society in a much greater way than we actually acknowledge. If someone goes to war at 17 or 18 and comes back a few years later inextricably scarred mentally and physically, and then has a family, they carry those wounds and pass them on to their children. And their children will bear that tragedy and pass it on to their children. I can specifically attest to this, because I have several examples in my family of my ancestors passing on emotional wounds to the next generation.
Read the entire article on the HistoryNet web site here:

External Web Site Notice: This page contains information directly presented from an external source. The terms and conditions of this page may not be the same as those of this website. Click here to read the full disclaimer notice for external web sites. Thank you.
Related posts