New London Harbors a German Submarine During World War I – Who Knew?
Published: 17 November 2022
Unknown writer
writing for unknown publication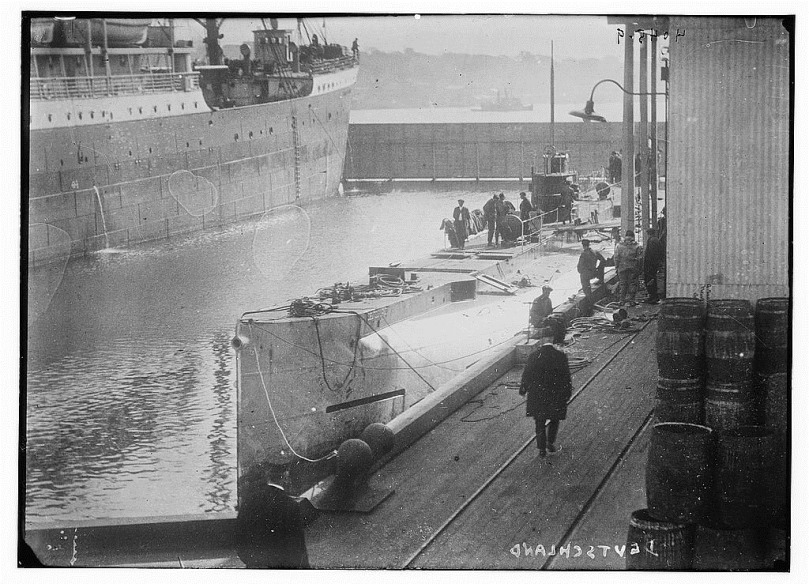 . . . that in the early morning hours of November 17, 1916, in the middle of World War I, Connecticut welcomed the German submarine Deutschland into New London.
The Deutschland was one of the first seven U-151 class U-boats built in Germany and one of the only vessels developed to serve as an unarmed cargo submarine. Designed to carry goods between Germany and the United States, she easily transported up to 700 tons of cargo.
The sub departed on her first journey on June 23, 1916, carrying chemical dyes, medical drugs, mail, and gems, and arrived in Baltimore, Maryland, after two weeks at sea. The vessel and her crew stayed in the United States until August 2, when they departed with cargo (including hundreds of tons of nickel and tin) valued at almost $18 million.
Deutschland's Second Voyage Brings her to Connecticut
The merchant vessel and her crew made a second journey to America in November 1916. This time her destination was New London, Connecticut, where she delivered a $10 million cargo that included gemstones, securities, and medical products. As she was leaving New London to begin her return journey, however, she accidentally rammed and sunk the tugboat T. A. Scott, Jr., killing its captain and four crew members. The accident occurred in a particularly "treacherous stretch of water" between Fisher and Little Gull Islands in the Long Island Sound. The submarine split the tugboat in two and the force of the collision caused the tug's boilers to explode. The boat sank in three minutes.
Although the tugboat was destroyed in the accident, the Deutschland remained largely undamaged. She stayed in New London for minor repairs to her bow and left the city on November 21 with a cargo that included 6.5 tons of silver bullion.
Read the entire article on the ConnecticutHistory.org web site here:
External Web Site Notice: This page contains information directly presented from an external source. The terms and conditions of this page may not be the same as those of this website. Click here to read the full disclaimer notice for external web sites. Thank you.
Related posts