Kendall County Circuit Clerk seeks to return unclaimed historic World War I medals to veterans' families
Published: 13 January 2023
via the Shaw Local News Network (IL) web site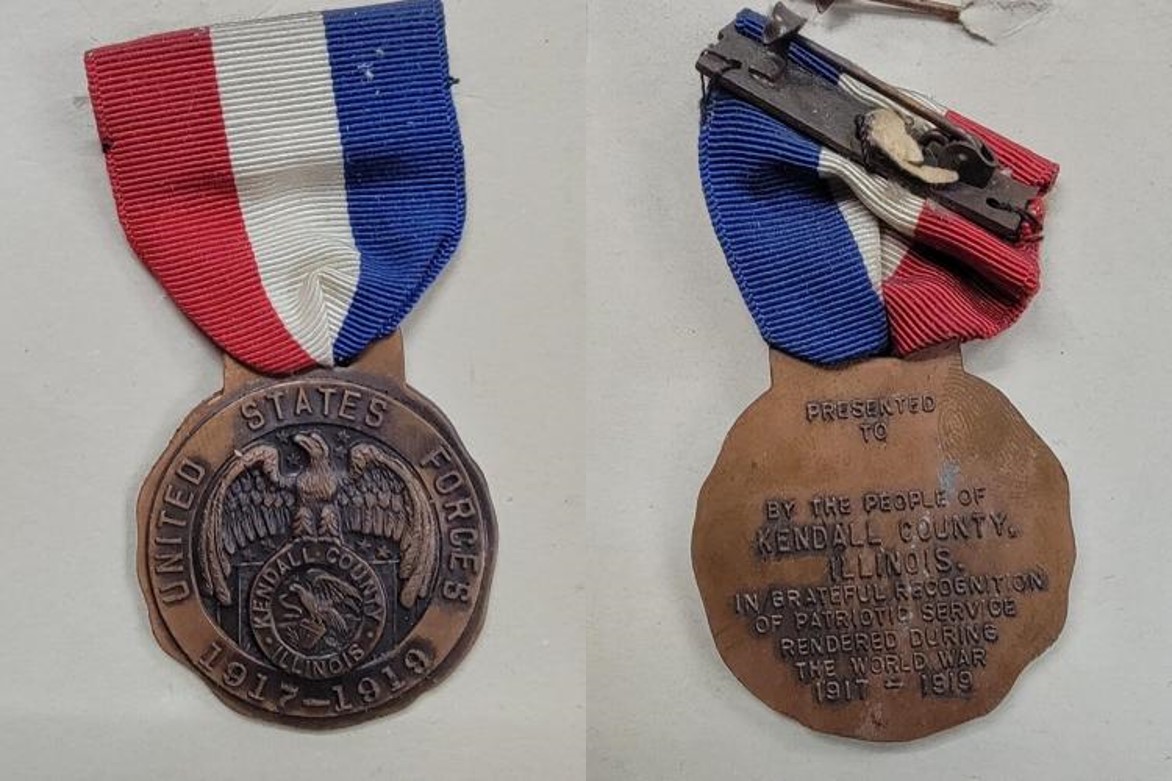 KENDALL COUNTY, IL — Kendall County Clerk of the Circuit Court Matthew Prochaska, while digitizing court records from the turn of the 20th century, found a box of unclaimed World War I medals that were issued by the Kendall County Board in 1919 to all Kendall County veterans who served in the World War from 1917 to 1919.
"It's not uncommon for treasured military service honors to be left in boxes, only to be forgotten as generations pass," Prochaska said in a news release. "But it is very rare for the medals to be left in the original packaging in a court file."
The Kendall County Board issued the medals in 1919 to the veterans of the Great War in recognition of their service. Records indicate these medals were given to veterans or their families at a celebratory picnic Sept. 25, 1919, at the now Historic Kendall County Courthouse in downtown Yorkville.
The names of the World War I veterans whose medals the Circuit Clerk's Office has in their possession are Capt. Andrew C. Birkland, Paul Canniff, Harold R. Heap, Harry Holverson, William B. Johnson, Harvey L. Nelson, Chauncey I. Pecoy, 2nd Lt. Louis A. Sears, Louis P. Schultz, Arthur Sebby, 2nd Lt. Lewis H. Steward.
"The Kendall County Circuit Clerk's Office will work with the Kendall County Veterans Assistance Commission and local historical societies to help locate the families of the veterans," Prochaska said. "I encourage our residents to search the list and see if you recognize a name. Together, we can get these medals returned to the heroes who earned them. As always, the Circuit Clerk's Office thanks America's military veterans for their service to their country."
Kendall County Board Chairman Matt Kellogg said, "Kendall County would like to present these medals to families either publicly or privately. Historic recognition of our Kendall County heroes should be passed on to future generations."
Read the entire article on the Shaw Local News Network web site here:
External Web Site Notice: This page contains information directly presented from an external source. The terms and conditions of this page may not be the same as those of this website. Click here to read the full disclaimer notice for external web sites. Thank you.
Related posts