Cheers of Joy – Lingering Sorrow
Published: 25 October 2023
via the Union County, New Jersey web site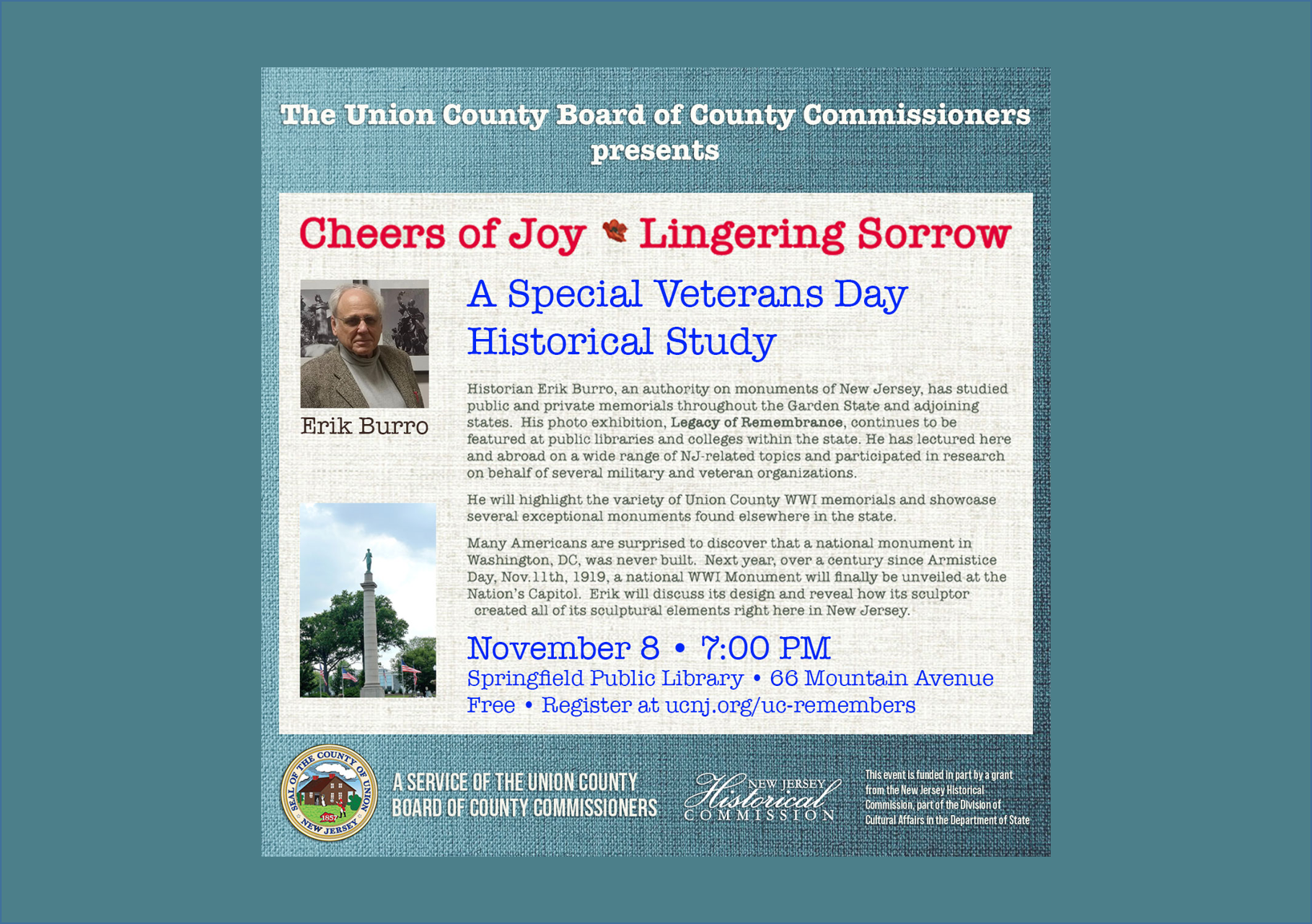 The Union County, NJ Board of County Commissioners, in collaboration with the Union County Office of Cultural and Heritage Affairs, is proud to host Erik L. Burro, historian and photographer, to give a presentation about World War I memorials on November 8th at the Springfield Public Library.
"Presentations such as these are a testament to the enduring importance of preserving our past," said Commissioner Chairman Sergio Granados. "Burro's lens captures the essence of remembrance, reminding us that even in the face of change, the legacy of those who sacrificed is eternally engraved in our minds and hearts. We should continue to learn about the profound significance of these memorials, not just in Union County but throughout New Jersey and our nation. Each piece of war history carries the weight of sacrifices made and the lessons we must never forget, including our veterans, past and present."
The presentation will be held at Springfield Public Library, located at 66 Mountain Avenue, and will begin at 7:00pm. Register to attend at https://ucnj.org/uc-remembers/. Burro's lecture will include facts about the various memorials in Union County, while highlighting some of the more extraordinary monuments throughout New Jersey.
Burro, a public history advocate, started his documentation of World War I monuments in his hometown of Burlington, New Jersey. He later learned that while there are many local and nationwide memorials, a national monument was never constructed. Fortunately, a brand-new memorial has been built in Washington, D.C. will be unveiled next year. From there, he began his mission to visit and photograph as many WWI memorial as he could, and his photo exhibition, "Legacy of Remembrance" was created. The construction and design of the new National World War I Memorial in Washington, D.C. will also be covered during his presentation.
"Armistice and Veteran's Day is not just about history; it's about paying homage to those who've dedicated their lives to preserving peace and freedom. These monuments reflect the sacrifices our men and women in the armed forces have made for our county," said County Commissioner Alexander Mirabella, who has been instrumental in the expansion of the Union County Office of Veterans Affairs.
Armistice Day, what we now call Veteran's Day, is a commemorative day observed to mark the armistice signed between the Allies and Germany, ending World War I. In the United States, Armistice Day was renamed Veterans Day in 1954 to honor and recognize all veterans, not just those from World War I. Worldwide, November 11th serves as a day to remember and honor the soldiers and civilians who lost their lives in World War I and later conflicts.
Read the entire article on the Union County web site here:
External Web Site Notice: This page contains information directly presented from an external source. The terms and conditions of this page may not be the same as those of this website. Click here to read the full disclaimer notice for external web sites. Thank you.
Related posts