Shipwreck society uncovers World War I-era freighter, 100 years after sinking on Lake Superior
Published: 11 October 2023
By Will Haenni
via the News Channel 3 television station (MI) web site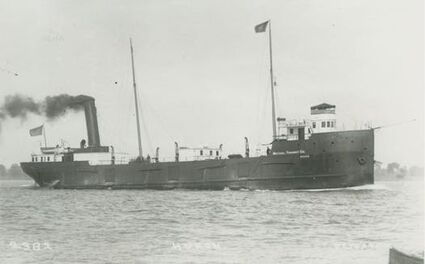 A shipwreck was recently discovered for the first time since its untimely final voyage on Lake Superior, 100 years ago today.
The World War I-era steel bulk freighter was recently discovered by the Great Lakes Shipwreck Historical Society, or GLSHS, using sonar aboard the organization's research vessel.
While surveying for possible shipwreck clues near Whitefish Point in Michigan's eastern Upper Peninsula, researchers noticed the depth suddenly dropped from 300 feet to 800 feet.
"It was just a small 800-foot hole and there was a little sliver in there that was a straight line, but it looked like the size of a thread," Director of Marine Operations Darryl Ertel said. "Because it was a straight line, I marked it as a possible target."
About four hours later, Ertel and his crew circled back to further investigate, and deeper sonar scans quickly revealed it was in fact a shipwreck.
They'd uncovered what was left of the Huronton, which crashed on Oct. 11, 1923, sitting untouched 800 feet deep in the dark and cold depths for nearly a century.
An unfortunate final voyage
At the time of the Huronton's crash, dense fog and smoke from nearby forest fires made navigating the empty 238-foot-long freighter difficult. Meanwhile, a larger and fully loaded freighter, called Cetus, faced similar issues nearby.
"These two ships should not have been out on the lake that day," said Corey Adkins, communications/contact director for the GLSHS. "I mean, the lake was pretty calm, but it was foggy. You could barely see the front of the boat."
Traveling too fast for the conditions, the two ships collided. The bow of the Cetus collided with the Huronton, ripping a huge hole in its port side.
Read the entire article on the News Channel 3 web site here:
External Web Site Notice: This page contains information directly presented from an external source. The terms and conditions of this page may not be the same as those of this website. Click here to read the full disclaimer notice for external web sites. Thank you.
Related posts