Moving time for the Bleckley plane
Published: 16 September 2023
By Greg Zuercher
via the Bleckley Foundation web site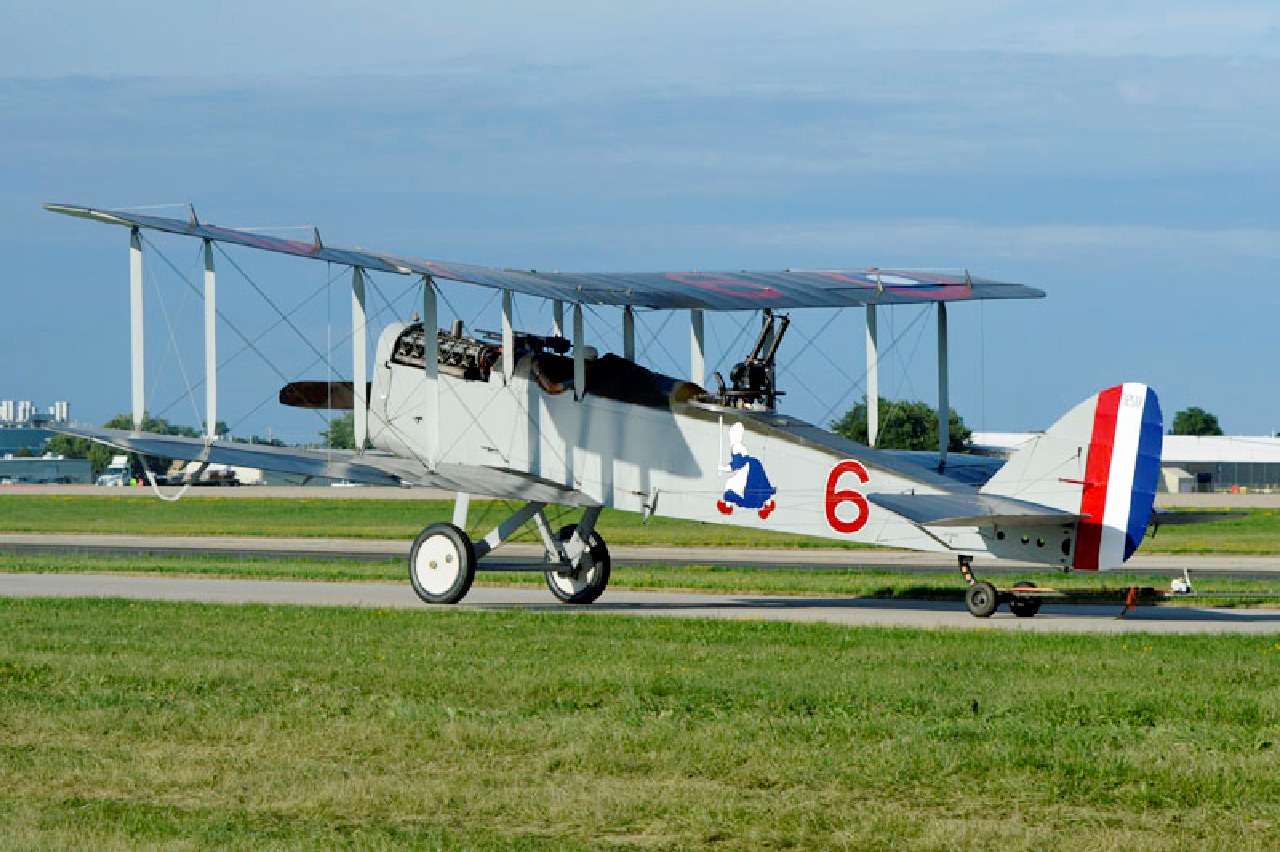 What many Wichitans consider the second most historic aircraft in the Air Capital (after B-29 Doc) – the historic DH-4 World War I biplane – has a new home in Wichita's Old Town.
This 1918 military version DH-4, known locally as 'the Bleckley plane', is one of only five left in the world, and is the only one licensed to fly. It is identical in make, model and markings to the same plane flown to fame over France, in World War I, by Wichita native Erwin Bleckley. Bleckley's fatal last flight, which attempted to locate, map and re-supply the Lost Battalion, earned him the Medal of Honor. That flight has gone down in history as the most famous and legendary of all the missions conducted by the US Army Air Service during 'the Great War'. Bleckley is also the only aviator from Wichita to be awarded the Medal of Honor, thus becoming Wichita's highest decorated aviator.
The commercial space at 359 N. Mosley will become home to the Bleckley plane restoration project, beginning Tuesday, August 1st, when smaller DH-4 aircraft components will be moved from temporary storage at the Kansas Aviation Museum (KAM).
The highlight of the move will be the public transport, on a flatbed truck, of the DH-4 fuselage from KAM, on Thursday, August 3rd, to its Old Town restoration facility. This will occur in the late morning/early afternoon. The restoration of this historic aviation artifact to flight status will resume in the weeks to follow.
This DH-4, which contains over 50 percent original 1918 components and parts, was built and assembled in Bowling Green, Kentucky over the last decade. Unfortunately, it made a hard landing during its initial test flight on May 2, 2020, incurred moderate damage (the pilot walked away), and was made available within a week of the crash to the Bleckley Foundation. Without the right of first refusal, Wichita most certainly would have lost this aviation artifact to American or French government entities (and one private individual), all with much greater resources. The foundation completed purchase of the DH-4 in the spring of 2021, and moved it to Wichita a few weeks later, over Memorial Day weekend.
In storage for the last seven months at the Kansas Aviation Museum, the DH-4 biplane had to leave its former hangar at Global Aviation Technologies in December when that building was sold. KAM agreed to house the aircraft until permanent space was found. A chance encounter with a business acquaintance of property owner Steve Barrett led to an agreement with Steve to make the address at 359 N. Mosley 'the home of the Bleckley plane restoration', or, as we call it, 'the Bleckley Workshop'.
About the Bleckley Foundation:
Formed in 2018 by Army veterans Doug Jacobs and Greg Zuercher, the foundation's goal is to honor Erwin Bleckley by presenting Wichita's pride in our military aviator/hero at our airport. This is best accomplished by restoring the DH-4 to flight status, then permanently exhibiting this vintage World War I biplane on a raised display inside the terminal at Wichita-Eisenhower National Airport (similar to what Chicago has done with a WW2 Grumman Hellcat to honor Eddie 'Butch' O'Hare at O'Hare Airport's terminal 2). Next to the displayed aircraft will be a life size bronze statue of Bleckley in his flight uniform, along with an enclosed display case housing Bleckley's artifacts, photographs and documents. Noted local sculptor Babs Mellor and her guild team have been commissioned to design and craft the bronze statue.
Accomplishments:
Endorsed by the United States World War One Centennial Commission (since 2018).
Bleckley Day, Oct. 6, 2018 – the centennial of his legendary final mission on Oct. 6, 1918, held at the VA Auditorium.
Bleckley Lounge at McConnell Air Force Base, dedicated Jan. 18, 2019. Base commander Colonel (now Brigadier General) Josh Olson, a guest speaker at Bleckley Day, was inspired to honor Bleckley, resulting in making him a permanent fixture at McConnell.
Acquired and delivered the DH-4 aircraft to Wichita (completed May 28, 2021).
Bleckley's Medal of Honor Centennial ceremony, hosted by the Kansas Aviation Museum, held on Saturday, March 4, 2023.
Read more on the Bleckley Foundation web site here:
External Web Site Notice: This page contains information directly presented from an external source. The terms and conditions of this page may not be the same as those of this website. Click here to read the full disclaimer notice for external web sites. Thank you.
Related posts