Inspired by Teaching History in England, I Explored the Unconventional Memorials Created by the Forgotten Female Veterans of World War I
Published: 1 February 2022
By Allison S. Finkelstein
Special to The Doughboy Foudation web site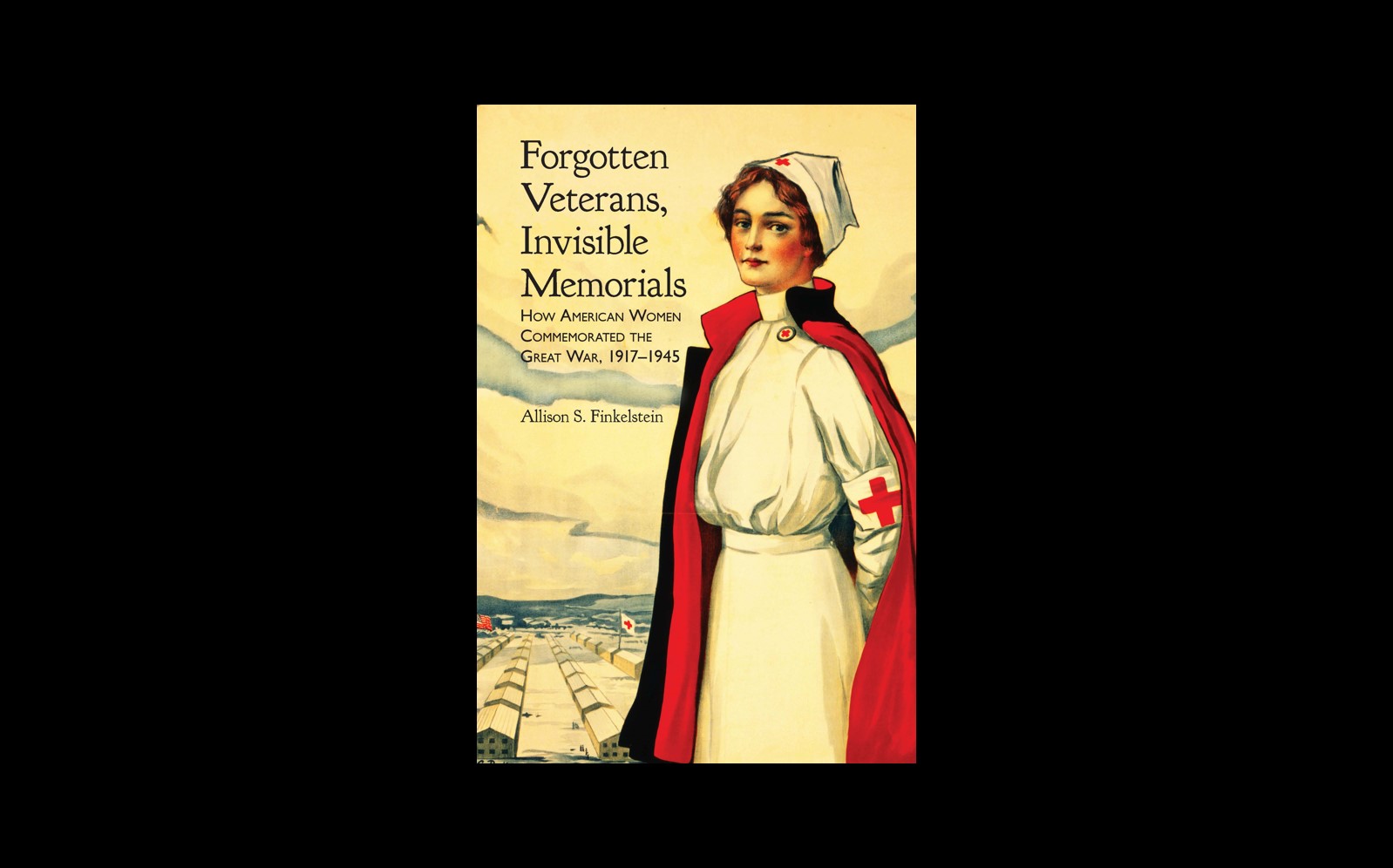 For any American who has been in Great Britain during the month of November, the enduring relevance of the memory of World War I in British culture is hard to miss. From the tradition of wearing a poppy to the nationwide two minutes of silence observed on Remembrance Sunday, many Britons remain deeply preoccupied with the Great War. After living among these rituals while teaching in the history department of an English boarding school, I started to wonder: why does the memory of World War I remain so much stronger in Great Britain than in the United States? This question led me on a long path to the publication of my first book: Forgotten Veterans, Invisible Memorials: How American Women Commemorated the Great War, 1917-1945. By investigating the groundbreaking role American women played in the memorialization of the war, the process of writing this book uncovered new ways to answer this question and revealed significant but too often overlooked aspects of World War I's history that have renewed relevance today.
The seeds for Forgotten Veterans, Invisible Memorials were planted during my time in England. After participating in British remembrance rituals and taking our students on a trip to the sites of the Western Front, I entered graduate school upon my return home. At the University of Maryland, College Park, I focused my studies on military commemoration. Two summers spent interning at the American Battle Monuments Commission (ABMC)—where I would later work—steered me firmly toward the First World War as my area of focus. I dove into this question about the American memory of the war through archival research as well as fieldwork at the Meuse-Argonne American Cemetery and Memorial in France.
By the time I selected my dissertation topic, I knew enough to realize that answering this question was far too big for just one project. Instead, I decided to approach the question by specifically examining how American women commemorated the war. Doing so, I hoped, might provide some explanation of America's waning memory of World War I. Little did I know that my research would do more than just shed light on answers to this question, but it would also help to resurrect a forgotten group of American women from the recesses of history. The more time I spent researching these women as I transformed my dissertation into a book, the more passionate I became about sharing their stories.
In its final form, Forgotten Veterans, Invisible Memorials investigates how American women who somehow served or sacrificed in World War I commemorated that conflict. I argue that these female activists considered their community service and veterans advocacy projects to be forms of commemoration just as significant and effective as traditional memorialization methods such as monuments and statues. In other words, these women sometimes preferred projects that helped a broadly defined group of male and female 'veterans' as an alternative to physical monuments and memorials. These are the invisible memorials mentioned in the book's title.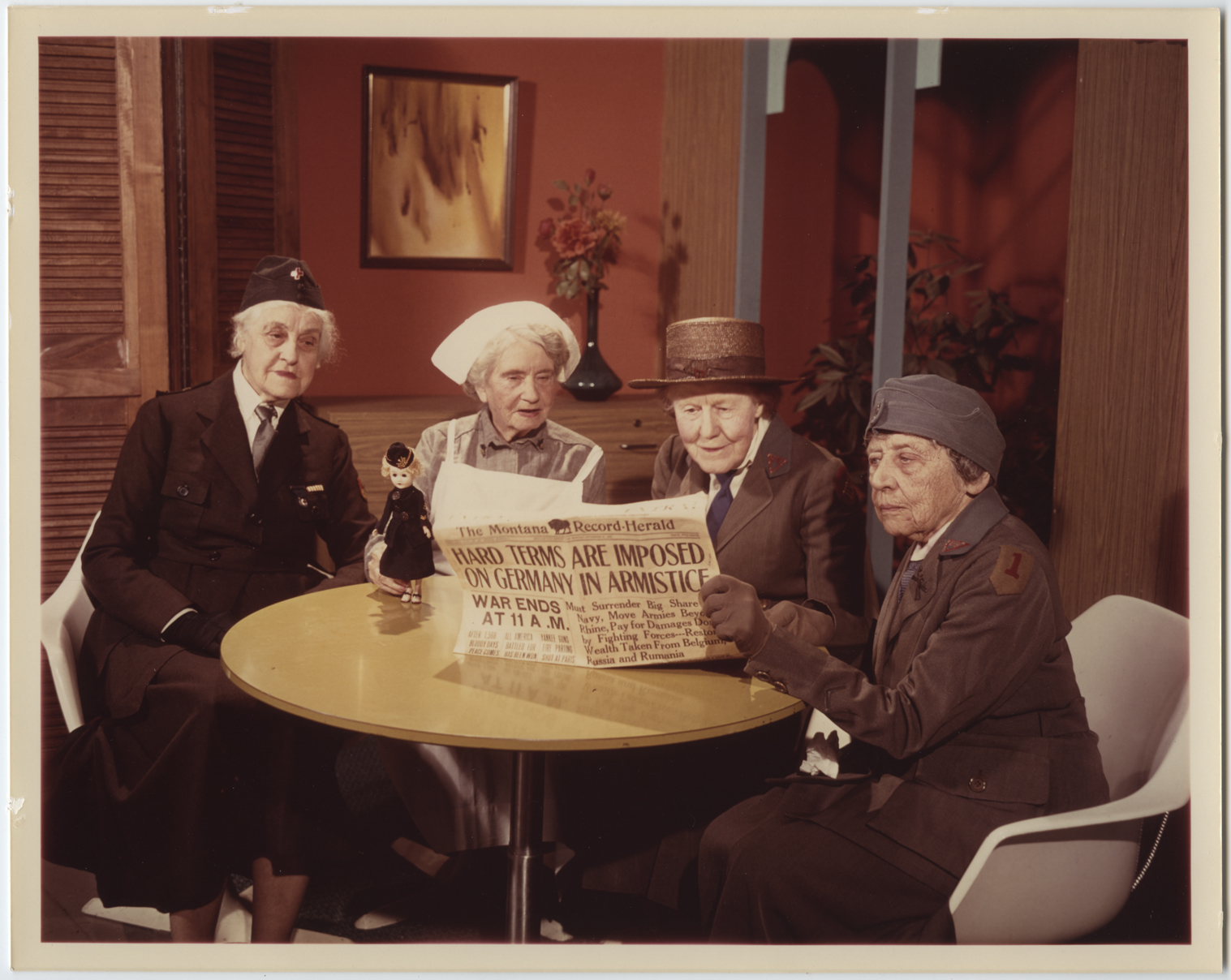 Women's Overseas Service League (WOSL) Seattle Unit members on November 11, 1968. The WOSL united women who had served overseas during World War I. It is the focus of the book's first chapter. Women's Overseas Service League Collection, National WWI Museum and Memorial Archives, Kansas City, Missouri. As they created these invisible memorials, this cohort of women also tried to prevent the memory of their wartime contributions from being forgotten. They wanted women to be recognized and memorialized for their wartime roles. This proved to be challenging, especially because restrictions on women's wartime service meant that many women had served in civilian positions, making them ineligible for official veteran status and the recognition and benefits that conveyed. Although many of these women had served in uniform and under oath, they received none of the government support provided for official male veterans, such as medical care and burial in a national cemetery. They also could not join veterans' organizations like the American Legion or the Veterans of Foreign Wars. Nonetheless, the forgotten women of the book's title, who I describe as "unrecognized veterans," defined themselves as veterans and acted accordingly. They formed their own veterans' organizations, created their own support systems, and constantly asserted that they, too, were veterans.
By learning about the forgotten female veterans explored in my book and understanding the invisible memorials they created, readers will come away with new understandings of World War I's deep impact on the United States. They will learn, as I did, that one of the reasons the war's memory remains more muted in our nation is because many of the most moving memorials to the war were intangible and temporary, created by women whose own legacies of service were often overlooked. To understand how Americans grappled with the legacy of the First World War, we must look beyond the monuments that remain on the landscape and find evidence of the fleeting actions taken to memorialize this conflict. These include the community service projects led by the women in my book, such as their efforts to help hospitalized male veterans or their fundraising to support disabled women who lacked veterans' benefits.
Readers will also gain a new appreciation for women's roles in the war, its commemoration, and their struggle to be recognized for their service. Forgotten Veterans, Invisible Memorials shows how these women identified themselves through their wartime experiences for the rest of their lives, whether they served overseas or lost a loved one and became a Gold Star mother or widow. No matter their wartime contribution, they believed it had set them apart and obligated them to memorialize the war through acts of service.
As I reflect on the process of writing this book, I am most proud of bringing these women's stories back into the historical narrative. By listening to their voices in this book, readers will learn about a generation of unrecognized female veterans abandoned by the government.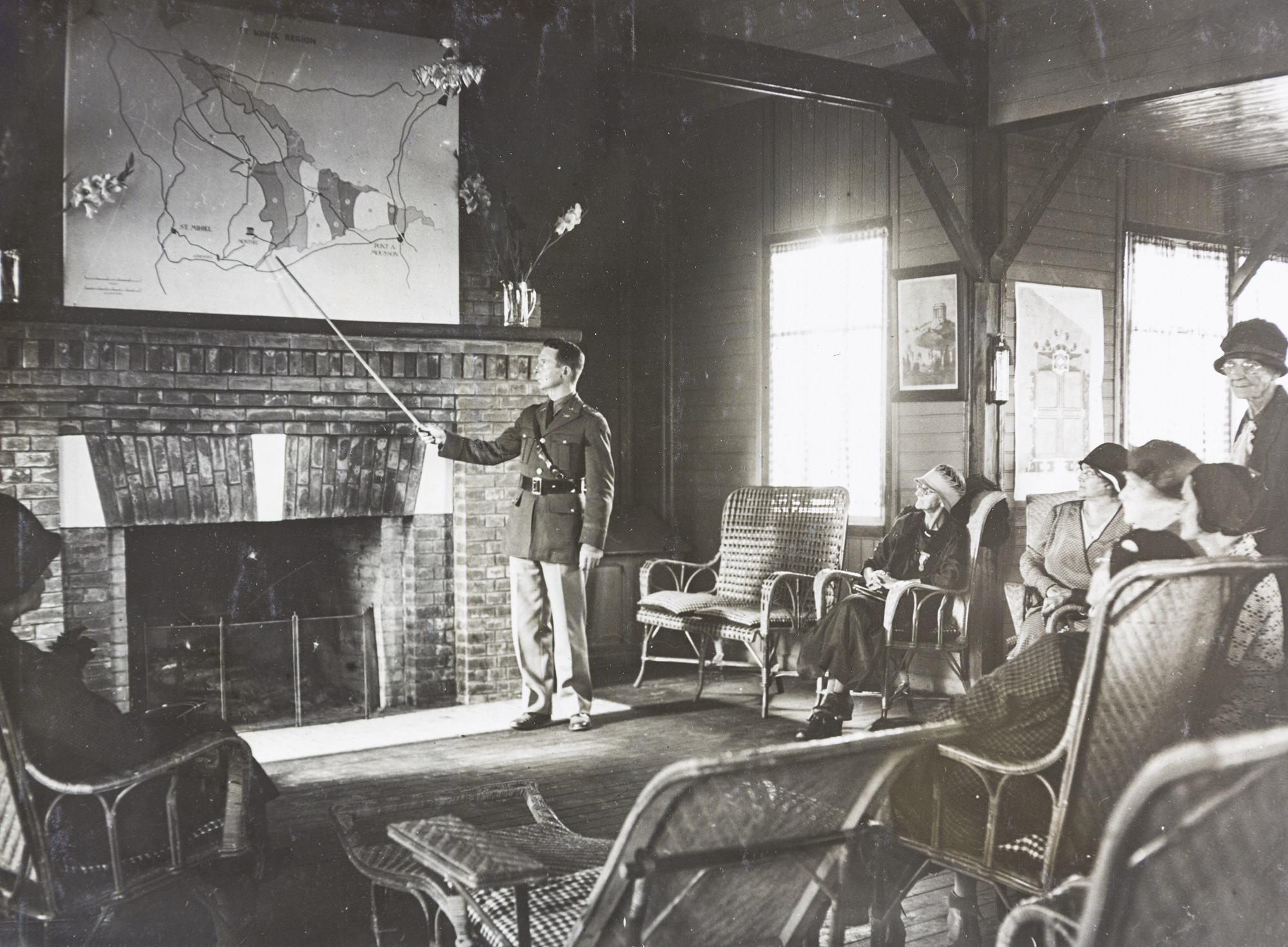 An Army officer talks to the wives and mothers of service members who died in World War I while inside of the temporary rest house at the St. Mihiel American Cemetery in France. These rest houses were created for the Gold Star pilgrimages: government trips to the overseas military cemeteries provided to the wives and mothers of the war dead buried in Europe. Forgotten Veterans, Invisible Memorials explores these rest houses and analyzes their function as impermanent living memorials. National Archives, College Park.The implications of these forgotten veterans and invisible memorials go far beyond just the study of the First World War and demonstrate why this conflict remains essential to understand today. The example of action-based memorialization pursued by these women provides a blueprint for alternative methods of commemoration. It can help inspire creative, intangible memorial projects that have much utility as the United States reassesses it relationship with monuments and memorials.
The story of these forgotten female veterans and their attempts to gain government recognition for their service also adds more nuance to the history of women in the American military. It underscores how the role of women in the armed forces is not just a contemporary issue, but one that is woven throughout each century of our nation's history. The struggles of these unrecognized female veterans expose how women defined themselves as veterans even when the government denied them official recognition. By learning about them, Americans can better understand how women carved out a place for themselves in national defense despite gender-based restrictions on military service opportunities.
These women forged their own course during the war and its wake they advocated on their own behalf to gain the benefits they believed they had earned. Even though they rarely succeeded in this effort, they worked to create more opportunities for the next generation of military women. The service women of World War II owed much to their predecessors from World War I. Even today, over a century later, more recent generations of military women can also count themselves as the beneficiaries of their advocacy work. These women's stories also compel us to rethink who is deemed to be a veteran and consider that those who serve outside of the official military may also be veterans in their own right.
These conclusions are far from what I expected to find when I started exploring why the memory of World War I seemed so distant in the United States. I have learned that the longevity of a war's memory is much more complex than the extant war memorials and continued rituals that initially piqued my interest when I visited sites in Great Britain and Europe. Pursuing this topic provided new ways to think about memorialization and introduced me to a group of inspiring, pioneering women whose experiences challenged traditional conceptions of commemoration and military service. Studying the memory of World War I through their eyes has shown me its continued relevance and impact on our nation. I hope that my book will honor these women by sharing their perspective with readers and ensuring that these forgotten veterans of World War I are really not so forgotten after all.
---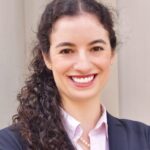 Dr. Allison S. Finkelstein is a historian and the author of Forgotten Veterans, Invisible Memorials: How American Women Commemorated the Great War 1917-1945 (University of Alabama Press). She currently works as a Senior Historian for the U.S. Army. A former volunteer with the World War I Centennial Commission, from 2017-2018, she served as the chair of the Arlington World War I Commemoration Task Force. Learn more at: http://allisonsfinkelstein.com/
Related posts