Harold A. Furlong: Michigan's Only Native Son to Receive the Congressional Medal of Honor in World War I 
By David H. Dinger, M.D., Adjutant, Harold A. Furlong American Legion Post #341
Special to the Doughboy Foundation web site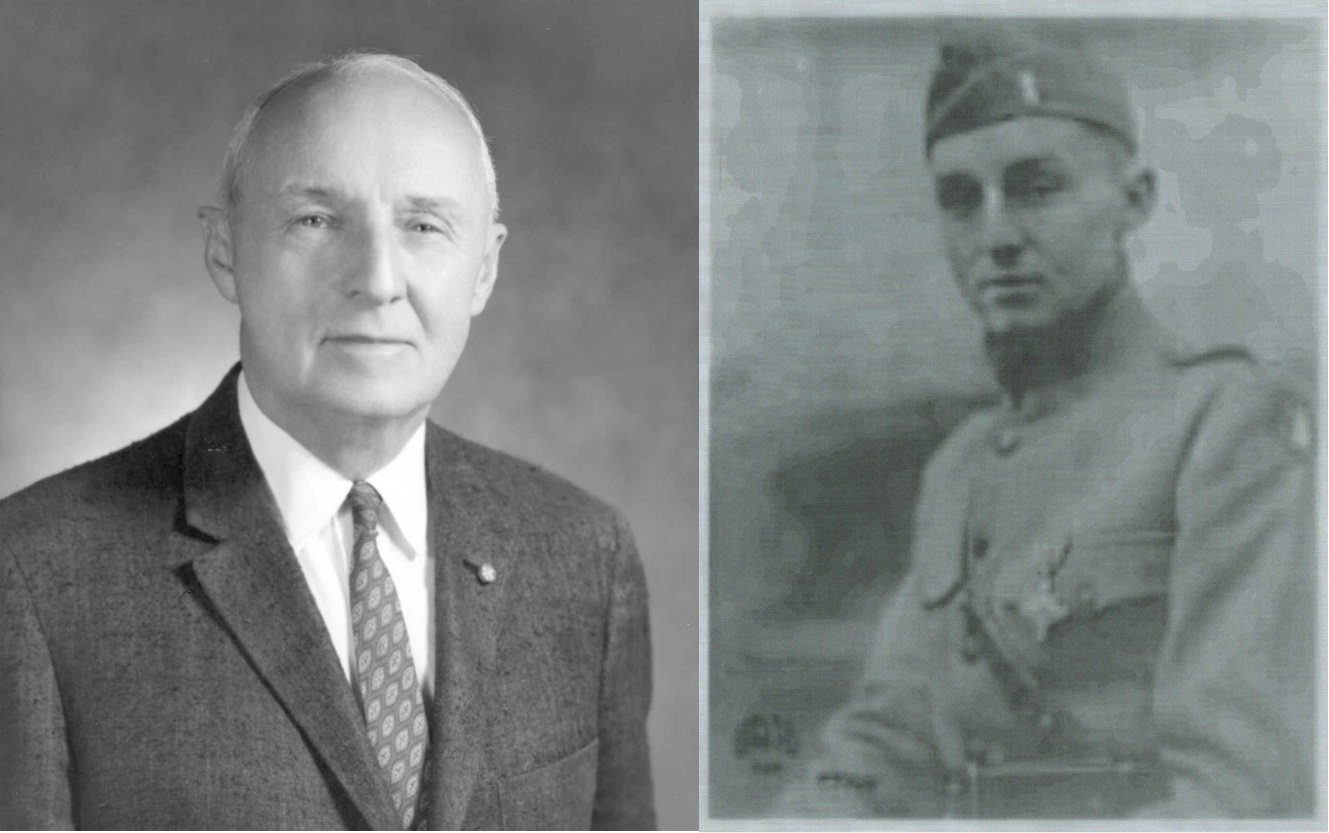 Harold Furlong was born in Pontiac, Michigan Aug. 1, 1895 where he was raised and graduated from Pontiac High School. He interrupted his college education at Michigan Agricultural College (later became Michigan State University) when he joined the U.S. Army in 1917.
First Lieutenant Harold A. Furlong was recommended for the Congressional Medal of Honor by General John Pershing for his heroic action on Nov. 1, 1918. The Citation reads:
Immediately after opening of the attack near Bantheville, France when his Company was held up by severe machine gun fire from the front, which killed his company commander and several soldiers, 1st Lt. Furlong moved out in advance of the line with great courage and coolness, crossing an open space several hundred yards wide. Taking up a position behind the line of machine guns, he closed in on them, one at a time, killing a number of the enemy with his rifle, putting 4 machine gun nests out of action, and driving 20 German prisoners into our lines.
The Medal of Honor was awarded to 1st Lt. Harold A. Furlong on Feb. 5, 1919 by General John J. Pershing, General of the Armies and Commander of the American Expeditionary Forces on the Western Front, WWI.
After the War, Harold Furlong returned to Michigan and finished his education including Medical School at the University of Michigan. He made his home in Pontiac and practiced OB/GYN at Pontiac General Hospital where he became head of the Department of OB/GYN. He founded the OB/GYN Residency Program at PGH and became its first Director. This Residency Program which Harold Founded and Directed, graduated several physicians who remained in the community to practice OB/GYN and serve the medical needs of women in this Oakland County community.
Dr. Harold A. Furlong also served in the Michigan Army National Guard from Dec. 16, 1921 to May 31, 1946 and was honorably discharged as a Lieutenant Colonel.
How I Knew Harold
After completion of my Residency in Pediatrics, I entered active duty as a Lieutenant in the US Navy Medical Corps and served as a staff Pediatrician at the US Naval Hospital Charleston, S.C. from 1965-67. At the age of thirty, I returned to Pontiac after separation from active duty and became a member of the Medical Staff of Pontiac General Hospital. Harold Furlong was forty-two years my senior.
I had known of Harold through a conversation with my uncle George Herrmann, Harold's classmate at the University of Michigan Medical School Class of 1924. My uncle at the time was Chairman of the Department of Cardiology, University of Texas, Galveston. Uncle George encouraged me to meet his friend and classmate, Harold, when he learned I was planning to go to Pontiac for my post-graduate training. However, I took my Internship and then Pediatric Residency at St. Joseph Mercy Hospital, Pontiac and then I had two years of active duty with the Navy before returning to Pontiac. It was then I had the opportunity to meet Harold and be on the Medical Staff with him at Pontiac General Hospital.
My knowledge of and interactions with Harold were of a professional basis, only, relating to the joint medical care of his patient, the mother and my patient, the newborn. Harold was a private individual, especially about his past. I can best illustrate this by a well-known situation I learned of in later years after Harold had passed. A reporter from the Detroit Free Press once asked Harold what he thought of his legacy as a military hero. Harold rejected the notion as merely doing his duty at the time, and he told the reporter he much preferred to be remembered as a physician and as a teacher of physicians.
At no time did I ever have a conversation with Harold about his time in the Army during WWI. I was aware through conversation with others that it was not something he was willing to talk about.
Patron of the Arts
Harold an amateur artist of water color painting along with his wife, Frances, an artist (music) in her own right, founded the Pontiac Creative Arts Center in 1964. The Furlongs later left an endowment to help fund its ongoing needs and to insure the PCAC would continue to serve the educational and cultural needs of the community.
Dr. Harold A. Furlong died July 27, 1987 at the age of 92 and is buried in Oak Hill Cemetery, Pontiac, MI.
American Legion Post #339 named in his honor
Several former medical colleagues of Dr. Harold Furlong on the Medical Staff of Pontiac General Hospital and Veterans in their own right, led the effort in 2007 to name American Legion Post #339, the Harold A. Furlong American Legion Post #339. The Post, located in Bloomfield Township, merged in 2021 with its sister Post #341 of Sylvan Lake Michigan. The resulting new entity is the Harold A. Furlong American Legion Post #341. We now serve the communities of Sylvan Lake, Bloomfield Hills, Orchard Lake, Keego Harbor, and the Townships of Bloomfield and West Bloomfield.
Related posts