Honor all of America's veterans and service members by ensuring those who served in World War I are not forgotten
What Your Gift Supports
In April 2021, the U.S. World War I Centennial Commission and its 501 (c)(3) partner, the Doughboy Foundation, raised the American Flag over the newly constructed National World War I Memorial for the first time. It is anticipated that the Memorial will receive a minimum of 1,500,000 visitors per year.
The Doughboy Foundation's mission is to "keep faith with the American Doughboy" by ensuring all those who served in World War I are not forgotten. To fulfill its mission, the Foundation will:
Honor the 4.7 million Americans who served our nation through the operational support of the Memorial and the nightly playing of "Taps";
Commemorate the events of a century ago through signature performances and activities at the National World War I Memorial site;
Inspire visitors to learn, remember, and reflect on how World War I changed our country and the world through on-site, interpretive, and virtual educational programming.
Your support for the Doughboy Foundation will help fund the Memorial's visitor programs in perpetuity, inspiring future generations of visitors and forever honoring not only our World War I veterans, but all U.S. servicemen and women.
Join Our Legacy Society
The Doughboy Foundation is pleased to offer planned giving opportunities for individuals who wish to join our Legacy Society and help preserve a vibrant, experiential Memorial for future generations.
Planned gifts can take many forms, and we invite you to joinus by considering one that works well for your needs. We recommend you consult your tax advisor to see which of these options make sense for you.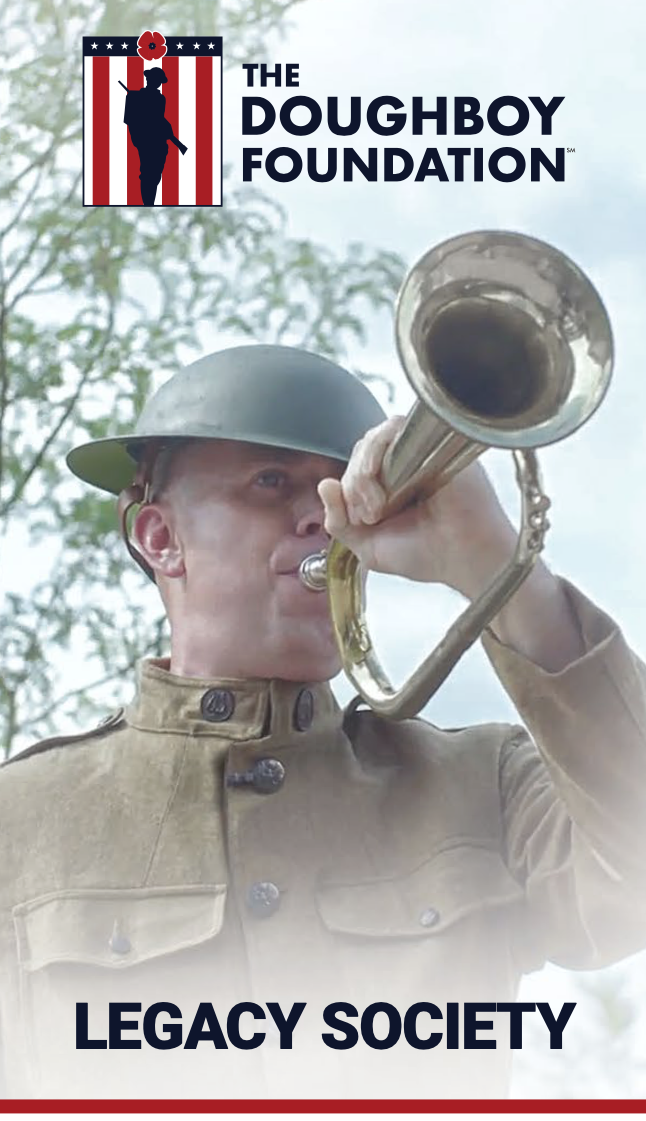 Getting started
Click the button below to download the Legacy Society brochure and learn more about the Legacy Society Planned Giving program. To get specific questions answered, send an email to Daniel Dayton, President, at [email protected].
We're looking forward to hearing from you.