WWI Nurse namesake for new destroyer continues to inspire
Published: 8 December 2022
By Glen Van Vorst, NAVSUP Fleet Logistics Center Jacksonville
via the Military Newspapers of Virginia web site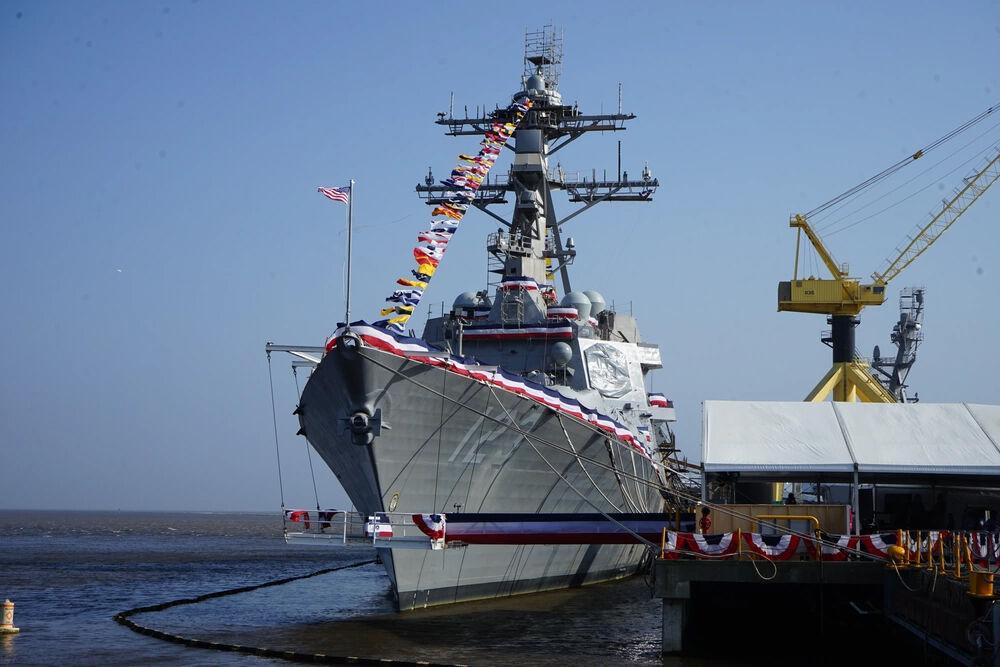 Eighty years after her death, Canadian immigrant and U.S. Navy nurse Lenah Sutcliffe Higbee continues to inspire the women involved with outfitting a new Navy destroyer named for her.
Naval Supply Systems Command (NAVSUP) Fleet Logistics Center (FLC) Jacksonville provides integrated logistics services for new ship construction in Pascagoula, Mississippi, where Pre-Commissioning Unit (PCU) Lenah Sutcliffe Higbee (DDG 123) was built by Huntington Ingalls Industries.
The Navy accepted delivery of PCU Higbee on Nov. 30. To prepare for that milestone, military and civilian logisticians assigned to the FLC generated over 17,700 initial requisitions valued at more than $16.9 million. They outfitted the ship with 97.13% of its allowed material list to ensure that the Arleigh Burke-class guided-missile destroyer is ready for sea. This exceeds the supply readiness objective established by NAVSUP and Naval Sea Systems Command.
But it wasn't just business as usual with this particular ship for some of the NAVSUP FLC Jacksonville women who participated in its preparation. They feel part of the Higbee legacy.
Lenah H. Sutcliffe Higbee emigrated from Canada to the United States and became a pioneer in Navy nursing, receiving the Navy Cross for her distinguished service combating the Spanish flu during World War I. She was the first women to have a U.S. Navy warship named for her, and DDG 123 is the second destroyer to bear her name.
Nurses were the first women to serve in the U.S. Navy, beginning with the official establishment of the Navy Nurse Corps in May 1908. Higbee was one of the original 20 Navy nurses known as the Sacred Twenty. She served as the second superintendent of the U.S. Navy Nurse Corps during World War I and is credited with shaping the young organization and expanding it from 160 to 1,300 nurses.
Higbee's story resonated with Yineiry "Genie" Ducre, who serves as the DDG Platform Manager for the FLC in Pascagoula. Like Higbee, Ducre is an immigrant and found a new home in the U.S. Navy. As a female Navy pioneer, Higbee opened the door for women like Ducre to have roles in the Navy.
"For me personally, it's an honor. Like her, I was also an immigrant. My family came from the Dominican Republic, and I joined the U.S. Navy," Ducre said.
Read the entire article on the The Flagship web site.
External Web Site Notice: This page contains information directly presented from an external source. The terms and conditions of this page may not be the same as those of this website. Click here to read the full disclaimer notice for external web sites. Thank you.
Related posts