WWI cabin finds home in Verona, VA
Published: 7 February 2023
By Mandy Bartholomew
via the WHSV3 television station (VA) web site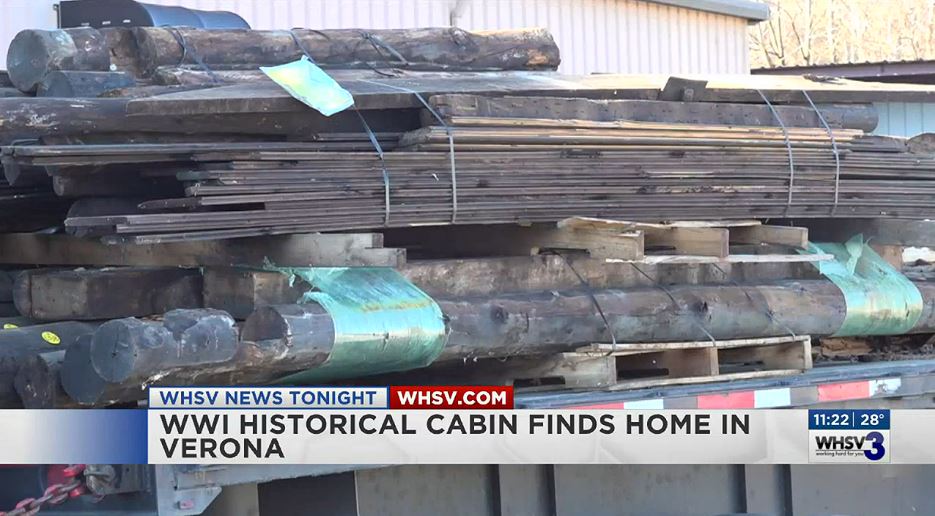 VERONA, Va. (WHSV) – A piece of history has found a home in the Valley.
A 100-year-old cabin from World War I has been unloaded at the 29th Division Museum in Verona.
"After World War I, it was transported up to Valley Forge and was there until about 2008," Edmund Potter, curator at the 29th Division Museum said. "The Army was interested in having it again at Fort Meade and then the Army reconfigured its museums and the cabins been sitting in pieces in storage for over a decade."
Museum officials said they plan to rebuild the cabin and put it inside of a World War I center that is coming to the museum soon.
"We honor citizen soldiers," Potter said. "The 79th division was a draft division during World War I. It pulled from Virginia, Maryland and Pennsylvania, so there are people from this area that served in it."
Artifacts from the war like German helmets, life preservers and the mascot will be displayed with the cabin once the project is complete.
"We saw an opportunity. We could help save history and also educate people not only in the Valley but wider Virginia about World War I and the commitment we made in the war," Potter said.
The museum hopes to have the World War I structure up by this summer.
Read the entire article and watch video on the WHSV3 web site here:
External Web Site Notice: This page contains information directly presented from an external source. The terms and conditions of this page may not be the same as those of this website. Click here to read the full disclaimer notice for external web sites. Thank you.
Related posts