World War One & Aviation Weekend at American Heritage Museum
Published: 21 August 2023
via The American Heritage Museum web site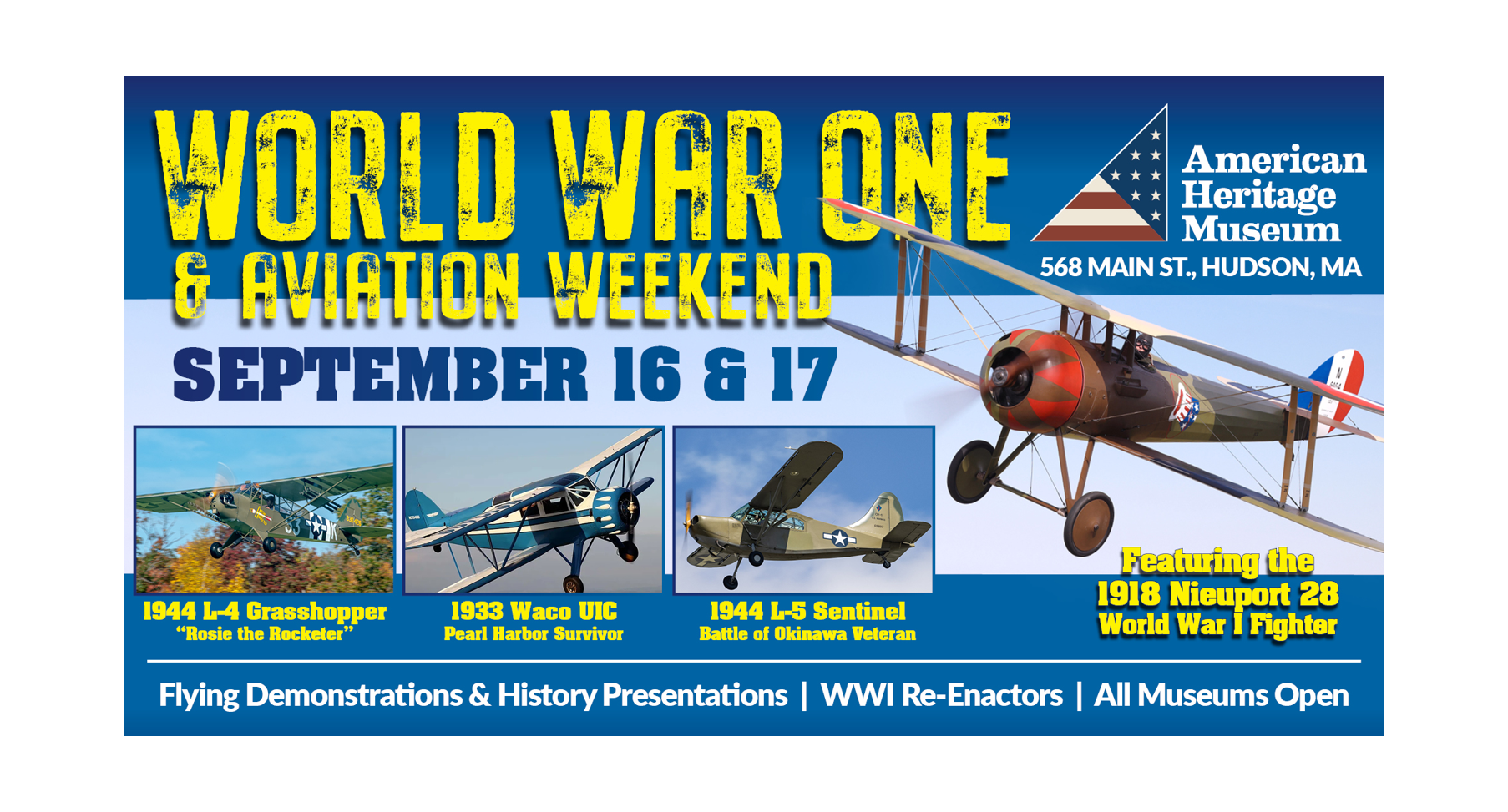 The American Heritage Museum presents the World War One and Aviation Event Weekend at our museum and airfield in Hudson / Stow, MA September 16 & 17
Real aviation history takes to the skies each day with flying demonstrations combined with presentations by historians, restorers, and authors for our featured aircraft:
The original 1918 Nieuport 28 WWI fighter – America's First Fighter. This incredible aircraft is the oldest flying American fighter in existence and is restored in the markings of Douglas Campbell, America's first ace.
The original 1944 Piper L-4 Grasshopper "Rosie the Rocketer" that was flown by Maj. Charles Carpenter in a role it was never designed for… attacking German tanks! This incredible "David vs. Goliath" story will be told by author Jim Busha after the flying demo each day.
The 1933 Waco UIC that is a survivor of the infamous attack on Pearl Harbor on December 7, 1941. This aircraft was owned and flown by Bob Tyce, a flight instructor and the first civilian casualty of the attack when he was strafed by Japanese aircraft on the airport ramp near the Waco.
The 1944 Stinson L-5 Sentinel that is a Pacific War veteran of the U.S. Marine Corps and was present during the Battle of Okinawa. This unique air ambulance variant can convert to hold a stretcher in the rear seat.
In addition to the flying displays, WWI re-enactors and a WWI M1917 tank will also be present and will participate in combat presentations each day.
We will also be bringing some of the original rare WWI uniforms and flight clothing of noted World War I aviators that is part of the Parks Collection that has moved to the American Heritage Museum. Such examples are the original uniform of Douglas Campbell, America's First Ace; and the original leather flight coat of Captain Eddie Rickenbacker.
Gates open at 9:00am and close at 5:00pm each day. Demonstrations and schedules will be firmed up as we get closer to the event.
All three museums will be open: The American Heritage Museum, The Historic Aviation Hangar and Classic Automobile Barn. This is a unique opportunity to see some of the world's most rare aircraft, extraordinary American classic automobiles, historic tanks, armored vehicles, military artifacts and much more.
Read the entire article on The American Heritage Museum web site here:
External Web Site Notice: This page contains information directly presented from an external source. The terms and conditions of this page may not be the same as those of this website. Click here to read the full disclaimer notice for external web sites. Thank you.
Related posts