World War I Mobile Museum back on road with new name, same educational mission
By Keith Arden Colley
Curator, "Awakening the Mind mobile museum, WWI Remembered" 
Special to the Doughboy Foundation website 

After weathering many cancellations and shutdowns due to the disruptions caused by the Covid pandemic, the WWI Mobile Museum is back in action and on the road again, bringing artifacts that tell the story of America and World War I to senior centers, schools, and other facilities nationwide.
Well folks, we are finally back on the road after a very long 2 1/2 years being shut down due to the pandemic. It was unfortunate that we had to cancel/postpone 238 shows. But a couple of exciting things took place while we were down…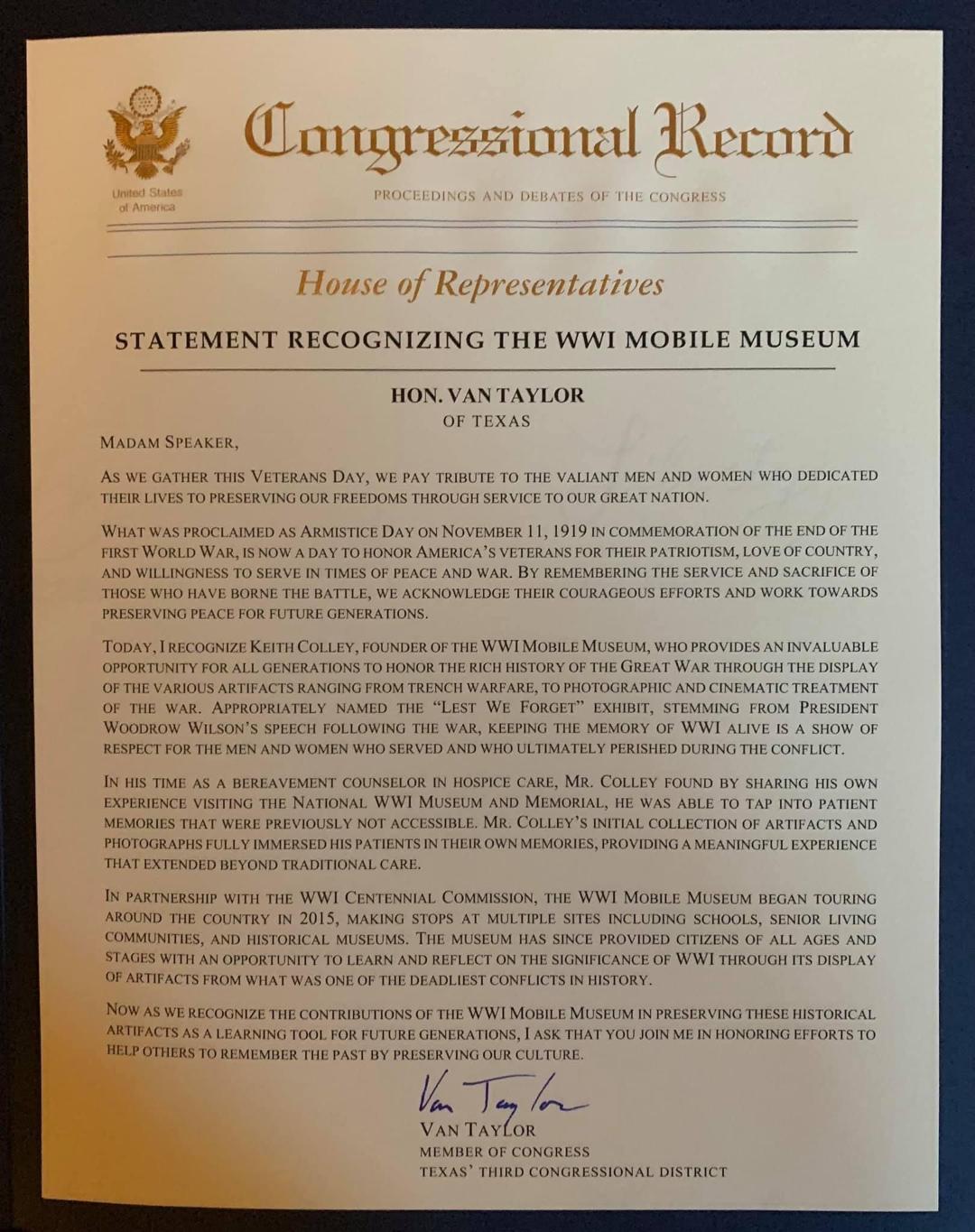 First, We are proud to announce that we have received a very special recognition, via a Proclamation from Congress, which was read on the floor of Congress on November 11, 2021 honoring the museum and its efforts to share WWI history with our country in a unique setting, that being a completely Mobile Museum which is able to be set up on the premises so there are no limitations to who can see it.
We would also like to share that during the shutdown we rebranded the World War I mobile museum and we are now called "Awakening the Mind mobile museum, WWI Remembered". The rebranding has opened new doors for opportunities to reach so many more and creating a new community that mixes our Veterans and our Seniors with our youth! I would like to add, the misconception that our youth has no interest in history is just that, a misconception! The reception by the kids (and teachers) has been overwhelming. Not only that, we are being asked back to schools as the kids rotate through and graduate out.
With that said, We just got back from a 3 stop tour in Missouri where we were asked to bring the museum to the birthplace of the last living WWI soldier, Frank Buckles, in Bethany where we got to meet the proud family members of Frank Buckles and hear some amazing stories. Following that we were invited to General Pershing's boyhood home and Museum in Laclede, Mo where we have been asked to be a part of the next Pershing Days.
We are preparing for another Midwest Tour in September and then a Texas Tour in late Fall. We'd love to invite everyone to check out our website and book a visit for the Museum where you live. We want everyone in our country to see this Mobile Museum and to have the opportunity to pay their respects to the Heroes of "The Great War".
Hope to see you soon!
Related posts