World War I Doughboy statue topples to the ground in Petersburg, VA
Published: 24 September 2023
By Katelyn Harlow
via the 8News (WRIC) television station (VA) web site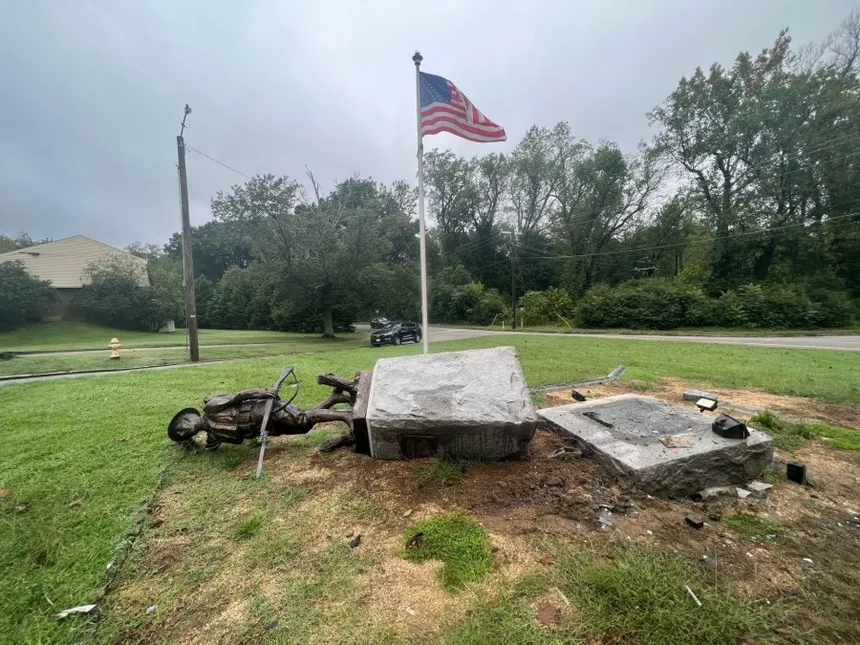 A World War I Doughboy memorial in Petersburg was toppled to the ground sometime between the late night hours on Saturday and the early hours on Sunday.
The statue — designed to honor those that that died in World War I — is located in a small grass lawn at the intersection of North Boulevard and South Sycamore Street.
The toppled statue can be seen on the ground, with its stone plaque displaced and broken diagonally through the engraving of an American flag.
In an announcement by the Petersburg Police Department at around 12:30 a.m. on Sunday, Sept. 24, police were on the scene of a shooting at the location of the statue. Sycamore Street and other nearby streets were closed overnight during the investigation.
According to a spokesperson for the Petersburg Bureau of Police, at 11:38 p.m. Saturday, Sept. 23, officers received a call reporting a crash in the area of North Boulevard and South Sycamore Street.
Upon arrival, authorities found a man who had been shot, who was pronounced dead on the scene. The man was identified as 29-year-old Fatin Ibn Hassan Rhone.
The incident remains under investigation by the Petersburg Bureau of Police.
Read the entire article on the WRIC web site here:
External Web Site Notice: This page contains information directly presented from an external source. The terms and conditions of this page may not be the same as those of this website. Click here to read the full disclaimer notice for external web sites. Thank you.
Related posts