Who Are They? Men in the 369th Infantry Iconic Photo
via the National Park Service web site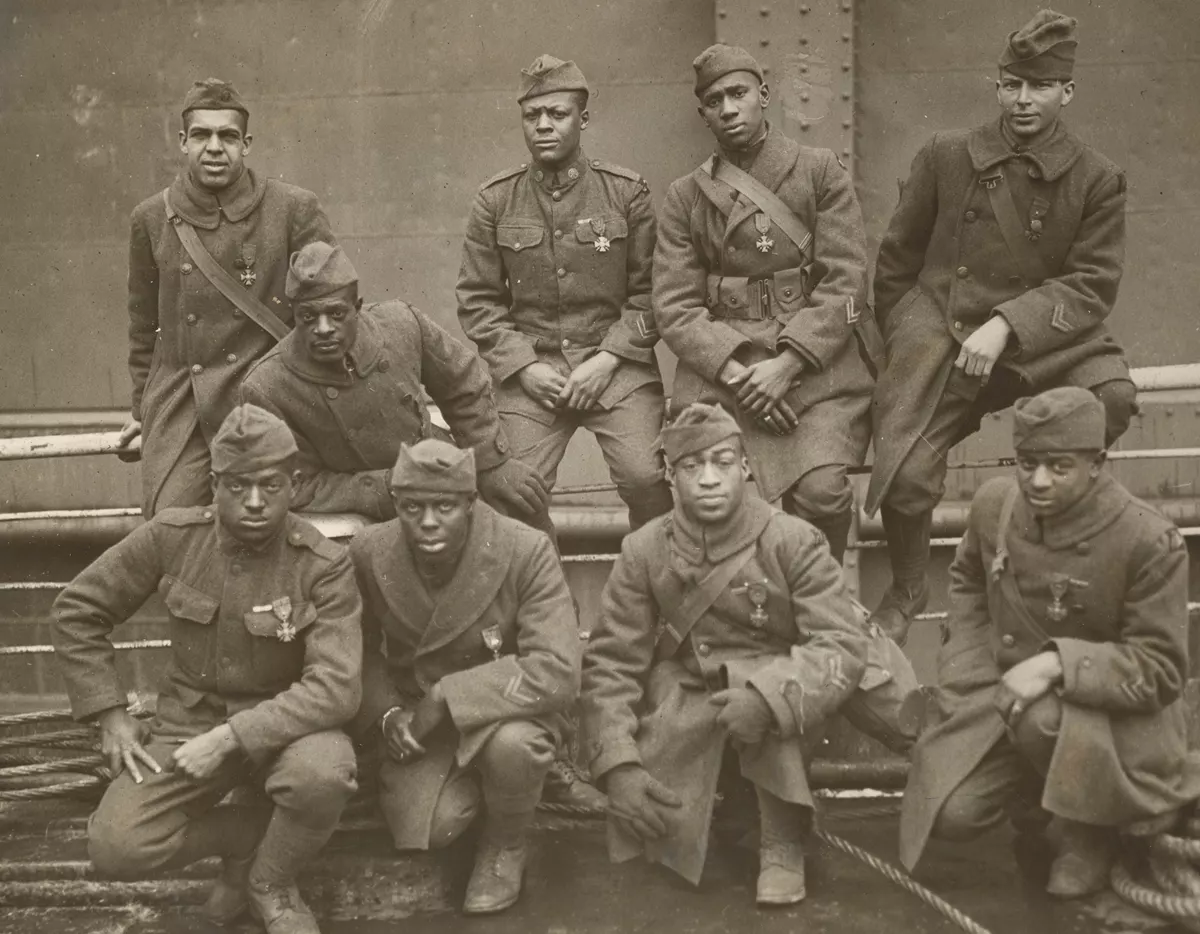 Nine men from the 369th Infantry, Harlem Hellfighters, posing for an iconic photo on their return home from World War One.
The photo at the top of the page was taken on February 12, 1919, as soldiers from the 369th Infantry Regiment were waiting to disembark in New York on their way home from the Great War in Europe. This photo is one of several iconic photos of the 369th Infantry. Few of them, however, were accompanied by captions giving the soldiers' names or anything about them. The 369th Infantry, whose members called themselves Harlem's Rattlers, was the most famous all-Black regiment to fight during World War I. By the end of the war, France awarded the regiment the Croix de Guerre. One hundred-seventy-one of the regiment's men received individual Croix de Guerre medals for their valor. Several soldiers were also awarded the Distinguished Service Cross. In 2015, Henry Johnson was posthumously awarded the Medal of Honor for his bravery during the war.
Henry Davis Primas, Sr. (Far left, back row)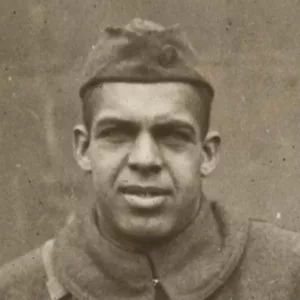 Henry Primas was born on May 26, 1894, in Pittsburgh, Pennsylvania, to Meshach and Annette Wilson Primas. Henry graduated with a pharmacy degree from the University of Pittsburgh in 1914. He enlisted on November 16, 1917. Due to his education, he was transferred to the 369th Infantry Medical Detachment. During World War I, he was awarded the Croix de Guerre for bravery. He was honorably discharged on February 24, 1919. After being discharged, Primas returned home to Pittsburgh and worked as a pharmacist. He later retired from the U.S. Post Office. He died on May 3, 1961, at the age of 66. He was buried at Homewood Cemetery in Pittsburgh.
Daniel W. Storms, Jr. (second from left, back row)
Daniel Storms was born in Stamford, Connecticut, in 1885. He worked as a hostler (a person who took care of horses in the stables of an inn) and a house cleaner. In 1915, Storms and his wife, Amy Price, lived in New York City. He enlisted in the 369th Infantry on May 8, 1917, at the age of 33. He was promoted to sergeant on December 4, 1918. During the Great War, he was awarded the Croix de Guerre by France. He was discharged from the Army on February 24, 1919. After the war, he returned to New York City and worked as an elevator operator and janitor. He died on February 28, 1922, at the age of 36, from complications from tuberculosis. He was buried in Woodland Cemetery in Stamford, Connecticut.
Read the entire article on the National Park Service web site here:
External Web Site Notice: This page contains information directly presented from an external source. The terms and conditions of this page may not be the same as those of this website. Click here to read the full disclaimer notice for external web sites. Thank you.
Related posts