When the Doughboys came home, St. Louis threw a homecoming party for the ages
By Tim O'Neil
via the St. Louis Post-Dispatch newspaper (MO) web site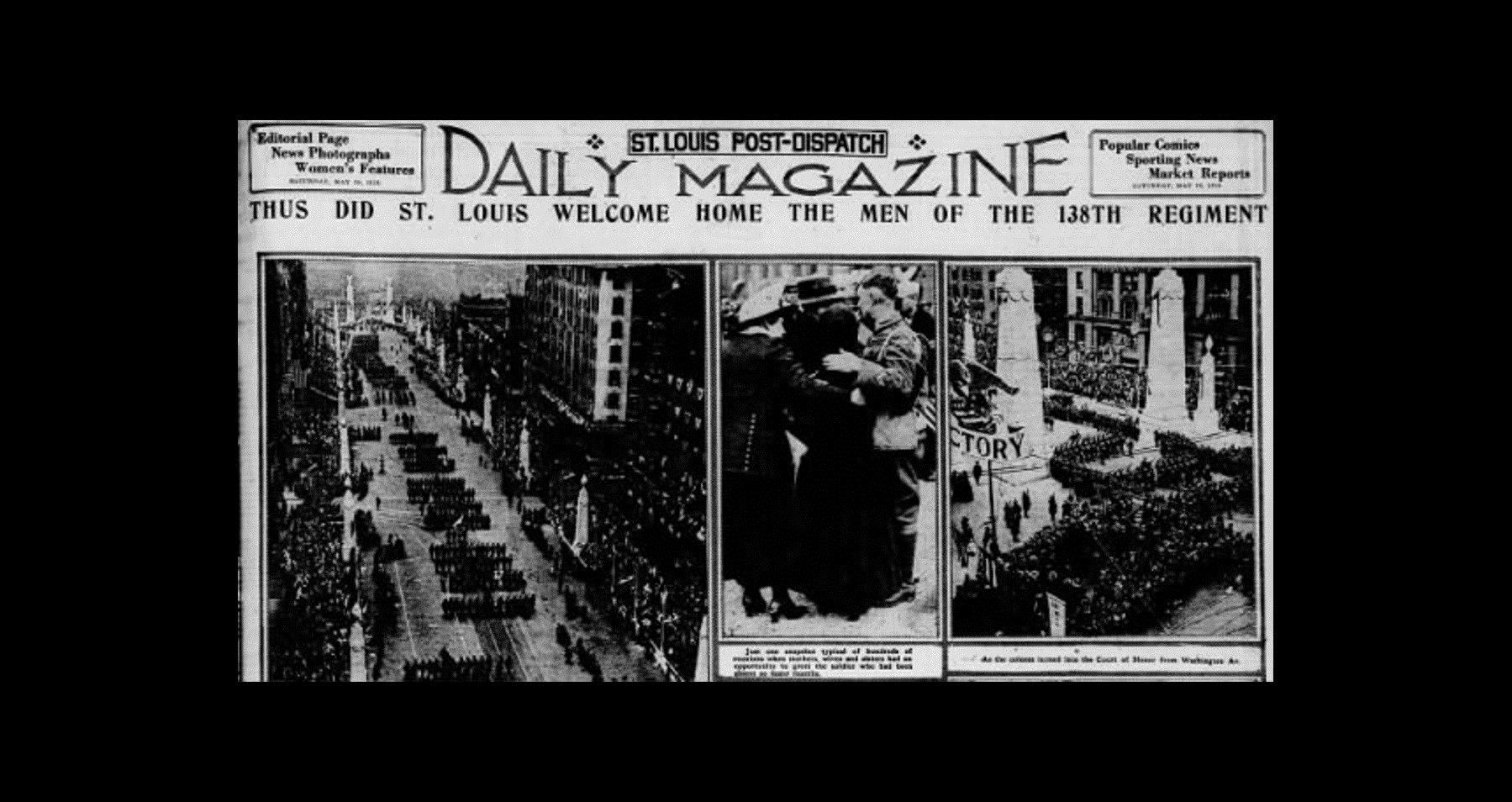 ST. LOUIS • The doughboys formed ranks in favor of "100 percent Americanism" and against the city of Chicago.
The veterans of World War I who created the American Legion first met on American soil in a theater downtown on May 8, 1919. The killing had ended six months before. They adopted a national constitution, promoted employment for veterans and cheered Col. Theodore Roosevelt Jr., a war hero and son of the late former president.
The 1,079 delegates gathered in the Shubert-Jefferson Theater of the Union Electric building, Olive and 12th streets. By happy coincidence, St. Louis also was hosting a raucous welcome home for the 138th Infantry Regiment. The unit had formed here and fought in the Argonne Forest in France in the last weeks of the war.
On May 9, the 138th's soldiers marched through cheering mobs and passed in front of the Shubert-Jefferson, which became a convenient reviewing stand for legion delegates who mingled with the crowds.
"What a handsome leader," a woman shouted to Sgt. Ross Koen as he led L Company down 12th (now Tucker Boulevard). Jimmie Dutton broke through the police line and hugged his marching big brother, W.B. Dutton. Choruses of church bells and locomotive whistles added to the racket.
The 138th had paid dearly for the honor — of 3,500 men who signed up, 230 were killed in combat. Accidents and wounds increased the casualty rate to almost 50 percent. The survivors stepped off trains at the Wabash station near Forest Park and marched downtown in formation with rifles, packs and helmets.
They enjoyed the welcome. But Cpl. Tom Boatwright of Herculaneum said, "I want to get back into civilian clothes."
Two months earlier, legion organizers in France had decided to reconvene here. They were inspired by the Grand Army of the Republic, the association of Union soldiers that had been so influential in the decades after the Civil War.
Read the entire article on the St. Louis Post-Dispatch web site.
External Web Site Notice: This page contains information directly presented from an external source. The terms and conditions of this page may not be the same as those of this website. Click here to read the full disclaimer notice for external web sites. Thank you.
Related posts