When America became global power: We have the right Christmas present for you!
Published: 12 November 2022
By Attila Szalay-Berzeviczy
Special to the Doughboy Foundation web site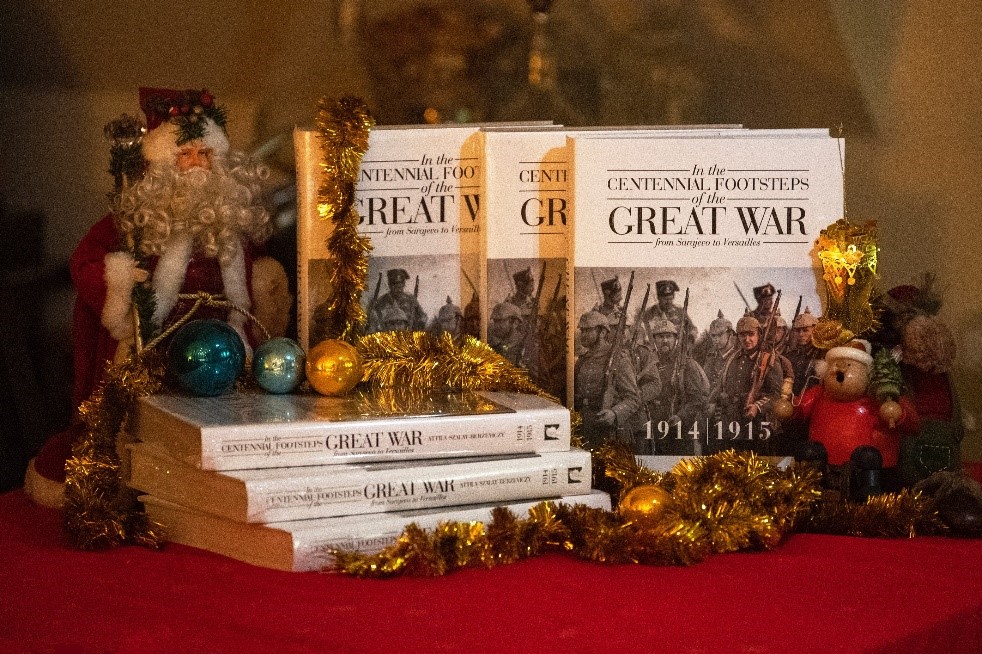 World War One changed the world forever and shaped the twentieth century. It marked the twilight of the British and French colonial empires, and signaled the emergence of Australia, New Zealand, Canada, Ireland and Poland as new sovereign states; brought about the end of the German, Austro-Hungarian, Russian and Ottoman monarchies; and propelled the United States of America to the status of global power. After these epic changes, it is no surprise that one hundred years later, the legacy of the Great War is still part of our everyday lives.
The two-volume book titled In the Centennial Footsteps of the Great War chronicles and explains the historical events of the Great War through photos taken by the author one hundred years later, between 2014 and 2021 in each and every theatre of this global conflict. From Sarajevo through the battlefields of Europe, Africa, the Middle East and the Pacific, all the way down to Versailles, the book covers a total of 57 different countries. At the same time, it also foreshadows how the outcome of the Great War led to World War II.
With festive season approaching, are you still looking for the right present for your loved ones? We have the ideal offer for you that the whole family would enjoy on Christmas Eve. If you want to know more about this history-changing event that shaped our modern world as we know it, discover the history by ordering your copy of the book at a 15% discount Christmas special price on the following website: www.greatwarbook.com/us/. The Christmas special price ($75,50 instead of $89,50) offer is available before 10 December 2022. In order to get the 15% discount, a coupon code must be used at the payment part in the coupon code box. The coupon code is 15GWB.
$2 from every copy of In the Centennial Footsteps of the Great War sold in the United States will go to the Doughboy Foundation. The generous donation will be used for supporting the completion of the National World War I Memorial in Washington D.C. The Memorial will be officially dedicated in May 2024 after the main sculpture, A Soldier's Journey, is installed.
Related posts