Welcome to the 2023 "Bells of Peace" National Bell Tolling at 11am On Veterans Day
Published: 23 September 2023
By Theo Mayer
Staff Writer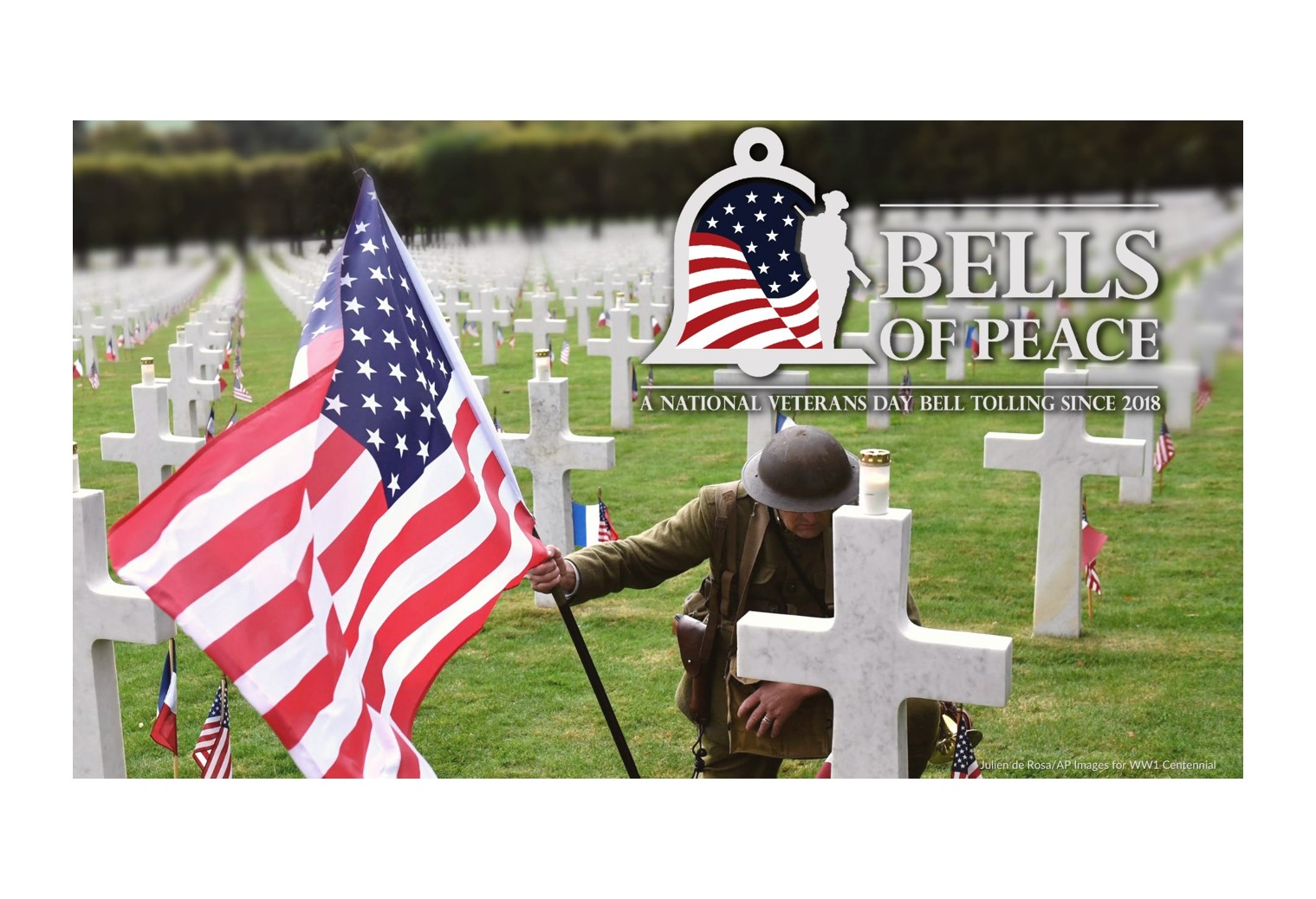 The Doughboy Foundation invites the public to join the annual Bells of Peace ceremony, a national tradition initiated in 2018 to commemorate the WWI Armistice Centennial and to honor all Americans who have served their nation. It's a great way to kick off local remembrances on Veterans Day. For 2023 the national ceremony will take place on November 11, starting at 10:30am Eastern at the WWI Memorial in Washington D.C. and with the Bell Tolling exactly at 11am.
It includes a wreath laying, special guests based on this year's focus, the Bells Ceremony, a moment of reflection, and a moving rendition of "Echoing Taps" where multiple buglers play from various locations around the WWI Memorial creating a somber and poignant echoing of remembrance.

2023 honorees, "The Hello Girls"
This year, the ceremony places special focus on the contributions of "The Hello Girls," the 217 bilingual women who served as U.S. Army Signal Corps switchboard operators during WWI. Despite their valuable service and sacrifices, they were denied veteran status and benefits until 1977.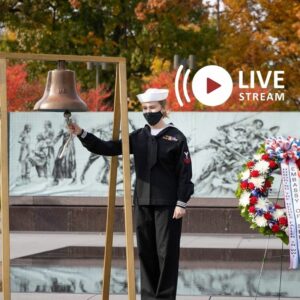 In-Person and Virtual Attendance Options
All interested people in the Washington D.C. region are invited to join us live at the National WWI Memorial, which is situated on Pennsylvania Avenue, between 14th and 15th Street NW, opposite the White House Visitor Center.
For those who cannot attend in person, the ceremony will be live streamed starting at 10:45am Eastern with the Bell Tolling at 11am on the Doughboy Foundation's YouTube channel YouTube.com/@doughboyFoundation .
New Features for Local Ceremonies
Tens of thousands have participated in local Bells of Peace ceremonies in past years, at 11am local time wherever they are. To support these ceremonies, the Foundation has transformed its mobile app into a WebApp, available directly at www.BellsOfPeace.org .
The browser based WebApp runs on desktop, laptop, and mobile devices on PC, Mac, iOS and Android platforms. The revamped participation toolkit includes:
An FAQ page to help you build your own Bells of Peace Ceremony
A countdown timer for synchronized bell tolling at 11am local time
Options for both single bell tolls and a 21-bell salute
An up-count timer for the increasingly popular "Moment of Silence" (New Feature)
The ability to sound Taps to conclude local ceremonies. (New Feature)
Call for Registration and Public Participation
Community members who plan to participate in Bells of Peace ceremonies are encouraged to register their activities via the website. This aids the Foundation in enhancing and expanding the program in future years. If you are a participating organization like a school, church, chapter, post, or city, you can also upload your organization's logo when you register, and with your permission we will promote your Bells of Peace ceremony. [TO REGISTER CLICK HERE]
Social Media Engagement
Participants and supporters are encouraged to share their ceremony activities and observations using the hashtags #BellsOfPeace and #TollTheBells.
More Information
For more information, registration, WebApp and FAQs to create your own Bells of Peace ceremony, please visit www.BellsOfPeace.org.
If you would like to support the Hello Girls legislation for a Congressional Gold Medal, currently before Congress, please CLICK HERE.
Related posts