"We were young, they say. We have died. Remember us."
Published: 24 September 2022
By Margaret Crable
via the University of Southern California's USC Dornsife Magazine web site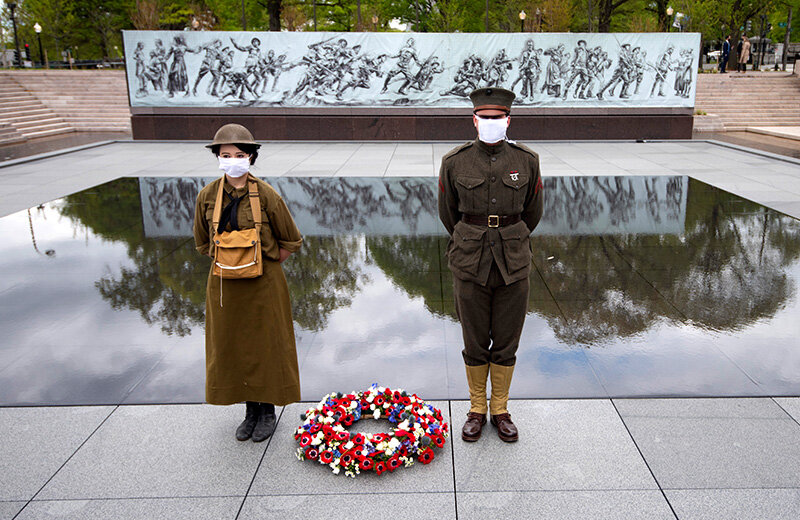 World War I is one of America's most forgotten wars, says Chris Isleib, a retired Navy captain with nearly 30 years in the service. When he began recruiting volunteers for the United States World War One Centennial Commission starting in 2013, he'd ask each person if they had a family member who served in the conflict.
"Hardly anyone knew," Isleib says. Although the U.S. mobilized more than 4 million men and women and lost nearly 120,000 soldiers during the war, there had been no official memorial built at the nation's capital in the 100 years since the conflict.
It took effort from people like Isleib, who served as director of public affairs for the Centennial Commission, to secure land and funding to build a memorial.
In April 2021, the site was first opened to visitors. In 2024, the installation of a 58-foot bas-relief by the artist Sabin Howard will mark its completion. The sculpture, titled "A Soldier's Journey," depicts the experiences of those who served.
It was a fitting accomplishment for Isleib, who graduated from the USC Dornsife College of Letters, Arts and Sciences with a degree in creative writing in 1985. He's spent his career telling the stories of the military, from Hollywood to the Pentagon, to make sure they don't get lost.
"It's always been important for me to tell good stories about our troops, stories about their moral courage, physical courage and integrity," he says.
Sea, ships and scripts
Isleib's parents both served in World War II and met while they were stationed in San Diego. A college scholarship through the Naval Reserve Officer Training Corps (ROTC) program brought Isleib from the East Coast to USC.
Read the entire article on the USC Dornsife Magazine web site here:
External Web Site Notice: This page contains information directly presented from an external source. The terms and conditions of this page may not be the same as those of this website. Click here to read the full disclaimer notice for external web sites. Thank you.
Related posts