Veterans Support Civilian's Search for Great-Grandfather's Service Record
Published: 14 November 2022
By Joe Felice
Special to the Doughboy Foundation web site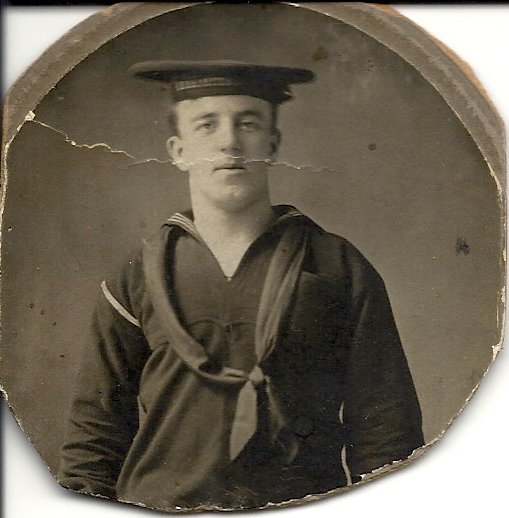 Shortly after my presentation at Sahler-Sedan VFW Post 287 in Coatesville, PA at the beginning of December 2019, I came across an old family photo belonging to my mother.  In the photo, was an American sailor wearing a First World War era Navy uniform.  After showing her the photo, she remarked that she did not recognize the sailor.
About a week later, when paging through the album again, I noticed that the face of the sailor seemed to match with the groom in a photo my mother showed me some years before of her grandmother Amelia's wedding day.  My mother never knew her grandfather since he had passed away nearly two decades before she was born.  However, she was very close with Amelia and was surprised by this photo of John in uniform since Amelia never spoke of her late husband's Naval service.
My research into the life of Cpl. Wellington Sahler, namesake of the aforementioned VFW Post who was killed in action at the Meuse, bolstered my interest in the history of World War I.  Thus, I knew I had to learn whether or not John Faulkner was a veteran of the Great War.
Since at that time the primary basis of my research was founded on two photographs, I did not have any specific details about John's service.  I knew from the 1920 census John had worked at the Philadelphia Navy Yard as a carpenter.  Also, in contradiction to the photo showing him in uniform, a decade later in the 1930 census John had stated "no" under veteran status.   Therefore, I contacted Jim Dunigan, a historian with the Ships of the Sea Maritime Museum in Savannah, GA and asked for his help.  Jim pointed out that the white braid wrapped around the right arm of John's jumper indicated that at the time of the photo he was between the ranks of Apprentice Seaman and Seaman First Class.  Aside from the census records and this new insight from Jim, the rest of the details known regarding John's background related to his personal life from stories Amelia frequently shared with my mother.
John was born in England on May 1, 1889.  He arrived in Philadelphia in 1911 and two years later married Amelia Ransley.  Sadly, John passed away from cancer in January 1933.  During this time they had two daughters, Leena born in 1914 and then my grandmother Hilda, born in 1918.  Although Amelia had mentioned many times to my mother that John was a carpenter, she never mentioned to her his work at the Navy Yard.  In fact, later we learned that Amelia's sewing box, which she had always shared that John had made for her, was in fact John's Ditty Box from his time at the Navy Yard.
In September 2020, I decided to take a chance and submit an SF-180 form to the National Archives in St. Louis, MO requesting John Faulkner's Naval records in hopes that some further information regarding his service would come to light.  Based on the information shared by Jim and my mother, I was able to provide my submission with details such as John's rank and dates for his birth and death.  Due to the pandemic, I learned that there would be a lengthier turnaround time for my request to be fulfilled.  While I waited, I pursued other avenues of research.
Despite pursuing several other avenues of research, I was still unable to confirm John's service.  The waiting period for my SF-180 submission was nearing to an end.  On March 11, 2022, Amy Forsch, an archivist technician with the National Personnel Records Center (NPRC) in St. Louis, MO performed an extensive search for John Faulkner's Naval record.  She was also unable to find any mention of him in their records.
In May 2022, after a couple of years of researching John's life to confirm his service, the next big breakthrough surfaced. References included in the book, "The Philadelphia Navy Yard: From Birth of the U.S. Navy to the Nuclear Age," confirmed that there was a J. Faulkner who served aboard the tugboat U.S.S. Samoset. This matches with John's employment as a carpenter at the Navy Yard.
Then another archivist, Corey Stewart, at the National Archives searched for John's record. She checked for any record of my great-grandfather in the Coast Guard, Navy Military files, Navy Civilian Personnel Folders, Navy Civilian Service Record Cards, Civil Service Cards, Civilian War Department Folders, Merchant Marine Licensing Files and Merchant Marine Enrollee Files. Unfortunately, she was also unable to find any record that he had served.
Bryan K. McGraw, Director, Personnel Records Division at the National Archives informed me that each sailor who served between the late 1800s through 1947 has a record in the form of a USN "brick," referring to the style of military personnel jacket. He had hoped that one was on file for John Faulkner. Theresa Fitzgerald, Director at the National Archives noted that, if John worked at the Navy Yard as a contractor, he would not have a Civilian Official Personnel File on record.
On August 19, Nathan Jordan, an archivist with the National Archives in Atlanta, GA provided documentation that John worked for the Emergency Fleet of the U.S. Shipping Board (USSB). Nathan sent John's WWI Classification list (below) which stated that he worked for the Emergency Fleet in 1918.
Although this new information may bring my search, which has lasted for around three years, to a conclusion for now, it does leave one remaining question. USSB uniforms had two white piping stripes around the collar. The photo of John in uniform shows him with three white piping stripes around his collar, meaning he was wearing an official Navy uniform. Therefore, the photograph does suggest that at one point my great-grandfather did serve in the Navy.
Grace Schultz, an archivist with the National Archives in Philadelphia, followed up with her own search. She checked two series of records related to the USSB. However, she found no additional mention of John's name in these records.
A couple of noteworthy introductions to other people who provided fruitful insights into my investigation: Christopher Eck, Executive Director, National Historical Publications and Records Commission at the National Archives in Washington, D.C., is a descendant of the late Pvt. Lance Eck. Pvt. Eck, his distant cousin, chartered the Sahler-Sedan VFW Post. Also, Dr. Jonathan Friedman, my former history professor from West Chester University of Pennsylvania. On several occasions, they were kind enough to share points of contact in their professional networks to advise me in my research.
Over the past few years, many veterans have supported my investigation into proving that my great-grandfather was the sailor in the photograph. An example of this support comes from Tom Totoris. Tom, retired Navy, served from 1971-1997. He is a member of VFW Post 5432. Recently, he mailed me historical items from the Great War era. Thank you to all the countless veterans, historians, archivists, librarians and genealogists who offered their time and support in helping me to learn more about my great-grandfather John Faulkner.
Related posts