Unpacking the Stories Behind Artist Bisa Butler's Portrayal of the Harlem Hellfighters
By Ben Brands and Phoebe Hillemann
via the Smithsonian Magazine web site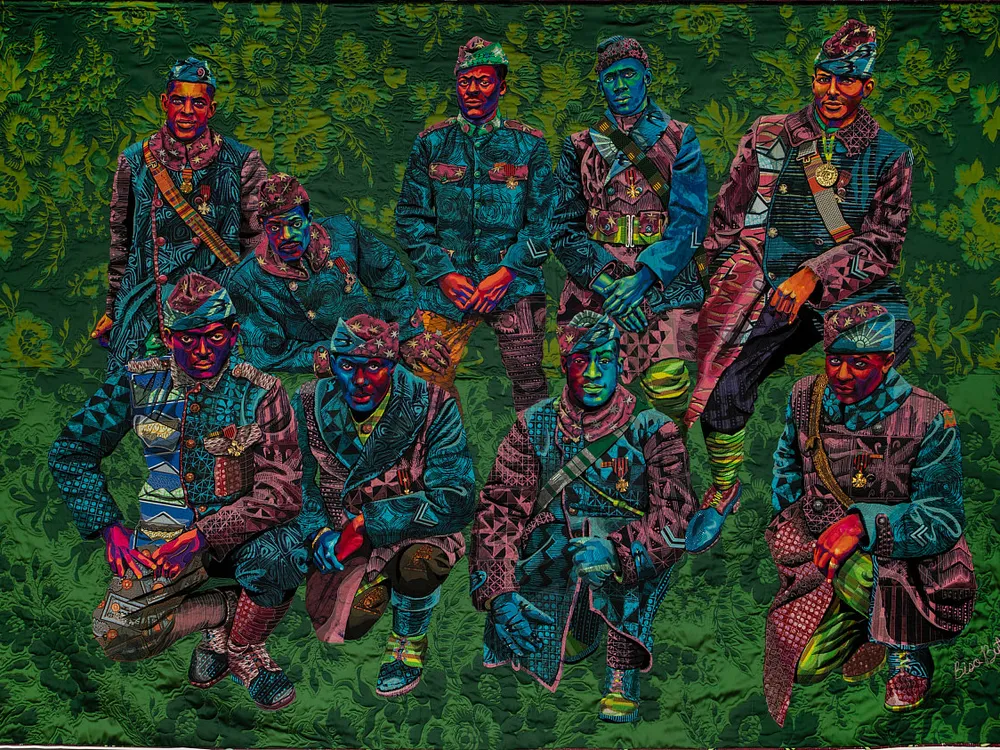 Tips for teaching the layered World War I history of the 369th Infantry Regiment on their return from France
When educators cover U.S. military history, they may not immediately think of contemporary art as a teaching resource. But a 2021 artwork by artist Bisa Butler on display in the Smithsonian American Art Museum's Renwick Gallery is tailor-made for sparking student inquiry into an essential chapter of World War I history. In advance of Memorial Day, we asked Benjamin Brands, a military historian at the American Battle Monuments Commission (ABMC) to tell us more about the hidden histories contained in Butler's stunning quilt, Don't Tread on Me, God Damn, Let's Go – The Harlem Hellfighters. The Project Zero thinking routine Unveiling Stories, used to help students investigate layers of meaning in an image or text, frames our exploration of the artwork.
What is the human story? 
What can we learn about the individuals depicted in this artwork, and their experiences?  
Bisa Butler's quilt is based on a famous photo in the National Archives (above) of members of the 369th Infantry Regiment, as they returned from France following victory in World War I. Thanks to the photograph's caption, we know the names of all nine men depicted. They are combat veterans, and each wears the Croix de Guerre, a French decoration for valor. Nicknamed the "Harlem Hellfighters," the 369th was one of eight segregated African American infantry regiments that fought in France during the war. The Hellfighters spent more time on the front line — 191 days — and suffered more casualties — fifteen hundred — than any other American regiment.
In addition to these combat losses, the men of the 369th and other African American units faced discrimination from their own army. America in 1917 was at the height of Jim Crow, and the U.S. Army was rigidly segregated. As the Army swelled in size with draftees in the wake of the declaration of war, African Americans were largely assigned to segregated labor and stevedore (ship loading and unloading) units. However, many African Americans believed that front line service would demonstrate their capabilities and serve as an important demonstration of equality. The rights of citizenship had long been linked to military service, and African Americans looked to combat in France as an important step in furthering their rights and recognition at home. Two combat divisions, the 92nd and 93rd, composed of African Americans and largely led by white officers, were formed and were among the first units sent to France. Two of the regiments for these divisions were built around existing African American National Guard units, the 8th Illinois which became the 370th Infantry and the 15th New York which became the 369th Infantry.
Read the entire article on the Smithsonian Magazine web site.
External Web Site Notice: This page contains information directly presented from an external source. The terms and conditions of this page may not be the same as those of this website. Click here to read the full disclaimer notice for external web sites. Thank you.
Related posts