U.S. Naval War College Hosts Sixth Annual Cardines Classic Army Navy Baseball Game
Published: 11 October 2023
By Leisa Premdas, U.S. Naval War College Public Affairs
via the U.S. Naval War College web site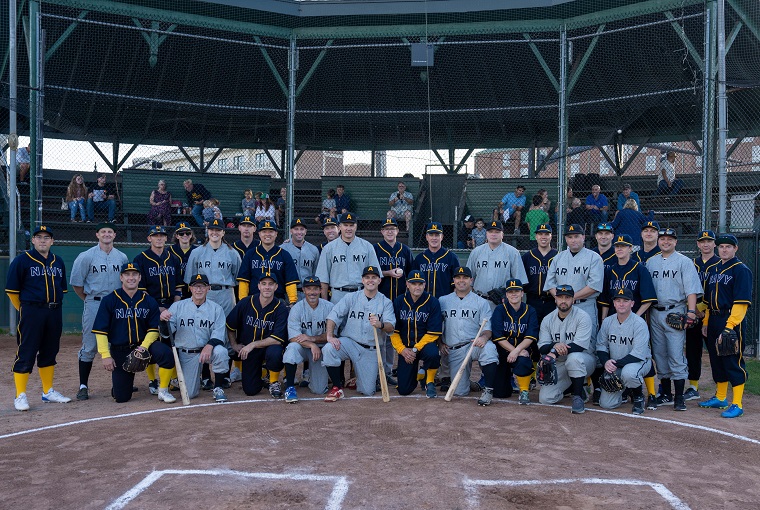 The U.S. Naval War College (NWC) hosted its sixth annual "Cardines Classic" baseball game at Cardines Field in downtown Newport, Oct. 6.
Designed to be both fun and educational, the event commemorates American servicemembers' involvement in World War I and the Navy's commitment to international partnerships.
"A little more than 100 years ago, my predecessor, Admiral William S. Sims – hosted King George V of Britain for the great baseball game between U.S. Army and Navy forces in Europe during the First World War," said Rear Adm. Pete Garvin, president of NWC. "This tribute to those who gave all in service to our great nation is a fitting reminder of their sacrifices and service."
This year's game was organized in coordination with the Naval War College Foundation, the Pritzker Military Museum and Library, the Congressional World War Centenary Commission, the Newport Gulls, the City of Newport, Naval History and Heritage Command and other tenant commands onboard Naval Station Newport.
The Cardines Classic is based on an Army Navy baseball game originally organized on July 4, 1918, by Rear Adm. William S. Sims, then commander of U.S. Naval Forces in Europe and former president of NWC. At a time when U.S. forces arriving on the Western Front were met with skepticism, Sims saw baseball as a way to encourage trust and camaraderie between Entente forces. The effort was successful and even caught the attention of King George V, who regularly attended games, referring to baseball as a symbol of the reconstitution of transatlantic relationships built on a foundation of shared values.
Based on Sims and baseball's contributions to international relations, NWC maintains a yearly tradition of reenacting the first game. Army and Navy students from NWC dress in period-accurate baseball uniforms and compete at the historic Cardines Field.
"Our annual Cardines Classic baseball game played on Cardines Field provides an immersive experience for current military and naval service practitioners to recognize the transcendent themes which connect us to the past," stated David Kohnen, Ph.D., Cmdr., U.S. Navy, retired. He added that Cardines Field was named as such by Mrs. Anne E. Hitchcock Sims – Sims' spouse – to honor the life of U.S. Army Private Bernardo Cardines, an Italian immigrant to Newport who played at the field before he joined the Rhode Island Army National Guard and was killed in action during World War I. "The field stands today as a reminder of the cost of war."
Cardines Field is recognized by Major League Baseball as the oldest continuously used baseball park in the United States. Initially named Basin Field, the original backstop dates back to 1908.
Read the entire article on the Naval War College web site.
External Web Site Notice: This page contains information directly presented from an external source. The terms and conditions of this page may not be the same as those of this website. Click here to read the full disclaimer notice for external web sites. Thank you.
Related posts