Twenty-One Steps: Guarding the Tomb of the Unknown Soldier
Published: 1 September 2022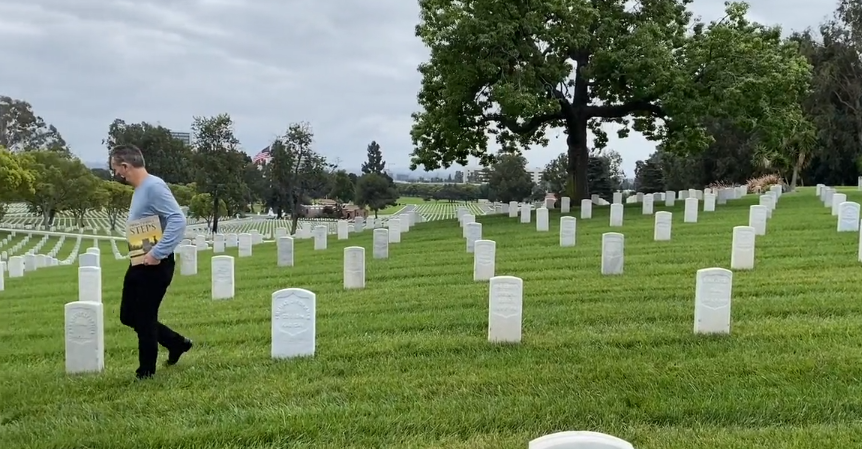 Twenty-One Steps: Guarding the Tomb of the Unknown Soldier
By Jeff Gottesfeld
Special to the Doughboy Foundation web site 
The iconic psychiatrist Viktor Frankl, whose Man's Search for Meaning (1946) is one of the most important books every written, loved the United States. But liberty, he warned, is not enough to sustain our nation. In a book mostly about his experiences in the Nazi camps and the importance of finding meaning even in the cruelest of settings, Frankl makes a bold proposal:
"Freedom is in danger of degenerating into mere arbitrariness unless it is lived in terms of responsibleness. That is why I recommend that the Statue of Liberty on the East Coast be supplemented by a Statue of Responsibility on the West Coast.
Frankl's call for responsibility may be one reason that for many years, I have visited national cemeteries on Memorial Day. I regret that I didn't make this a habit until I was in my forties.
Five years ago, on Memorial Day, I traveled down the 405 Freeway with my de facto wife and step-daughter to the Los Angeles National Cemetery. It was impressively crowded, until we wandered away from the main ceremony, and into the vast fields of headstones.
As I walked among the rows, I noted one headstone that read, "UNKNOWN." And then, another. I remembered a visit in my late teens to the Tomb of the Unknown Soldier at Arlington National Cemetery, and how I had marveled at this most significant of American shrines.
By the time we departed, I was mulling a children's book about the Tomb, and the Tomb Guards who have kept watch there every minute of every day since July 2, 1937. I got the title quickly: Twenty-One Steps: Guarding the Tomb of the Unknown Soldier.
The research for the book was both fascinating and upsetting. The fascinating part was building massive files. I have articles on unsung heroes buried at Arlington, like Don Holleder. Another about Ioway Tribe of Kansas and Nebraska member Marvin Franklin, a Tomb Guard KIA in Vietnam. There are endless stories from the websites of the Society of the Honor Guard, Tomb of the Unknown Soldier; Arlington National Cemetery; and the United States World War I Centennial Commission. Patrick O'Donnell's The Unknowns (2018) became a bible. So did the National Geographic Society's Where Valor Rests (2009).
The upsetting part was coming to terms with how little I knew about the First World War. It was particularly painful because I had been an undergraduate American Studies major. Granted, college was a long time ago, but World War I was a seminal moment in our history. Arguably, it is when the United States became a world power. I am fond of saying that we cannot blame people for not knowing what they have not been taught, but I still blamed myself for this inexcusable gap. It was my own failing.
There was no way that I was going to fill the gap entirely. But after some fits and starts – mostly fits! – in finding my book's point of view, I decided that the best way to make the past real to my young audience, their parents, and grandparents was to tell the story from the point of view of the first Unknown. I start like this:
I am an Unknown. I am one of many.
We fell for the last time in the Argonne Forest. At Somme. Belleau Wood. Facedown in trenches. Faceup on hillsides. We fell a thousand ways.
In life we were our mother's sons. In death, we are faded photos on the mantel, empty chairs at Thanksgiving, prayers in the dark before dawn. We are known but to God.
In order to tell that story, I had to understand his world, both in the United States and then in Europe, where he died a nameless and faceless death horrific for him, his unit, family, and nation. None had a place to mourn him, nor honor his ultimate sacrifice.
One of things that I learned was that World War I was our first truly national military effort. The Civil War was a mighty undertaking, but the epitome of disunion. There were so many who chose state over Union, and fought accordingly. Not so in World War I. Part of the significance of the war is that it was a national mobilization. When I discovered that 4.5 million people were part of the military then, out of a national population of little more than 100 million – nearly five percent of our population, and ten percent of all men – I shook my head at the scale.
I was also struck by how many of our soldiers were immigrants or children of immigrants. Twenty million people had arrived on our shores between 1880 and 1914 from Europe and Eastern Europe. They knew international armed conflict as we do not. That they would heed their nation's call, and return to Europe to fight, shows a love for their adopted country that is exemplary. America was a far less tolerant place in 1917, yet our soldiers were of every race, religion, and creed. Not like today's armed forces, but at least moving in the right direction. They were of our nation and Native nations. Serving, and having a family member serve, knit a stronger national fabric.
That the effort happened when it did makes it all the more impressive an undertaking. When I talk to students about Twenty-One Steps, I keep in mind that for most of them, World War I was more than a century ago. To a kid, a hundred years may as well be a thousand. I tell young people that 1917 was not just before air travel, but domestic automobile travel. When it took two weeks to get from Los Angeles to Paris, not twelve hours. When there was no Internet, smartphones, transcontinental phone service, television, radio, or recorded music for mass consumption. When they'd be playing marbles and kick-the-can in the street or yard, not Animal Crossing or Minecraft in their bedrooms.
Finally, I learned and wrote about the self-effacement of both the Unknown Soldier and the Tomb Guards. We live in an age of the self. People have a sense of autonomy and agency that is rare in human history. In contrast, the Unknown has not just sacrificed his life, but also his identity. His gift to us is that in our not knowing who he is, we can embrace him equally. In the Tomb Guards, whose quest for perfection is in in honor of the Unknown Soldier – all three Unknowns, from World War I, World War II, and Korea – there is both collective striving and individual humility. It's quite a combination
Frankl wanted a Statue of Responsibility on the west coast somewhere, maybe San Francisco Bay or the Port of Los Angeles. I believe we've already got one. It is the Tomb of the Unknown Soldier, the final resting place of three Unknowns. The Tomb Guards on the mat know that visitors may come to watch the changing of the guard, but long for those same people to look past them, to the Tomb, and contemplate the meaning of giving everything, absolutely everything, to one's nation.
The effort of World War I, the Tomb, and the Tomb Guards should similarly remind us of our responsibility to America, and the best of our remarkable country.
TWENTY-ONE STEPS: GUARDING THE TOMB OF THE UNKNOWN SOLDIER next to an Unknown tombstone at the Los Angeles National Cemetery in 2021
---
Jeff Gottesfeld is based in Los Angeles CA, and has written for page, stage, television, and the movies. His focus now is on picture books for children grades 3 and up. Visit him at www.jeffgottesfeldwriter.com
---
External Web Site Notice: This page contains information directly presented from an external source. The terms and conditions of this page may not be the same as those of this website. Click here to read the full disclaimer notice for external web sites. Thank you.
Related posts