"Today's war writers owed a debt not only to the service of WWI soldiers but also to the unprecedented way they wrote about the war."
Published: 2 November 2022
By Jennifer Orth-Veillon, Ph.D.
Special to the Doughboy Foundation web site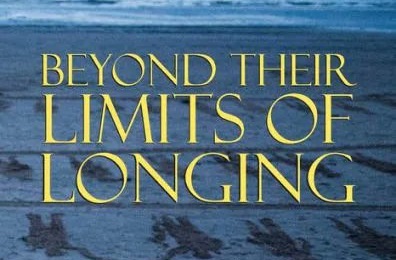 My just-released book, Beyond Their Limits of Longing: Contemporary Writers and Veterans on the Lingering Stories of WWI, is informed and inspired by "The WWrite Blog. Exploring WWI's Influence on Contemporary Writing and Scholarship," a blog I had the honor of curating for the Official United States World War One Centennial Commission's website from 2016-2019. The blog featured posts almost every week by emerging and established writers from all genres who volunteered to reflect upon the place of WWI memory in the United States and in the world.
While my work with the blog and the commission finished in 2019, my passion for modernizing the WWI narrative motivated me to create a book because, though a blog is wonderful in some many respects, I wanted to both consolidate and polish a selection of the timeless posts in an easily accessible collection.
WWI: A War Speaking to Contemporary Conflicts and Veteran Experience
On the eve of the centennial in November 2018, I had the incredible opportunity to interview Pulitzer Prize winning writer and Vietnam War veteran Robert Olen Butler. I asked him why he set his Christopher Marlowe Cobb detective series during 1914-1919. He cited comparisons between what he called that era's zeitgeist and the big issues of today. From the WWI-period, he listed:
There were drastic new technologies, expanding the capabilities of mass killing and destruction. There was America's ascendance to a premiere place in the world. There were war-driven waves of immigration, often desperate in motive; the struggle for a viable free press; violent acts of terror; the thrashing of governments under siege; the clash of ideologies–both political and religious. There was racial oppression and gender repression. There were dictators and would-be-dictators gaining and asserting power.
He concluded by asking, "Does all that sound familiar to you?"
Deadly drone technology, the U.S. withdrawal from Afghanistan, migrants drowning by the thousands in the Mediterranean, social media on trial, the January 6th storming of the Capitol, China's emergence as a possible superpower, the Russian invasion of Ukraine, MeToo, the Black Lives Matter provide but a few parallels. I interviewed Butler in 2018, about two years before the Covid-19 outbreak, which might have allowed him to draw a further comparison between today's issues and WWI by citing the Spanish flu global pandemic of 1918. To answer Butler's question—yes, WWI, undoubtedly, is also the story of our times, a story best told by those affected by war today.
I had just that opportunity to work with today's student veterans of Iraq and Afghanistan while teaching classes on war literature and leading creative writing workshops at the Georgia Institute of Technology. Frustration over the lack of individual voices in public war narratives was a theme I found not only in WWI texts we studied; the student veterans from today's wars also expressed resentment at ways stories told by the media, Hollywood, or history books neglect the reality of a soldier's experience—at war and when they come back home. When book contributors Gulf War veteran Seth Brady Tucker and Iraq War veteran Brian Castner spoke to my classes about their writing, both specifically expressed that this phenomenon of neglect—and the way veterans write about it—was first articulated by WWI writers like Wilfred Owen and Ernest Hemingway. Tucker even claimed he learned to both read and write poetry while studying Wilfred Owen in a desert foxhole.
I realized today's war writers owed a debt not only to the service of WWI soldiers but also to the unprecedented way they wrote about the war. WWI was one of the first times in history that literature played a large role in unveiling a side of war little shown to the reading public.
Still, what emerged immediately from WWI's destructive aftermath was a dominant public narrative of triumph and commemoration. Many of the WWI literary works considered today as classics offered a counter-narrative. Some were even censured. Voices of African American soldiers and women fell into silence. At the time I began the blog, I found plenty of information about the classic literature. What I did not find was information about how WWI had continued to shape literature, writing, scholarship, and art in today's world. This became my approach: to bring together a diversity WWI voices to go beyond the traditional canon. Thanks to Theo Mayer and the team at the World War One Centennial Commission, the project became a success.
From Blog to Book
In the summer of 2019, I sent a message to the blog contributors asking them to let me know if they would be interested in polishing their post for a book. I included a selection those who responded positively by the deadline in a book proposal that, after almost two years of searching and getting only rejections (Covid was a particularly difficult time to publish a book!), was accepted for publication by MilSpeak Books. Run by book contributor and true literary warrior Tracy Crow, it's an imprint of the military nonprofit, MilSpeak Foundation, which devotes its teaching and financial resources toward supporting the creative endeavors of veterans and their families. Then I spent another year and a half collaborating with the sixty-contributors on editing their pieces, putting the manuscript together, and working with the book designers and publisher on the layout. Along with Tracy Crow, this publishing marathon was run by editor Margaret MacInnis and designer Michelle Bradford. Finally, it was ready to send to the printers in early October 2022.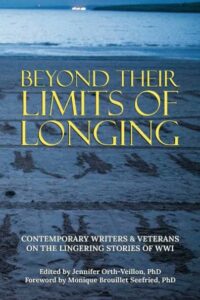 The final product, the book, Beyond Their Limits of Longing: Contemporary Writers and Veterans Reflect on the Lingering Stories of WWI, is organized in ten thematic sections consisting of a hybrid collection of personal essays, non-fiction pieces, scholarly work, poems, and fiction.
While veterans are prominent throughout this collection in other sections, those featured in Part 1 "WWI and Veteran Voices of Today," explicitly draws lines connecting their experience as veterans today to the writerly lives and minds of American soldiers from WWI.
Part 2 "Past and Present: Bridging the WWI Military-Civilian Divide" flips perspectives, featuring essays by civilians who discuss WWI as inspiration for their work on American veterans. George Orwell Prize winner, David Chrisinger, uses letters from WWI soldiers to teach writing to contemporary veterans in Wisconsin and Stéphanie Trouillard, a journalist, writes about her centennial Twitter campaign involving veterans and civilians in France.
Part 3 "WWI and Women Too: Fighters, Nurses, Writers," mirrors the Me Too movement that has stirred women from around the world to both stand up and to fortify their fight for physical, emotional, and intellectual equality. The Centennial provided the opportunity to reveal the forgotten role that women played in WWI and to demonstrate that the war could not have been fought—or won—without them.
Part 4 "WWI Mattered for Black Lives" reflects the call for a real reckoning with racist and colonial pasts, knocking down statues, rectifying laws, and bringing the overlooked accomplishments of African Americans to light.
Part 5 "Bravery and Resilience: Native Americans in WWI," echoes the actions of American sports teams who have reconsidered their titles deemed offensive by Native Americans. This section features two projects that have worked to shed light on Native Americans, their contribution to WWI, and their fight for recognition: Alan Leventhal's search to uncover the service of the Ohlone tribe and Chag Lowry's graphic novel that tells the story of his family's past.
Part 6 "From the Other Side of No Man's Land" counters the idea that we live in a world made up of increasing protective bubbles. Social media, gated communities, and polarizing politics have made us associate more with people like us despite globalization's promise to bring different parts of the world closer together. Over 100 years after the end of WWI, the writers in this section evoke this reconciliatory process by focusing on the ways that foes may be seen as friends. The Christmas Truce of 1914 that Anna Rindfleisch discusses is the
most well-known event of camaraderie during the war. Mark Facknitz delves into the little-known Tsingtau through the photographs of his grandfather, a German WWI soldier.
Part 7 "Peace Brokered and the Aftermath" turns to conflicts that have origins in WWI but deepened after the Treaty of Versailles and continued into the modern world Dutch historian Peter de Bourgraaf and American novelist David Gilham bring new perspectives to the role the end of WWI played in shaping the Holocaust, including the arrest and deportation of Anne Frank's family in 1944. Simone Zelitch addresses the ramifications of the Balfour Treaty, a statement made by the British in 1917 announcing support for a national Jewish homeland. Veteran Adrian Bonenberger highlights the lost importance of the Brest-Litovsk
Treaty, a pact that was fundamental to founding modern-day Ukraine.
Part 8 "WWI Literature: Critical and Personal Reflections," explores WWI's shocks to the individual and collective conscious. Just as the unprecedented violence of WWI changed warfare forever, poets and writers of WWI manifested a deep, indelible shift in style, form, and content. The influence was so great that some like Faulkner, as Panthea Reid details in a tragic story about her father, felt forced to lie about overseas services and wounds to gain this attention.
Part 9 "Poetic Responses to WWI," features poems written during the Centennial. Faleeha Hassan, in a prose poem, challenges authenticity in writing war poetry, and Jane Clarke narrates her experience writing poems to explore a WWI family archive.While important historical anniversaries often prompt a fresh look at literary and other writings from the time, they also inspire present-day writers to write their own creative responses.
In Part 10 "WWI in Fiction Today," Christopher Huang and RJ MacDonald talk about the demands of writing novels that take place in the WWI-era. Benjamin Sonnenberg imagines battles fought by Thomas Neibaur, the first Latter-day saint to win the Medal of Honor, and Andria Williams shares an excerpt from her novel based on the story of a former British soldier who passed for white in WWI.
In America, WWI became overshadowed by WWII and Vietnam, further diluting the voices of poets, novelists, essayists, and scholars who unknowingly set a precedent for all successive war writers who appear in this collection. Those who survived WWI and wrote about it opened the space for readers and writers alike to explore the complexity both of war's physical and mental horrors and of its historical significance in today's world in crises. From the vast scenes on the battlefield to the fight at the home front, WWI writing and scholarship in this collection allows us, through contemporary perspectives, to inhabit the mind and body of individuals soldiers, doctors, nurses, civilians, and families.
Thus, the blog and the book were not conceived to slide back in time, but, as Butler suggested, to use WWI to offer insight and lend historical context to contemporary global crises. By asking some of the most well-voiced writers on war today to generate creative and critical perspectives on WWI, the aim of the project was to broaden a reader's understanding of ways in which history and literature foster cultural platforms for problem solving and,
ultimately, peacemaking.
To learn more about the project or purchase the book, you can check out my website at www.beyondtheirlimitsoflonging.com.
Related posts