This tiny Washington town has a full-size Stonehenge replica. It's also a veteran memorial
By Karlee Van De Venter
via the Bellingham Herald newspaper (WA) web site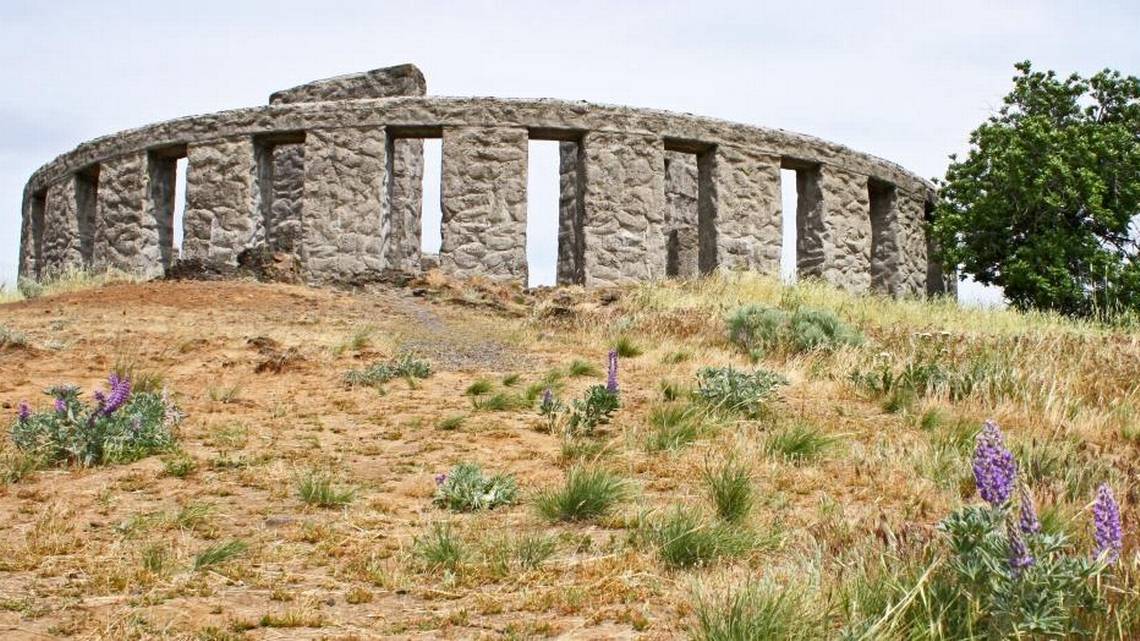 Instead of traveling all the way to England, Tri-Citians can drive for less than two hours to see a full-scale replica of the country's iconic Stonehenge. Located in Maryhill, Washington, right by the Oregon border, the attraction is also a World War I memorial.
More than that, it was the nation's first WWI memorial. It was dedicated in 1918, honoring the Klickitat County servicemen who died in service.
Maryhill is a small town, with a population of less than 100 people recorded in the census. It's always been small, created by Samuel Hill in hopes of a Northwest Utopia. While the town never took off the way Hill intended, Maryhill still makes a great day-trip destination with its historic and beautiful pit stops.
Maryhill Stonehenge Replica Memorial
While the origins of England's Stonehenge are still largely disputed, there's nothing unknown about the Maryhill Stonehenge Memorial. The full-scale replica was actually built by Hill, who also built the nearby Maryhill Museum of Art and many other features in the region.
Legend has it that Hill was a pacifist who wanted to honor the county's fallen soldiers while noting humanity's continued conflicts. At the time, it was believed by many, including Hill, that the Stonehenge in England had been built as a site for human sacrifices. The replica was intended to be a commentary on war being equivalent to human sacrifice.
The altar stone received a plaque July 4, 1918 with the dedication:
"To the memory of the soldiers and sailors of Klickitat County who gave their lives in defense of their country. This monument is erected in hope that others inspired by the example of their valor and heroism may share that love of liberty and burn with that fire of patriotism that death alone can quench."
Read the entire article on the Bellingham Herald web site here:
External Web Site Notice: This page contains information directly presented from an external source. The terms and conditions of this page may not be the same as those of this website. Click here to read the full disclaimer notice for external web sites. Thank you.
Related posts