Remember the Meuse-Argonne
Published: 5 September 2022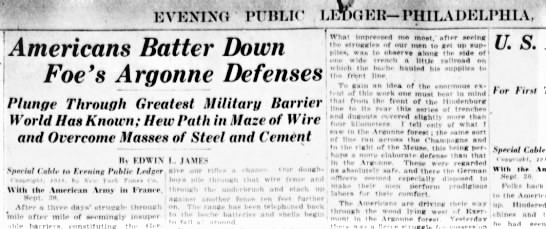 This Memorial Day, remember the Meuse-Argonne
By Chris Gibbons
via the Broad & Liberty website
"No two men came out of the Meuse-Argonne exactly the same. Some changed their political outlook. Some grew more idealistic or embittered. Some found God; others lost their faith. All, however, had changed. The country would never be the same." (Excerpt from "To Conquer Hell: The Meuse-Argonne 1918" by Edward G. Lengel)
When I found the World War I Service and Compensation File of 1st Lieutenant John H. Jenkins, I immediately looked at the document's "Engagements" section. I often do that now when reviewing these files because this section lists the battles in which a veteran fought, which will give me an idea of what he may have endured.
There are two words I often find in this section that always give me pause. I pause because I've read extensively about what happened there and I try to imagine the Hell endured by those who fought there. I also pause out of respect.
On this day, my search for the alumni of Roman Catholic High School who fought in the Great War led me to John Henry Jenkins of the class of 1912. I not only wondered what happened to him during the war, but in his post-war years as well, and, again, I paused to stare at the two words I've come to know all too well: Meuse-Argonne.
The Battle of the Meuse-Argonne in World War I is the largest and deadliest battle ever fought by American soldiers.
The bitterly fought 1918 offensive, the main thrust of which was between France's Meuse River and Argonne Forest, lasted 47 days, from Sept. 26 to Nov. 11. Nearly 1.2 million American soldiers participated in the battle, and when it concluded, the US had suffered an astounding 122,000 casualties, with 26,277 U.S. troops dead and over 95,000 wounded.
As Edward Lengel accurately wrote, America would never be the same after the Meuse-Argonne, and I would come to learn that those who fought there were never the same as well.
Read the entire article on the Broad & Liberty web site here:
External Web Site Notice: This page contains information directly presented from an external source. The terms and conditions of this page may not be the same as those of this website. Click here to read the full disclaimer notice for external web sites. Thank you.
Related posts