The World War I Roots of the Modern Purple Heart Medal
Published: 1 September 2022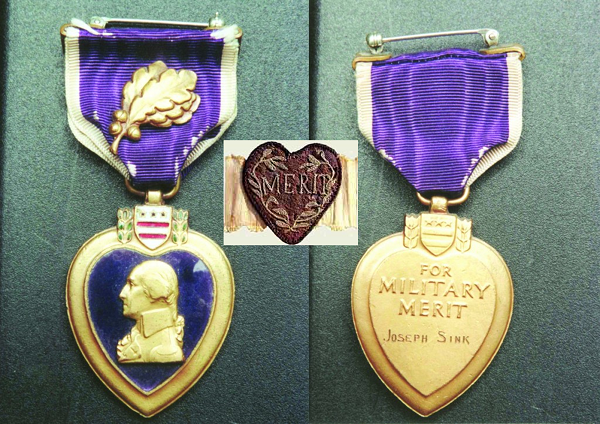 By Aaron Rosenthal
Staff Writer
Although there is little doubt that the Purple Heart is one of the most recognizable medals the US military offers to men and women in its service, the actual story of the decoration is often overlooked. "The Purple Heart is a medal awarded in the name of the President to any civilian or member of the Armed Forces United States who while serving under any capacity with one of the armed forces is wounded or killed."1
Today, around 1.9 million purple hearts have been awarded,2 but many may be surprised to learn that although its conception began with George Washington himself, the Purple Heart in its current form can only be traced back to 1932, with a direct connection to the American military experience in World War I.3 In this article I will take a look at the story of the modern Purple Heart.
General George Washington was the first to conceptualize the Purple Heart, or as he called it, the Badge of Military Merit. This purple-colored heart-shaped badge was awarded to three soldiers in the Continental Army who showed exceptional merit on the battlefield.4 Sergeant Daniel Bissell received his for spying on British troops quartered in New York City and then returning to American lines with invaluable intelligence.5
Sergeant William Brown received his at the Battle of Yorktown, for leading his men, through British defenses with unloaded muskets and attacking their inner lines with nothing but bayonets. Finally Sergeant Elijah Churchill was awarded his for daring raids on the British held Fort George and Fort Slongo. However after the Revolutionary War, Washington's Badge of Military Merit fell into disuse.6
There were high ranking military officers throughout our history that were aware of Washington's Badge of Military Merit, and attempts to bring it back. This was especially true after World War I when American troops realized the multitude of badges available to their European Allies, while the U.S. only offered the Medal of Honor.7 However, it was not until General Douglas MacArthur, who became Chief of Staff in 1930, and a World War I wounded veteran himself, that the discussion was reignited with the potential of bringing back the badge.
On February 22, 1932, the bicentennial of George Washington's birth, it was announced that his Badge of Military Merit would be revived as the Purple Heart and awarded to anyone who had been killed or wounded in military service after April 5, 1917.8 Unsurprisingly MacArthur himself was the first to accept the newly minted decoration.9
What makes this medal so unique is that it is the only medal that one does not need to be recommended for,instead one is entitled to it upon meeting the specific criteria.10  The original criteria for receiving the Purple Heart goes as such, "The Purple Heart" would be "awarded to persons who, while serving in the Army of the United States, perform any singularly meritorious act of extraordinary fidelity or essential service." However, in a parenthetical in this announcement, the Army published the following sentence, "A wound, which necessitates treatment by a medical officer, and which is received in action with an enemy of the United States, or as a result of an act of such enemy, may…be construed as resulting from a singularly meritorious act of essential service."11 This definition has been expanded to include any soldier or civilian who sacrifices his own life in military service of this country, and today includes civilians who have been lost to acts of terrorism as well.12

Approximately 1.9 million Purple Hearts have been awarded since its implementation but unfortunately not all of them have managed to stay in the possession of its recipient or recipient's family. They are taken by collectors and greedily sold on the internet, found in pawn shops, or even in the trash. Thankfully, there is an organization that is committed to getting these medals back home. Purple Hearts Reunited is a non-profit founded by Zachariah Fike, a 17-year serviceman and an active duty captain in the Vermont National Guard. The mission of this organization is to find these medals and return them home, a task they have successfully completed over 200 times.
On August 7, 2018, National Purple Heart Day, this organization will hold a ceremony in the Kennedy Caucus Room, Russell Senate Building, SR-325, Washington, D.C. at 11 a.m. and reunite eight more families with their lost Purple Heart. Two of those returns will be for World War I medals.
On top of the 300 medals the organization has in their possession today, they are always looking more medals to return home. Check out their website purpleheartsreunited.org to learn more.13
---
Aaron Rosenthal is a Summer 2018 Intern with the U.S. World War One Centennial Commission.
---
Recognize the Sacrifice, "Eligibility Criteria for  the Purple heart is as Follows," accessed July 16, 2019, http://www.recognizethesacrifice.org/purple-heart-criteria.html.
"History: Purple Hearts". National Geographic(November 2008): 33.
Fred L. Borch, "The Purple Heart – The Story of America's oldest Military Decoration and some Soldier Recipients," April 30, 2016,  https://armyhistory.org/the-purple-heart-the-story-of-americas-oldest-military-decoration-and-some-soldier-recipients/
Borch
Borch
"Purple Heart: The Badge of Military Merit," February 27, 2013, accessed July 17, 2018, http://www.wethersfieldhistory.org/collections/purple_heart_the_badge_of_military_merit/
Borch
Military Decorations, "Purple Heart", accessed July 16, 2018, https://web.archive.org/web/20131203230646/http://www.tioh.hqda.pentagon.mil/Catalog/Heraldry.aspx?HeraldryId=15254&CategoryId=3&grp=4&menu=Decorations%20and%20Medals&ps=24&p=0
T. Christian Miller, "A History of the Purple Heart," September 8, 2010, accessed July 18, 2018, https://www.npr.org/templates/story/story.php?storyId=129711544
"Recognize the Sacrifice"
Borch
"Recognize the Sacrifice"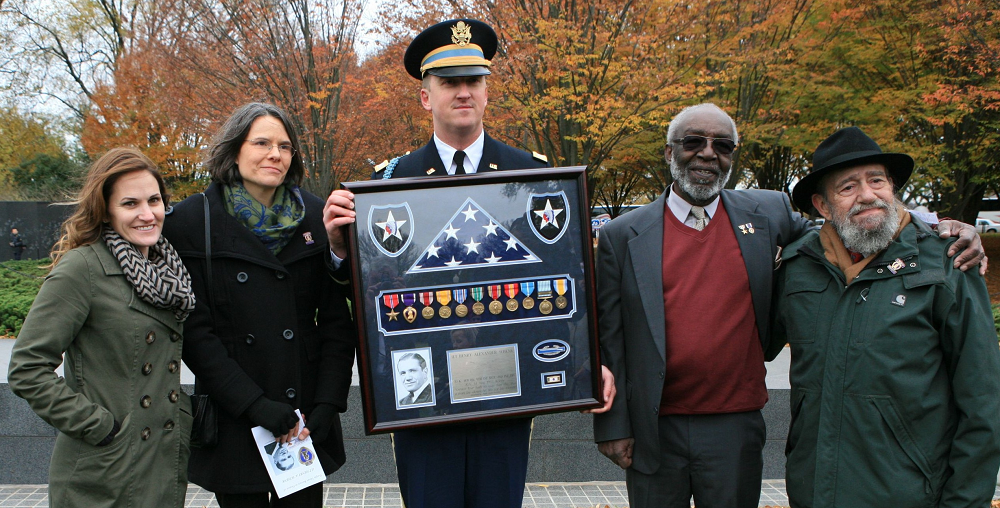 Zachariah L. Fike (center), founder of Purple Hearts Reunited returning one of 200 medals he organizations has managed to bring home.
Related posts