The Old Man and War
via the Beaches of Normandy Tours web site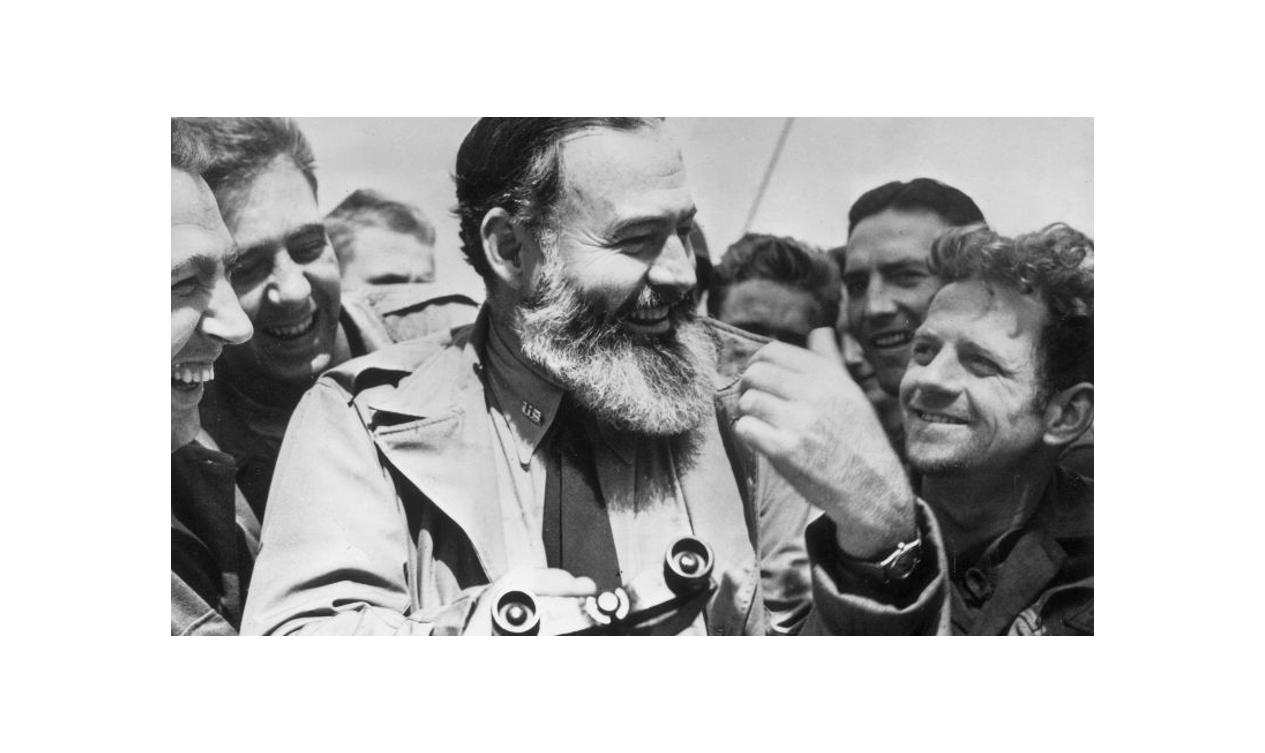 Ernest Hemingway's wartime service in WWI and beyond
Ernest Hemingway (1899-1961) was one of the most influential authors of the 20th century, whose adventurous lifestyle and world-famous literary oeuvre both captured the public's imagination as much as his literary work. His fans probably know that he was involved in not one but three major European conflicts, but might not realize that his involvement once even went beyond the limits of law. Today's article is about Hemingway's action in World War I, the Spanish Civil War, and World War II.
In early 1918, young Hemingway volunteered at the Red Cross to drive ambulance trucks in World War I. He was not the only well-known literary figure to do so: others included American novelist, poet and playwright Gertrude Stein, modernist poet E. E. Cummings, and novelist John Dos Passos. On the non-literary side, Walt Disney also served as a Red Cross ambulance driver during WWI.
Paris was being shelled by the Germans when Hemingway arrived to Europe. On his first day in Milan, Italy, he helped a rescue team retrieve the remains of female workers after an explosion in a munitions factory. Hemingway's experiences as an ambulance driver acquainted him with the horrors of war, and gave him the inspiration for his novel A Farewell to Arms. On July 8, 1918, he was bringing cigarettes and chocolate from the canteen to men on the front when he was seriously wounded by mortar fire. His legs were hit by shrapnel, but he insisted on finishing helping others on the scene before undergoing surgery to save his legs. He later commented on the experience: "When you go to war as a boy you have a great illusion of immortality. Other people get killed; not you … Then when you are badly wounded the first time you lose that illusion and you know it can happen to you."
Hemingway spent half a year in hospital before he could return to the United States. He met and fell in love with an American nurse during his convalescence. He returned home in January 1919 believing that she would follow him in a few months and they would get married. Instead, she sent a letter informing him that she became engaged to an Italian officer. Hemingway was crushed, and the young man's heartbreak informed his love life for the rest of his life: from that point on, he was always the one to abandon his partner before she could do the same to him.
Hemingway spent most of the 1920s in Paris, socializing with numerous other expatriates. He had wild drinking sessions with James Joyce, the Irish author of the novels Ulysses and the experimental, notoriously impenetrable Finnegans Wake. He received career help from American poet Ezra Pound, who would become a fascist and a propaganda radio broadcaster for Mussolini's regime in World War II. He also developed a friendship "of admiration and hostility" with F. Scott Fitzgerald, whose stories chronicled the Jazz Age of the 1920s and 30s. Hemingway covered the Greco-Turkish War of 1921-22 and interviewed Benito Mussolini, but was not impressed. At a time when many commentators praised the Italian dictator for revitalizing the country, Hemingway already saw the man for who he was: "the biggest bluff in Europe."
Read the entire article on the Beaches of Normandy Tours web site.
External Web Site Notice: This page contains information directly presented from an external source. The terms and conditions of this page may not be the same as those of this website. Click here to read the full disclaimer notice for external web sites. Thank you.
Related posts