The History and Future of Veterans Day
Published: 7 November 2023
By Todd DePastino
via The Veterans Breakfast Club web site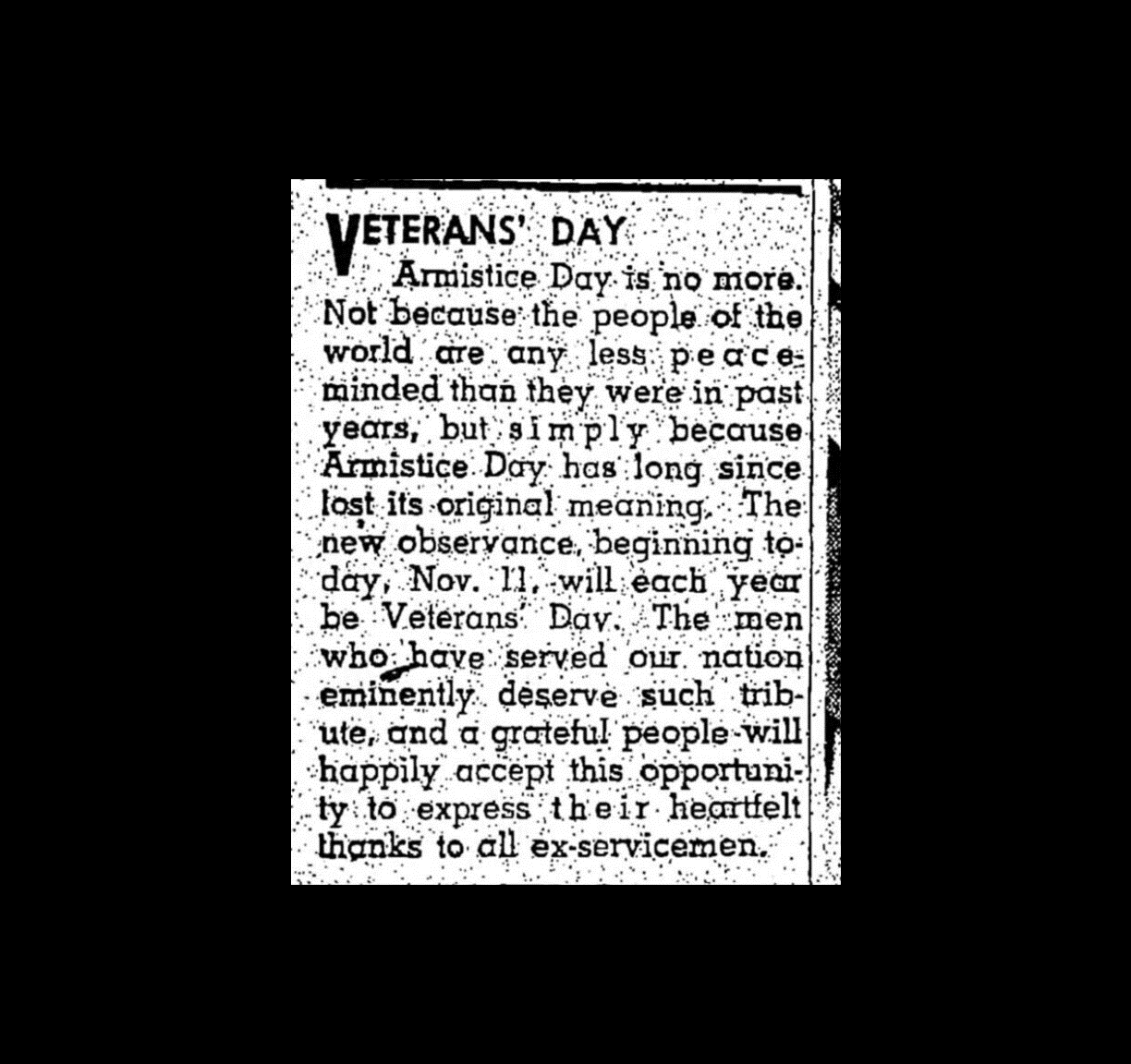 Americans over the age of 75 might remember when November 11 was called "Armistice Day," commemorating the ceasefire on the Western Front of World War I. The Armistice agreement signed between Britain and France on the one side and Germany on the other took effect at 11:00am on November 11, 1918. The so-called Great War of 1914-1918 was so catastrophic, simply the cessation of hostilities was cause for celebration.
The holiday turned somber in following years, banquets and festivities giving way to moments of silence and memorial services for the fallen. Great Britain and Commonwealth countries like Canada and Australia began referring to November 11 as "Remembrance Day."
Armistice Day also evolved in the United States as menacing new armies marching overseas cast a perilous shadow over World War I commemorations. In 1938, two months after the Anschluss of Austria into the German Reich and in the midst of a Sudeten Crisis that would soon see Hitler annex part of Czechoslovakia, the US Congress voted to make Armistice Day, November 11, a federal holiday "dedicated to the cause of world peace."
There would, of course, be no peace. War consumed the globe on an unprecedented scale. Four times as many Americans served in World War II as in World War I, and they fought longer and in more places around the world than ever before.
Even when World War II ended in 1945, a looming Cold War with the Soviet Union meant that the US military wouldn't shrink to pre-1941 numbers. Preparing for World War III through Universal Military Training ensured the country's veteran population would only grow in the foreseeable future.
In 1946, 38-year-old civic leader and WWII Navy veteran Raymond Weeks worked channels to get a message to Army Chief of Staff, Dwight D. Eisenhower. Because the US already had Memorial Day, he told Ike, we didn't need another "Remembrance Day" on November 11. And given the distance world events had traveled since 1918, a federal holiday commemorating the WWI Armistice seemed beside the point. Why not, he argued, treat November 11 as a "National Veterans Day"?
The wheels of DC officialdom ground slowly toward the idea. In the meantime, Weeks rallied his hometown of Birmingham, Alabama, to launch a "National Veterans Day Parade" on November 11, 1947.
"Daddy wanted a day to honor everyone who had sacrificed and fought for their country. It was important to him that all veterans were included," Weeks' daughter recalls. "It was something he worked night and day on for years."
The work finally paid off seven years later, when Congressman Edward Rees from Kansas introduced an act as part of H.R. 7786 to amend the 1938 federal holiday law "by striking out the word 'Armistice' and inserting in lieu thereof the word 'Veterans.'"
Dwight Eisenhower, now President, signed the bill into law on June 1, 1954.
It helped, certainly, that the Armistice Agreement ending the Korean War had been reached less than a year earlier. The word "Armistice," in other words, had lost its celebratory and commemorative connotations, while the word "Veterans" had grown in stature.
Read the entire article on The Veterans Breakfast Club web site here:
External Web Site Notice: This page contains information directly presented from an external source. The terms and conditions of this page may not be the same as those of this website. Click here to read the full disclaimer notice for external web sites. Thank you.
Related posts