The Great Forgotten: A Television Series Honoring the Nurses Who Served in World War One
Published: 1 February 2022
By Kacie Devaney & Karen Devaney
Special to the Doughboy Foundation web site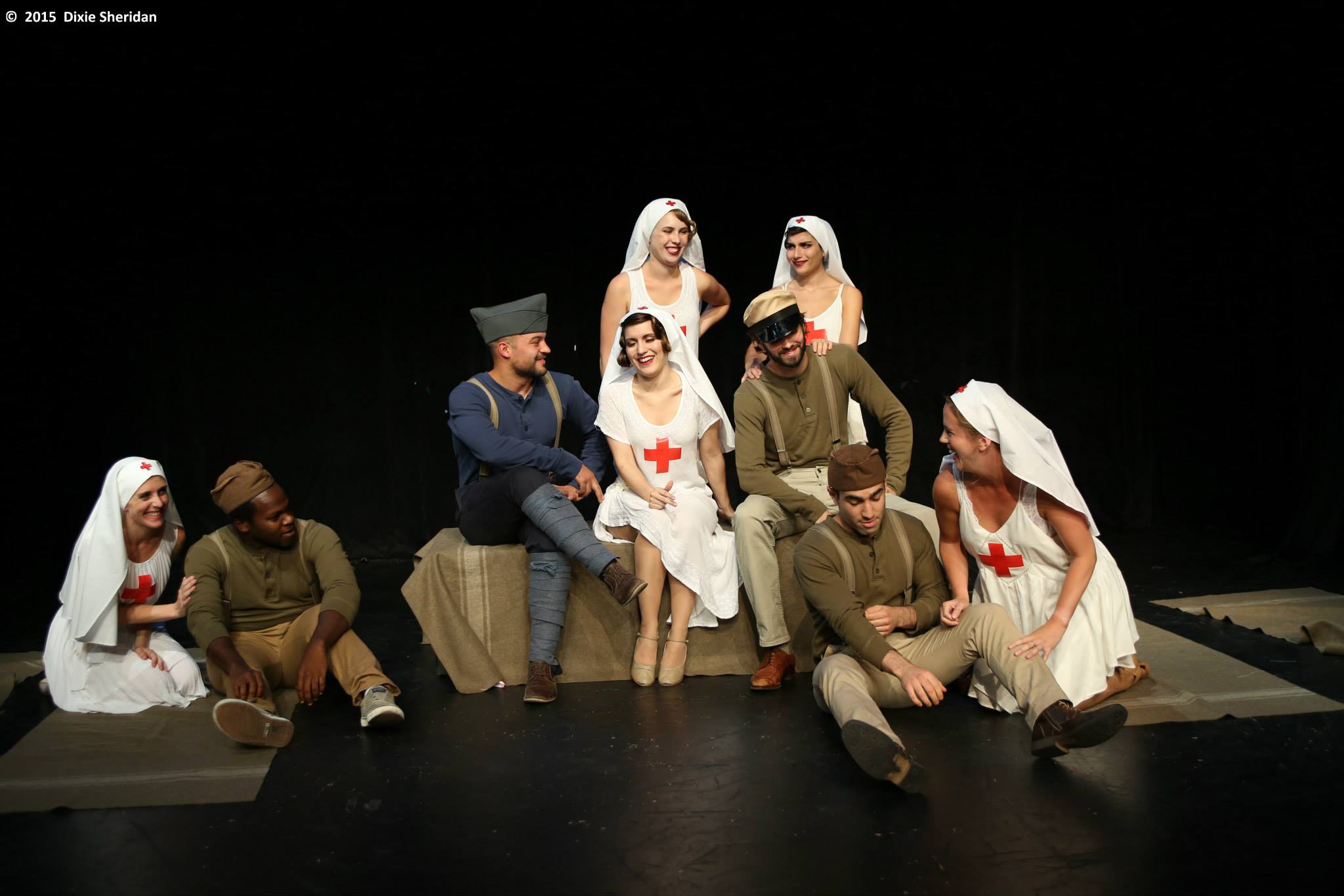 Have you ever dreamed of watching a TV series set in WWI France, side by side with the aftermath that follows in New York City's Roaring 20s? And told through the eyes of nurses? Two sisters, to be precise? We have, a lot! That's why, in 2019, we turned our play, The Great Forgotten, into a Pilot.
A Pilot is the first episode of an episodic television series. After years of aiming for Broadway, and after a sold-out run in the 2015 New York City International Fringe Festival with our play version, we were asked one evening by a prominent theatre Producer, "Ever think of turning The Great Forgotten into a TV series? It's epic, and you have so much to tell." "No!" We hadn't. And that's where our journey began.
In 2019, we started the arduous climb of transitioning from playwrights to television writers. From studying books on the craft to bingeing series, and listening to podcasts, it wasn't until we started working with other writers in the industry that we truly blossomed.
2021 threw a wrench in our momentum. The Great Forgotten had landed in the hands of a few successful production companies in both Paris and Hollywood, things were looking up, and then, the Global Pandemic swept through the USA with a vengeance.
In the melee of trying to tell the nurses' story and fighting to stay afloat during an international shutdown, there was a silver lining. We were forced to grow as writers. Being trapped indoors for hours on end allowed us to fine tune our skills and focus on what was and wasn't working in our narratives. Additionally, we had extra time to learn the business and weed out who and who not to trust. Had we sold our show right out the gate, we wouldn't have the incredible team we have now, confidence in our abilities as budding writers for TV, and the creative collaborative control that's essential for us to maintain as we push forward.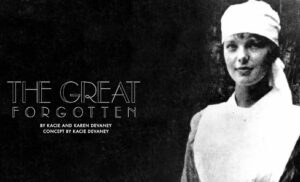 Since the month of February encompasses Valentine's Day, we thought we'd share how love impacts Base Hospital 321 in Northern France, where part of our series unfolds. Though our story, characters and Base are fictional, almost a decade of research on the actual nurses and volunteers, (VADS) who served in WWI went into creating a world that illustrates the realities of what they accomplished and endured.
At its core, The Great Forgotten tells the tale of two American sisters, Elizabeth, and Celia, with vastly different ambitions, who give their services in France during The Great War. Elizabeth is a registered nurse and quickly works her way up the ranks to Head Nurse at Base 321 with the desire to become a doctor when the war ends. Celia works as a volunteer and plans to be on Broadway when they return to their hometown in New York City. We see the sisters' struggles and triumphs before and after the war, and how their love for each other motivates them to push through it all.
Additionally, in our series, you will experience the love and friendship that our core nurses and VADS feel for one another. Their love and commitment to the soldiers and to each other is palpable and what allows them to go on in dire conditions. Tragedy brings people together. Our nurses and sisters see and experience horrific atrocities in the war. But together, they work tirelessly through the pandemonium as they try to save hundreds of soldiers passing through Base 321.
Romantic love also blossoms in our series from the most unlikely of couples. With the unpredictability of war, it is not hard to imagine why people fell in love, made promises to each other, or married hastily. At Base Hospital 321, there are medics, surgeons, and nurses that fall for each other. In between bomb raids, gas attacks, and tending to throngs of wounded, our characters manage to find love and friendship even when it is forbidden. Celia falls in love with an African American Captain serving with the Harlem Hellfighters, while Elizabeth falls in love with a French medic.
The Great Forgotten is told non-chronologically. We flipflop between the nurses in war torn France to the aftermath that follows in New York City's Roaring 20s. Back in Manhattan, we discover the realities of postwar existence and find Celia and Elizabeth performing a Charleston number at a speakeasy to pay their bills. The lack of jobs for women, even nurses, prohibition, and young women embracing the new Flapper culture, chopping their hair off, hiking up their skirts, and smoking in public.
When Elizabeth returns from France, she suffers from severe Post-Traumatic-Stress-Disorder, (PTSD) and the sisters' roles are reversed. Love during the Roaring 20s looks very different than during the war and the sisters face an entirely new set of obstacles, heartaches, and victories.
From play to Pilot, to a fully fleshed out season with nine episodes' ideas and a detailed Show Bible Long and Short, what comes next in our pursuit to tell the untold stories of the forgotten nurses and volunteers who served during The Great War?
Ultimately, we can't do this alone. Who are we, you might be asking at this point? We are Kacie and Karen Devaney, a mother-daughter writing team who wrote The Great Forgotten and have been championing it for nearly a decade now. We are humbled, honored and thrilled to be working with an incredible team that we admire and trust and who are just as passionate about getting this story out into the world as we are. The team includes, Philip Waley, Richter Hartig and Joel Baral, founders of Harbor Wall Productions. We are also delighted to be working with Augustin de Belloy, Chief Executive of Left Productions.
With our award-winning team and compelling story, our trajectory now for The Great Forgotten is manifold. The overall aim, of course, is to get the show sold to one of the major streaming networks and be in production by summer of 2022. In the interim, we are looking for additional development funding to secure A-list talent and a Show Runner.
For us, the untold stories of the nurses and volunteers who make up the universe of The Great Forgotten have been our focus, passion, and love for the past nine years. For those who don't know the film and television industry, getting a show into production and picked up by a leading network is the equivalent to winning the lottery or climbing Mount Everest; it's not easy. That's why, we are so lucky to be where we are now. With our continued perseverance, hard work, prominent team, and dedication to telling the untold stories of nurses who served during World War I, we are determined to cross the finish line and hope to see The Great Forgotten on everyone's television by early 2023.
Finally, the beauty of The Great Forgotten as a TV series means we can follow the daughters of Celia and Elizabeth into WWII and then, in turn, their daughters. We can see the next generation of nurses carry on. The potential to see subsequent wars through nurses' perspective is powerful. It would also reflect the influence that wartime, as well as the end of Prohibition and the beginning of The Great Depression, had on American society. The eras change as we follow Elizabeth and Celia into old age, and their daughters and granddaughters. During the Vietnam war, we see the sixties evolve and the growing unrest at home. Through the eyes of Celia, Elizabeth, and the generations that follow them, we continue to focus on the nurses and the unsung heroes, The Great Forgotten: their lives, their contributions, their losses, and their loves.
If you want to learn more about The Great Forgotten and how you can get involved, we would love to hear from you. Please contact Kacie and Karen Devaney at: [email protected]
A special THANK YOU to The Doughboy Foundation and The World War One Centennial Commission for your support in helping us spread the word about The Great Forgotten. We appreciate your organizations and the work that you do.
Related posts