Taproot Theatre takes on story of American women who helped win WWI
By Gemma Alexander
via The Seattle Times newspaper (WA) web site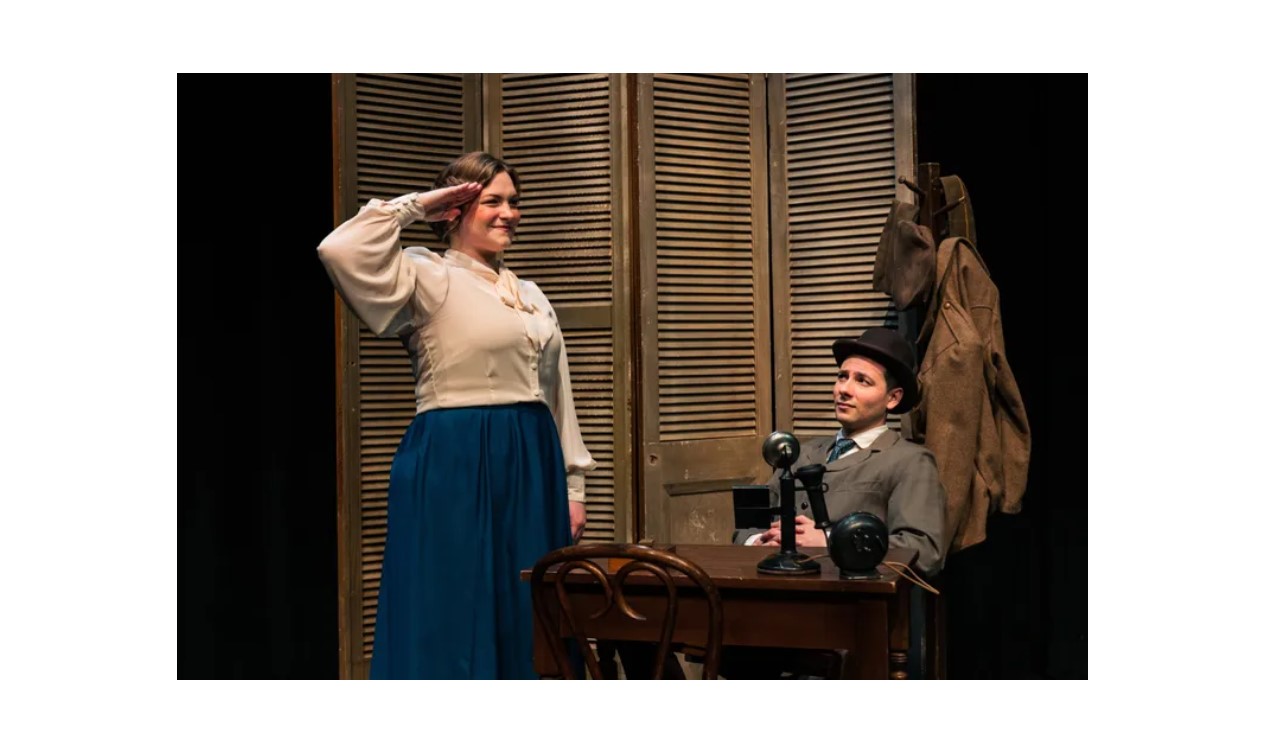 "The Hello Girls" musical running through August 12
Taproot Theatre Company has a mission to tell stories of hope. "The Hello Girls" tells the story of the American women whose long-unrecognized service to the Army on the front lines of World War I moved the war effort toward victory and moved women on the home front closer to the right to vote. And though it's not immediately obvious from the script, it's a story with a strong Seattle connection.
The musical by Peter Mills and Cara Reichel, inspired by the book of the same name by Elizabeth Cobbs, recounts the story of the women who operated the communications network that helped win WWI. Running at Greenwood's Taproot Theatre July 12-Aug. 12, it's directed by Karen Lund, Taproot's producing artistic director, who's working with her frequent collaborators, choreographer Katy Tabb and music director Michael Nutting, both musical theater veterans with numerous credits at Village Theatre and the 5th Avenue Theatre.
"I think 'The Hello Girls' is one of those fascinating moments of history that got swept aside," Lund said. "It's interesting to be talking about that right now when women are losing rights again."
Because Taproot had successfully produced a previous play by Mills ("Illyria" in 2013), his agent sent Lund the script of "The Hello Girls" for consideration in 2018 when the play premiered at Prospect Theater Company in New York where Mills and Reichel are founding members.
"I read it and fell in love with it and hoped it would be part of our 2021 season," Lund said. Although the pandemic interfered with those plans, Lund remained committed to telling the story. "It hit all my buttons," she said. Lund's father taught military history; her mother was an activist with the National Organization for Women (NOW supported the Hello Girls' fight for recognition, although Lund's mother was not directly involved in that campaign). Besides Lund's interest in the story, she discovered a surprising Seattle connection.
When the United States entered WWI, it had the advantage of telephone technology that was more advanced than Europe's. The only people trained on the cutting-edge communication system were the female telephone operators popularly called Hello Girls. The Army recruited these skilled women, many of whom came from the University of Washington, and sent them to serve on the front lines.
Read the entire article on The Seattle Times newspaper web site here:
External Web Site Notice: This page contains information directly presented from an external source. The terms and conditions of this page may not be the same as those of this website. Click here to read the full disclaimer notice for external web sites. Thank you.
Related posts