Shared memories of few comments piece together WWI experience
Published: 11 November 2022
By Mary Meyers
via the Atchison Globe newspaper (KS) web site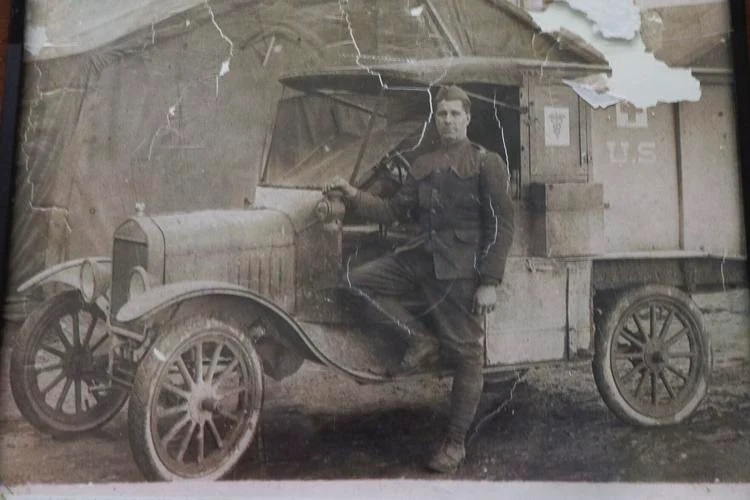 Oliver H. Oswald shared little about his wartime experience with his family and friends after he came and settled on a farm in Muscotah.
Oliver's son, Floyd Oswald said what little he knows about his dad's military service during World War I, he gathered from an old photograph, a trench art embellished brass artillery shell embellished, and a few photo-copied news clippings and articles.
Floyd Oswald said he really heard nothing from his father about the war.
"He never broke his silence," Floyd Oswald said.
One of these copied articles obtained is headlined, "Drafting Army Today" … 'Well known Atchison Men Called'" with a Washington, July 29 dateline, the year was 1917. The article Indicates Atchison County would have to furnish no less than 145 young, able-bodied men eligible to serve in military service. Of those names drawn for the first draft, about half were expected to have exempt status, due to dependents or poor physical condition.
The first number called was 254 — Dale Calhoun, a Potter man. Number 1202 — Olliver Oswald, of Effingham was also called from that first batch of numbers heard.
The next news article in Floyd Oswald's file is a portion from The Effingham New Leaf, published in Effingham, Atchison County, Kansas, dated Friday, Oct. 5, 1917. It is a story about Mr. and Mrs. E.R. Oswald who returned from a visit with their son Oliver and other Atchison County boys at Camp Funston. There were 42,000 soldiers at Camp Funston at the time of their visit, Mr. and Mrs. Oswald's, and there were more expected.
While they visited the camp, the Oswalds were able to eat supper while there and reported the boys were well and able to enjoy amusement each night at a YMCA building across the street from their quarters. The nightly amusement included picture shows, Chautauqua entertainment, a piano, and victrola. Church services were also held at the Y. At the time of Mr. and Mrs. Oswald's visit.
In addition to their son Oliver, Roy Happel and Earl Gilmore received the New Leaf in the mail. The elder Oswalds reported there would be a "scrap every time" an edition arrived.
There was a recommendation in the article that someone should subscribe to ensure every soldier boy from the vicinity gets their home newspaper.
Read the entire article on the Atchison Globe web site.
External Web Site Notice: This page contains information directly presented from an external source. The terms and conditions of this page may not be the same as those of this website. Click here to read the full disclaimer notice for external web sites. Thank you.
Related posts