SC African American WWI soldiers receive recognition century later
Published: 28 February 2023
By Jason Tighe
via the WCIV ABC News 4 television station (SC) web site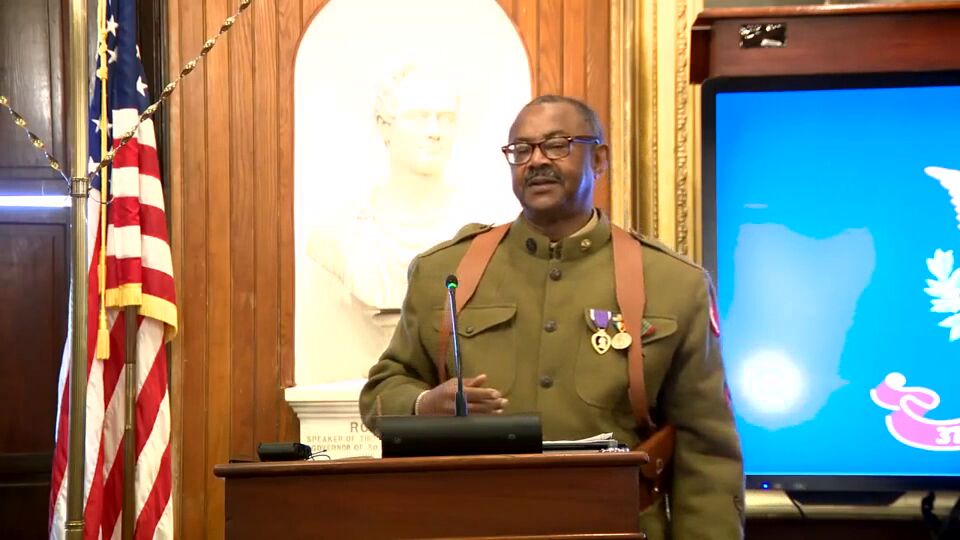 CHARLESTON, S.C. (WCIV) — "I am so elated. And happy and proud. Proud is the most important word I can use right now."
That's a sentiment that Perry W. James IV shared as the City of Charleston held a ceremony honoring the sacrifice of his grandfather and other members of the U.S. Army's 371st Infantry Regiment. That unit began fighting during World War One.
The military division was a sign of racial divide- being an all-African American unit with white officers.
According to James and the 371st Monument group, the unit fought bravely in the waning days of the war in France.
The unit was a South Carolina-based regiment. While all members from World War One have most likely passed on- descendants like Perry and Marc Edingburg are pushing for future generations to remember and honor the soldiers.
Edingburg remarked at the event, "and what it means to be a half African American and Hispanic moving forward toward the future. The past defines where the future goes."
Edingburg made the remarks alongside his son.
James's mom, whose dad was the late Perry "Rawhide" Lloyd, a unit member, was on hand for the ceremony.
Several speakers discussed the racial issues the men faced coming back home from France. That includes the military removing a particular red hand patch on their uniforms bestowed on the soldiers by the French government, and the removal was due to racial undertones.
James says with the help of U.S. Senator Tim Scott's office, he won a struggle to obtain his grandfather's Purple Heart medal.
At the event held at Charleston City Hall, Mayor John Tecklenburg declared February 28th, 2023, the "371st Infantry Regiment Day."
Read the entire article on the WCIV ABC News 4 web site here:
External Web Site Notice: This page contains information directly presented from an external source. The terms and conditions of this page may not be the same as those of this website. Click here to read the full disclaimer notice for external web sites. Thank you.
Related posts