Sandra Sinclair Pershing, November 11, 1941 – August 14, 2023
Published: 28 August 2023
By the Doughboy Foundation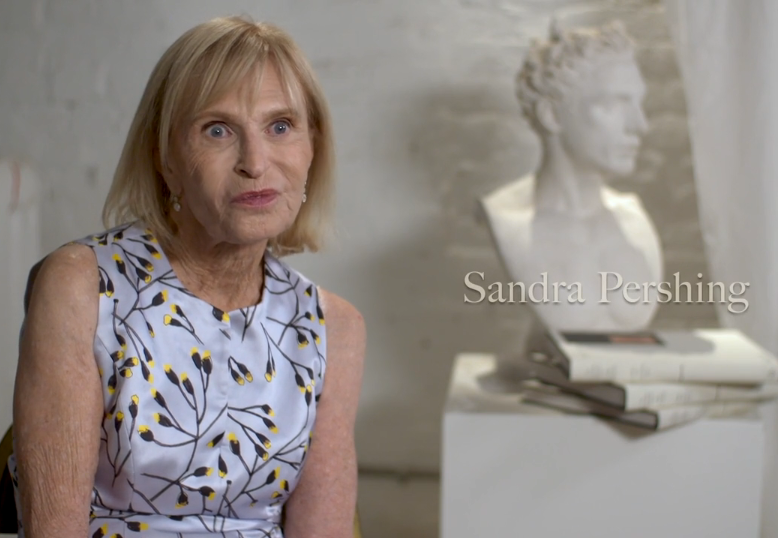 Sandra Sinclair Pershing died August 14, 2023 at her home in Quogue, NY, surrounded by her family. Her obituary in the New York Times is linked here.
She was the widow of Colonel John Warren Pershing, USA (Ret.), the grandson of General of the Armies, John J. Pershing, Commander of The American Expeditionary Forces in World War I. After her husband's death, she continued his work supporting The Pershing Foundation family of organizations, including the National Society of Pershing Rifles, National Society of Pershing Rifles Alumni Association (NSPRAA), National Society of Pershing Angels, and National Society of Blackjacks.
"Mrs. Sandra Pershing was Director Emerita of The Pershing Foundation and our greatest supporter," said COL Paul Wharton, USA (Ret.), Chairman of the Pershing Foundation. "She will be sorely missed by all who knew her. However, the legacy of her contributions to the Pershing Foundation will live on as a testament to her life as a philanthropist. "
Sandra Pershing was a member of the Board of Directors of the Doughboy Foundation, and a Special Advisor to the United States World War I Centennial Commission. She played an important role in supporting the construction of the National World War I Memorial in Washington, DC.  Her eloquent support of the Memorial was featured in interviews with national publications such as The Hill newspaper and The American Legion Magazine.
"Sandy was a steadfast supporter," said Terry Hamby, Chairman of the U.S. World War I Centennial Commission. "We know that now she will be in that cloud of heavenly witnesses who, every day, watch over the National WWI Memorial in the nation's Capital."
"I regret that Sandy will not see the final sculpture installed at the National WWI Memorial, so I'm pleased that she was able to see it as it was being designed," said Daniel Dayton, Chairman and CEO of the Doughboy Foundation. "She pointed out then to the sculptor, Sabin Howard, that it perhaps should contain some animals…as she put it with that characteristic smile in her voice: "after all didn't we ride into the war on horses?" She was a wonderful mentor to me as well as a donor and friend.
"The Doughboy Foundation extends its condolences to all her family and friends. We will conduct a wreath laying in her honor at the National WWI Memorial in 2024."
Sandra Pershing was the Producer of, and was interviewed in, two movies about General John J. Pershing: the made-for-TV Black Jack Pershing: Love and War (2017), and the theatrically-released Pershing's Paths of Glory (2018).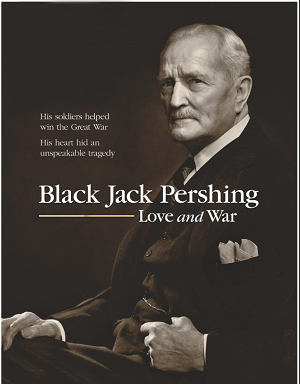 Love and War was a recipient of a national Sigma Delta Chi Award from the Society of Professional Journalists, an Award of Excellence Special Mention from the Accolade Global Film Competition, an Award of Excellence from the Impact DOCS Global Documentary Competition, an Award of Excellence from the Broadcast Education Association, and an Eric Sevareid Award from the Midwest Broadcast Journalists Association.  Producer and Director Barney McCoy remembers Pershing  fondly. "Sandra Pershing was a remarkable woman. Her personal and professional successes in life were matched by her generosity and commitment to making our world a better place.
"As a devoted supporter of the World War One Centennial Commission, Sandra was also a key contributor to the completion of the National World War I Memorial. She understood the memorial's importance as a place where people from all walks of life can come to honor the heroism and sacrifice of millions of American sons and daughters who served in WWI. They deserve eternal remembrance, too.
"I am also forever thankful for Sandra's support of my documentary on the life WWI General of the Armies, John J. Pershing. In sharing 'Black Jack' Pershing's personal correspondence with us, our documentary shared and revealed the general's deep care and compassion for the American soldiers he served and helped lead in WWI. Rest in peace, Sandra."
Sandy Pershing was dedicated to educating young people about the heroic life and activities of General John J. "Black Jack" Pershing during World War I. She generously funded the documentary film Pershing's Paths of Glory and its accompanying educational materials for secondary and university students.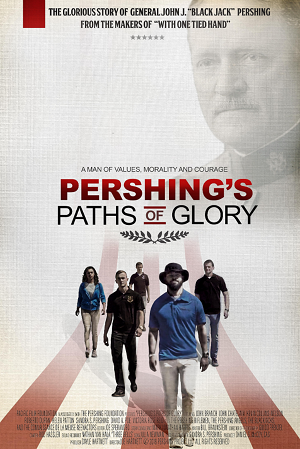 Besides providing the funding, she participated in the filming on location in France by interacting on film with young Pershing Riflemen (a military fraternity founded in honor of the General), the Blackjacks (high school-level drill competitors), and grateful French citizens from Paris to Reims to Verdun and the Marne River.
"We fondly remember her intelligence, friendliness, good humor, and vigor on set during the filming, as well as her dedication to memorializing the 'Doughboys of WWI'," said the film's director Joe Hartnett. "We were also grateful for the presence of Marc Keller, Sandy's partner and companion on the shoot."
Educator and producer Dayle D. Hartnett, Ph.D. said of her, "Sandy Pershing shared her deep empathy on screen for Pershing's suffering over the tragic deaths of his wife and three daughters and the young, diverse and immigrant soldiers killed in WWI–many buried in Europe far from family and friends."
Producer and on-screen 'guide,' David Poe, remembers, "We all appreciated Sandy's kindness, mentoring, and willingness to support the writing of an original song by Julia Newman and the recording of that final song sung over the credits by Pershing Angel, Victoria-Rose Reed. All in all, her participation and legacy were invaluable."
---
External Web Site Notice: This page contains information directly presented from an external source. The terms and conditions of this page may not be the same as those of this website. Click here to read the full disclaimer notice for external web sites. Thank you.
Related posts