Professor mines Marine Corps history for book on WWI cartoons
Published: 30 December 2022
By Matthew M. Burke
via the Stars and Stripes newspaper web site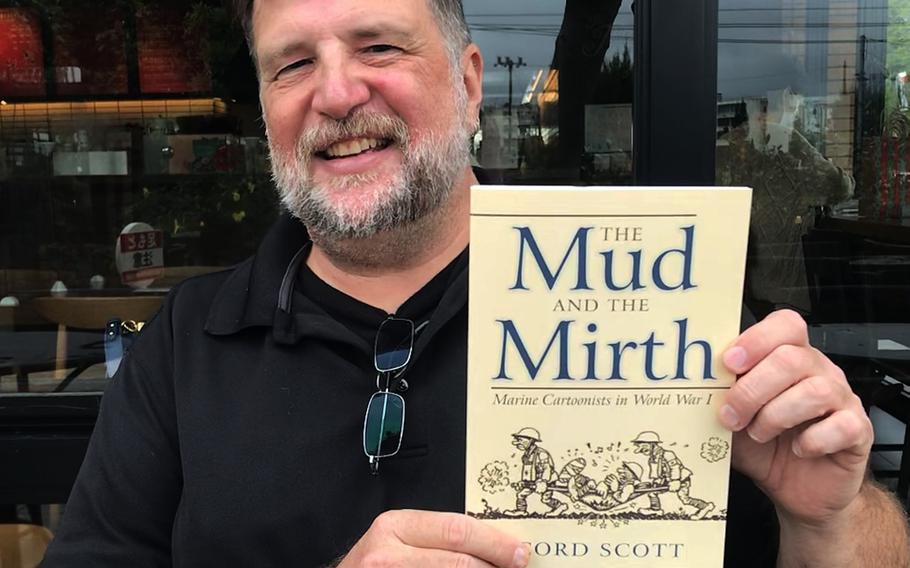 CAMP FOSTER, Okinawa – History professor Cord Scott hopes his new book, "The Mud and the Mirth: Marine Cartoonists in World War I," adds insight into the lives of ordinary Marine riflemen in World War I as the memory of that conflict has faded into history.
Scott, 53, teaches history, government and film through the University of Maryland Global Campus to classes of mostly service members on Okinawa. The Marine Corps University Press in August published his book on Marine Corps cartoons, he said Nov. 30 on Okinawa.
Frank Buckles, the last U.S. veteran of the Great War, died in 2011, according to the New York Times. The last Marine veteran, Albert Frederick "Jud" Wagner, died in Kansas in 2007, according to The Associated Press. Though living memory of the war is past, Scott said he hopes his book keeps some piece of it alive for future generations.
The collection of satirical and often biting panels inspired by the brutalities of war offers a unique perspective into the realities of life in the trenches.
"Cartoons and comic strips and any sort of illustrative art can tell us more about history than just simple pictures," Scott said. "It gives us insight of what your average individual was thinking about, and it also gives us an insight into what they think is humorous."
World War I began with the assassination of Austrian archduke Franz Ferdinand by Serbian nationalists in June 1914. A network of alliances soon dragged Europe into a war that spread around the world. The United States originally abstained from the fight but declared war on Germany on April 6, 1917, and its ally Austria-Hungary two days later.
Estimates of military casualties range from 8.5 million to 10 million dead, including nearly 117,000 U.S. troops killed and 204,000 wounded.
Minot to Chicago
Scott grew up in Minot, N.D., earned a bachelor's in history from Minot State University, a master's in international relations from Baylor University and his doctorate in American history in 2011 from Loyola University Chicago. For his dissertation, he wrote, "Comics and Conflict: War and Patriotically Themed Comics in American Cultural History from World War II through Operation Iraqi Freedom."
From a successful July 2018 presentation on Marine cartoons of World War I at the Marine Corps History Division in Quantico, Va., his 111-page book, "The Mud and the Mirth," was born.
Read the entire article on the Stars and Stripes web site here:
External Web Site Notice: This page contains information directly presented from an external source. The terms and conditions of this page may not be the same as those of this website. Click here to read the full disclaimer notice for external web sites. Thank you.
Related posts