Philadelphia's Little Italy Responds to Its Motherland's Declaration of War in 1915
Published: 12 December 2022
By Richard N. Juliani
via the Roads to the Great War web site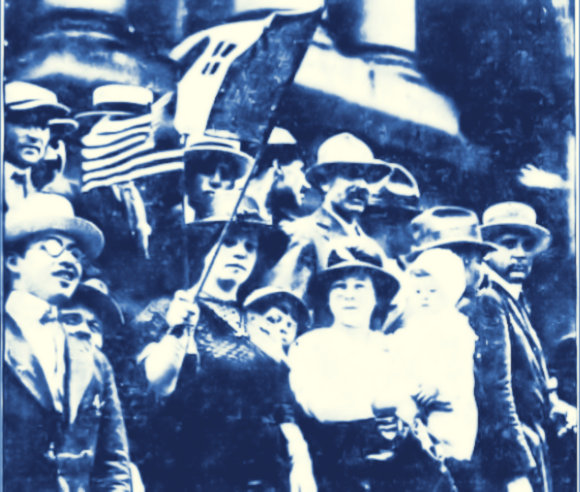 By May 1915, anticipation and apprehension had visibly increased within the Italian colony of Philadelphia.  As the Chamber of Deputies in Rome deliberated the decision that would bring their nation to war, Philadelphia's Italians gathered to discuss what the outcome would mean not only for Italy but themselves as well.  Widely recognizing that war was now inevitable, they awaited the return of Consul General Gaetano Poccardi from meetings at the Italian Embassy in Washington, where he was expected to receive instructions to release an order for the mobilization of reservists. . .
Within the next few days, the "war wave" suddenly swept across Little Italy.  While discussing the likelihood of Italy entering the war, Italians had initially remained unwilling to believe that their homeland would take up arms.  The origins of many immigrants in provinces of the Abruzzi where Socialist sentiments prevailed had also discouraged belief in war.  But with news that Parliament had voted [on May 23rd U.S. time] to authorize the King to declare war being posted at newspaper offices, banks and travel agencies, along with reports that even Socialist deputies had already offered to enlist into military service, dispositions quickly changed.  And like the crowds clamoring for war in cities across Italy, Philadelphia's Italians openly voiced their concerns as they joined into the call for military action against an old adversary.  They gathered at Palumbo's Restaurant on Catharine Street, at the nearby Mascagni Hotel and Restaurant, and on the sidewalks between South Seventh and Ninth Streets, to talk excitedly about recent events.  A small boy, dressed in a Bersaglieri uniform, wearing a hat with green feathers and wielding a wooden sword, elicited repeated outbursts of cheers.  Men and women, old and young, could be heard singing the Royal March, along with the hymns of Mameli and Garibaldi, as people poured onto the streets.  And as the crowds shouted salutes for King Victor Emmanuel III and Queen Elena, photographic images of their royal majesties became visible in the windows of shops and homes.  At least, that was what one reporter claimed to have seen and heard.
If more residents of Little Italy had been able to read the newspapers, their early enthusiasm might have been tempered by accounts of what their native country faced.  As Philadelphia's Italians eagerly plunged toward imagined encounters, more sober assessment of Italy's military capability on actual battlefields reached less optimistic conclusions.  While the call up of various classes of reserves could mobilize nearly 2,000,000 men, the need for arms and ammunition, growing more acute over time, would require aid from other nations.  A detailed appraisal of Italy's strength produced a grim prognosis: "Many an Italian regards the struggle to come with a lamentable lightness. He fails to realize that tens of thousands of his countrymen will leave their bleached bones in the mountain fastnesses of the Austrian Alps before the Italians can hope to see Vienna in subjection, even before they cut off the 'water-rats' at Pola." Anticipating that any attack by Italy had to come through Alpine passes, Austria had already deployed troops and fortified the mountainous salient of the "unredeemed" Trentino. The "bleached bones," as fully literal as it was metaphorical, which captured the core of the argument, was as much a warning to the enthusiastic crowds on the streets of Philadelphia as on any piazza in Italy. But fervently convinced that destiny made victory inevitable, its costs, particularly in young lives, could be ignored—at least for the moment —and no crowd of "patriots" could be dissuaded from marching on the safe streets of an American city.
Read the entire article on the Roads to the Great War web site here:
External Web Site Notice: This page contains information directly presented from an external source. The terms and conditions of this page may not be the same as those of this website. Click here to read the full disclaimer notice for external web sites. Thank you.
Related posts