Orange County Historian to host trip to Europe to pay tribute to the Harlem's Rattlers (the 369th New York Infantry Regiment) in World War I
Published: 31 January 2022
Special to the Doughboy Foundation web site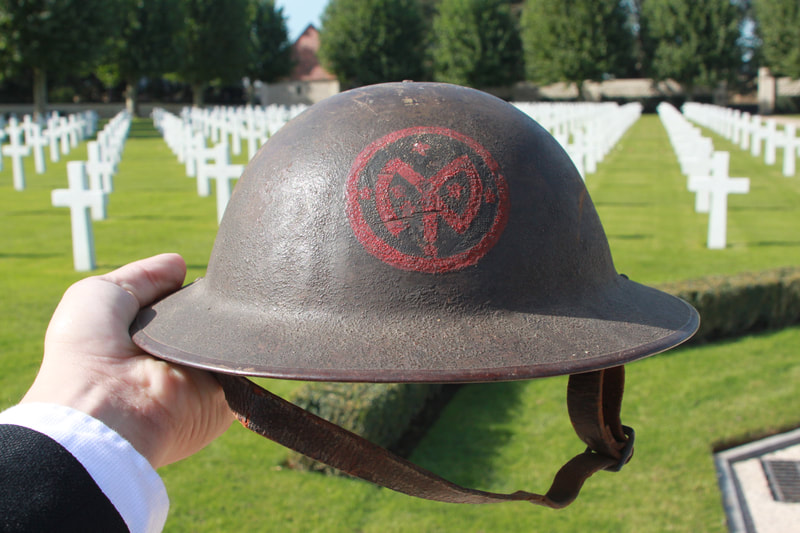 Goshen, N.Y. – Orange County Historian Johanna Yaun will host a trip to Belgium and France next year to honor the soldiers who served in the 369th New York Infantry Regiment. The trip will take place from July 10 -19, 2023 and will explore locations that served as notable backdrops during World War I.
For more information about the trip, log onto https://www.grouptoursite.com/tours/WWI-tour-with-johanna. Space is limited to 45 guests.
Harlem's Rattlers, the 369th New York Infantry Regiment, later nicknamed the Harlem Hellfighters, was a regiment of soldiers of African American descent from New York City, the Hudson Valley and other parts of the county. Major Hamilton Fish, who set up recruiting stations at Newburgh, Middletown and Goshen, N.Y. later stated, that the members of the regiment, "[had] comparatively little camp training on this side, as their assignment to railroad building on the other side, and when this was over, their placing in the frontline trenches to do battle with the enemy…they were placed in the same line as the French troops, and they held their own against all comers." They would spend 191 days in combat, a longer span than any other U.S. unit.
During the journey to Belgium and France, we will pass through Givry-en-Argonne to see where the 369th shed their American weapons and were assigned to French command, visit the battle site of Belleau Wood and the tiny village of Séchault to view the memorial dedicated to the famous Harlem Hellfighters. We will also pay tribute to the fallen soldiers who are buried at the Meuse-Argonne cemetery. Throughout the trip we will discuss important members of the group including the artist Horace Pippin from Goshen, N.Y. and Elmer Earl of Goshen/Middletown, N.Y. who was awarded the Distinguished Service Cross for his heroic actions as well discussing the long-lasting impact of the regimental band led by James Reese Europe.
The group tour will also include visits to sites of significance related to the 107th New York Infantry Regiment. Over 40 soldiers from Orange County perished on September 29th, 1918 during a the breaking of the Hindenburg Line and are buried at the Somme American Cemetery.
Suggested reading: Duty, Honor, Privilege: New York's Silk-Stocking Regiment and the Breaking of the Hindenburg Line by Stephen L. Harris, and Harlem's Rattlers and the Great War: the Undaunted 369th Regiment and the African American Quest for Equality by Jeffrey T. Sammons and John H. Morrow, Jr.
For more information about the trip, contact Johanna Yaun via [email protected] or to sign up for the Orange County History newsletter visit http://www.johannayaun.com/
---
Related posts