New Book Highlights the Incredible Legacy of Syracuse University WWI Veteran William Shemin '1924
Published: 19 October 2022
By Jen Maser
via the Syracuse University News web site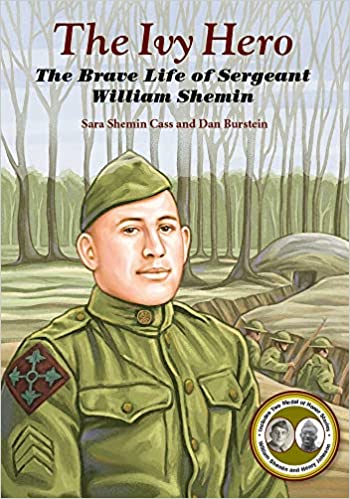 There are a few vivid details Sara Shemin Cass recalls about her grandfather, William Shemin '1924 (1896-1973), from her time growing up in Westchester County, New York, and spending summers with her family upstate in Lake Champlain.
At a strapping and formidable 6-foot 2, William was a "man of the land." He loved working with his hands and being with the earth. While he valued the small things like cleaning your plate or writing with impeccable penmanship, above all, William was fiercely committed to three things: his close-knit family, his beloved country, and his fellow Jewish service members.
As a young child, Sara remembers learning from her grandfather how to properly salute, raise, lower and fold the American flag. While he walked with a limp and would eventually need the assistance of a cane later in life, she remembers William seemingly always out in his fields digging and bringing back fresh fruits and vegetables.
"My grandfather was so patriotic. As the son of Jewish immigrants who fled the pogroms in Russia, he really saw the United States as a safe haven and as a land of opportunity," Sara says. "He was thankful to have a home here, and the freedom to practice his religion. And his military service was a huge point of pride."
While still a teenager, William graduated from the New York State Ranger School (part of the New York State College of Forestry at Syracuse University) in 1914 and would later enlist in the U.S. Army in 1917.
He served his country in World War I as a sergeant in the 4th Infantry Division, known as the "Ivy Division," a play on the Roman numeral IV. Demonstrating extraordinary bravery during a long-fought battle in 1918 near Bazoches, France, William repeatedly put his life on the line, leaving his cover and crossing open space multiple times to rescue the wounded. Despite exposing himself to heavy machine gun and rifle fire, he managed to save three injured comrades. As a result, he was honored with a Distinguished Service Cross, Purple Heart and numerous other awards and clasps—but at the time, was denied the Medal of Honor due to his Jewish faith.
A new book, "The Ivy Hero: The Brave Life of Sergeant William Shemin" (City Point Press, 2022), authored by Sara and her cousin, Dan Burstein, shares William's story—from his earliest years on the Lower East Side to his military service and time at Syracuse University, to the 15-year fight of his daughter Elsie Shemin-Roth '51 for William to be posthumously awarded the Medal of Honor. He is the only known graduate of Syracuse University to have received the distinction.
Read the entire article on the Syracuse University News web site here:
External Web Site Notice: This page contains information directly presented from an external source. The terms and conditions of this page may not be the same as those of this website. Click here to read the full disclaimer notice for external web sites. Thank you.
Related posts