NCSC Reveals the Newest Exhibit in Its Digital Wall of Spies: WWI Espionage in the USA
Published: 27 October 2022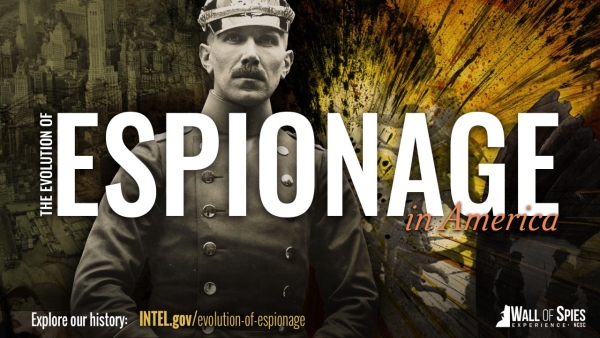 A new digital exhibit unveiled by the National Counterintelligence and Security Center (NCSC) highlights a lesser-known aspect of World War I (WWI) – the sabotage and espionage campaign carried out in the United States by Imperial Germany.
The "Evolution of Espionage in America" exhibit spotlights this secret war on the American home front, which began long before the United States entered WWI.
The exhibit features some of the more audacious attacks in the United States by German and German-American saboteurs during WWI. The sabotage campaign, often directed from the German Embassy in Washington, D.C., targeted hundreds of munitions factories and depots in America, as well as munitions-carrying ships that provided arms to the Allied Powers, with much of the activity occurring in the New York City area.
"A little over a century ago, America's relative peace and tranquility was shattered by a foreign sabotage campaign that unleashed destruction across the country. German intelligence operatives targeted a thriving but vulnerable U.S. manufacturing sector, determined to stem the flow of U.S. munitions to German adversaries in WWI while working to conceal their role in the U.S. sabotage campaign," said Michael J. Orlando, the Senior Official Performing the Duties of the Director of NCSC. "While many of these stories have long been forgotten, they hold valuable lessons as we confront today's challenges."
NCSC's digital exhibit provides details on these and other WWI plots as part of NCSC's ongoing "Evolution of Espionage in America" project, which is designed to inform the broader public about the critical role of espionage throughout our nation's history.
The research, design, and development of the exhibit was a joint effort by NCSC and the Office of Civil Liberties, Privacy, and Transparency (CLPT), which are both components of the Office of the Director of National Intelligence (ODNI). The new exhibit can be found at INTEL – WWI.
The WWI exhibit tells the stories of 17 German and German-American spies and saboteurs, as well as the efforts of American federal law enforcement and New York Police Department bomb squads to counter the sabotage. More than 170 images accompany the narrative and help bring it to life. Below are a couple of examples of what visitors will learn about at the new digital exhibit:
Read the entire article on the NCSC web site here: External Web Site Notice: This page contains information directly presented from an external source. The terms and conditions of this page may not be the same as those of this website. Click here to read the full disclaimer notice for external web sites. Thank you.
Related posts