National Museum of the U.S. Air Force – Updates in the Early Years Gallery
Published: 21 February 2023
By Adam Estes
via the Warbirds News web site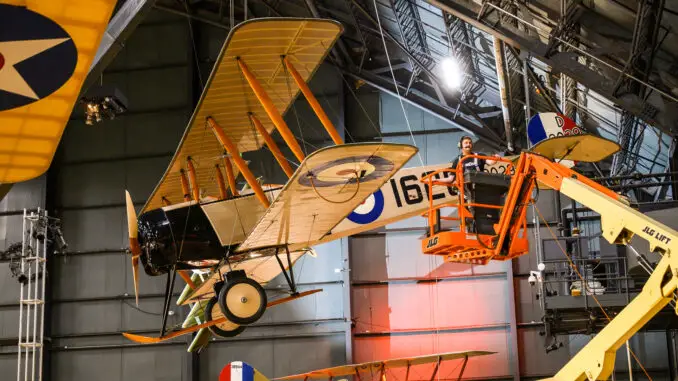 Prompted by centenary commemorations for historic milestones of the First World War in recent years, many museums chose to revamp some of their exhibits celebrating the sacrifices involved in that conflict; the National Museum of the United States Air Force (NMUSAF) in Dayton, Ohio, was no exception.
In addition to the special WWI-related events and exhibits which the NMUSAF held between 2014 and 2018 (with an emphasis on US Army Air Service contributions over the Western Front and aircrew training in the United States) the museum also chose to refurbish several of its WWI-era aircraft, albeit after the main Great War celebrations had concluded. These aircraft included the NMUSAF's Curtiss JN-4D Jenny, Thomas-Morse S-4 Scout and a reproduction Avro 504K. The museum's restoration workshop has only so much capacity, and could not focus exclusively on these projects, so it is only recently that they have finally finished the bulk of what they set out to do.
The Avro 504K was the first aircraft from the Early Years Gallery to enter the restoration queue. The Royal Canadian Air Force's Aircraft Maintenance and Development Unit built up this example between 1966 and 1967, one of three such airframes they constructed and flew as part of the Canadian Centennial celebrations in 1967. While largely a replica, the aircraft does include several original parts, including its Le Rhône 9J rotary engine. The aircraft later joined Canada's national aviation collection at what is now known as the Canada Aviation & Space Museum in Rockcliffe Park near Ottawa, Ontario. The NMUSAF acquired it during 2003. In July 2018, museum personnel moved the 504K reproduction to the restoration hangar, where the aircraft received a new fabric covering following an evaluation of its wood and metal framework. The new fabric bears the same livery which the museum had originally chosen for the aircraft; markings which represent one of the Avro 504Ks that the Third Aviation Instruction Center had in their charge in Issoudun, France during 1918. With its restoration complete, the aircraft returned to the Early Years Gallery in October 2019. Museum staff rigged the reproduction for suspension from the gallery's ceiling, and recently raised it into position, where it now takes the space which the collection's Curtiss JN-4D Jenny once occupied. As of writing, the latter aircraft is entering the final stages of its own restoration. The Jenny came down from its perch in November 2018, as seen in the video below.
Read the entire article and watch video on the Warbirds News web site here:
External Web Site Notice: This page contains information directly presented from an external source. The terms and conditions of this page may not be the same as those of this website. Click here to read the full disclaimer notice for external web sites. Thank you.
Related posts