Monticello, KY Doughboy Statue 100 Year Celebration
By Eric Criswell
via the Z93 / WMKZ radio station (KY) web site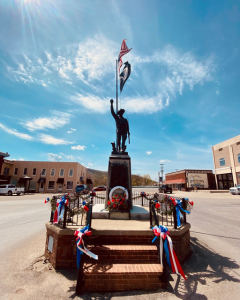 Doughboy Anniversary Celebration held in doors at historic Wayne Theater due to rainy weather
If you were able to attend the 100th-year Celebration of the Doughboy Thursday you walked away with a feeling of pride for our community, respect for our military, and honored to be part of a small town that takes pride in moments like this.
Joyful noise was made by the Waynetonians singing, amazing speakers full of history and heartful memories, and a moment of silence followed by a 21-gun salute and taps being played.
Today was a day that made you not only proud to be a Wayne Countian but proud to be an American.
KET was there today as well and will be airing the program tomorrow night at 6 pm with interviews of locals who hold this iconic figure close to their hearts.
The Doughboy arrived in Monticello on January 19, 1923, and was dedicated on April 8, 1923. It was unveiled by Captain John Tuttle, a prominent local 86-year-old Civil War veteran. Its acquisition was sponsored by American Legion Post No. 134, with funds raised from Legion members and citizens. The sculpture cost $1,500, including freight. The total cost, including the marble base and monument area, required over $2,000 in cash and the donation of many hours of work on the monument by Legion members.
Read the entire article and see photos of the ceremony on the Z93 web site here:
External Web Site Notice: This page contains information directly presented from an external source. The terms and conditions of this page may not be the same as those of this website. Click here to read the full disclaimer notice for external web sites. Thank you.
Related posts