Montgomery, AL businessman, arts supporter Nimrod Frazer dies at 93
By Marty Roney
via The Montgomery Advertiser newspaper (AL) web site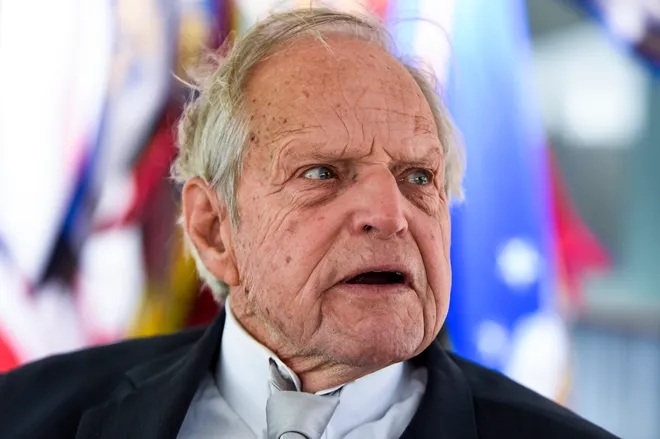 Frazer was responsible for 4 WWI memorials: the one in France at Croix Rouge Farm in Fère en Tardenois to the Rainbow Division, and three in Montgomery including one at Maxwell Air Force base whose inauguration triggered the coming of the Patrouille de France in 2017.
Longtime Montgomery businessman, civic leader and supporter of the military and the arts Nimrod "Rod" Thompson Frazer has died at 93.
So many people in Montgomery and the surrounding area have no idea of the impact Frazer had on their lives, said Anna Buckalew, president and chief executive officer of the Montgomery Chamber of Commerce. Frazer served as chamber chairman in 2000.
"Rod was an icon in business in so many ways and a steadfast believer in this city and a standard bearer for the preservation of our history and military heritage," Buckalew said. "He really had a vision for this city along a river with an incredible history. When he was chairman, we opened a visitors center in Union Station. He saw the strong potential for downtown tourism before it took off.
"And with his business, he was a partner in building the infrastructure that allows us to recruit the industry and jobs that are here. So many people who have jobs in our industries have Rod to thank."
Frazer's impact can be seen today in Montgomery and the state of Alabama. A veteran, he served in combat in Korea and wrote military history books. Frazer commissioned four bronze sculptures from sculptor James Butler of the British Royal Academy. Two of them, called The Rainbow Soldier, honor his father and his fellow soldiers in the 42nd (Rainbow) Division for service in World War I. One stands in France.
He also commissioned a second casting of Daedalus for Maxwell Air Force Base, dedicated to the American fliers in WWI and to his mother, who had worked at Maxwell. His final commission was Return from the Argonne in honor of all soldiers who fought in the Meuse Argonne campaign. The Rainbow Soldier and Return from the Argonne were given to The City of Montgomery and stand in front of Union Station in Montgomery.
Read the entire article on The Montgomery Advertiser web site.
External Web Site Notice: This page contains information directly presented from an external source. The terms and conditions of this page may not be the same as those of this website. Click here to read the full disclaimer notice for external web sites. Thank you.
Related posts