Midway Village Museum presents The Great War: World War I April 29-30
via the Midway Village Museum web site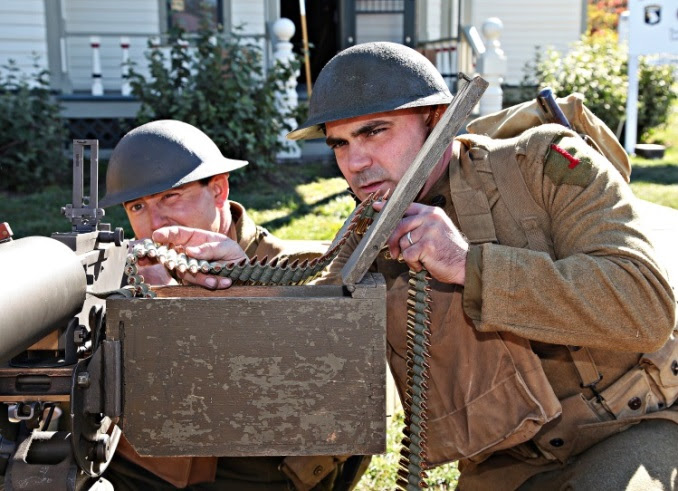 Plan to Join Us on April 29-30 for The Great War: World War I
This two-day public special history event is back for 2023!
Midway Village Museum will host The Great War: World War I, featuring dozens of reenactors portraying soldiers and civilians from the United States and Europe in the museum's historic village.
Visitors engage in this unique historic, immersive experience with the opportunity to enter encampments, tour a reproduction 150-yard trench system, and watch narrated battle reenactments.
Reenactors will be portraying soldiers from the US, Britain, Germany, Austria-Hungary, Russia, Greece, Turkey and even Ireland.
Visit encampments and see WWI uniforms, memorabilia, weapons and equipment including:
a Russian armored car
a replica WWI era tank
Learn about :
Camp Grant
Trench Warfare and tour a replica trench
Blacksmithing
Conscientious Objectors
The American Homefront
The 1918 Influenza Epidemic
Knitting Spies
See military skirmishes reenacted! Shop sales vendors of military collectibles, reproductions and books.
Food vendors include Vintage Goose Café, Pig Minds Brewing Company, Chick fil-A, and Lulu's Roasted Corn.
Check back to midwayvillage.com regularly as the event date nears for up-to-date features and activities.
Admission tickets can also can be purchased upon arrival to the event. This is a Rain or shine event – no refunds. Free parking is available.
Questions? Call 815-397-9112, or visit the Midway Village Museum web site here:
External Web Site Notice: This page contains information directly presented from an external source. The terms and conditions of this page may not be the same as those of this website. Click here to read the full disclaimer notice for external web sites. Thank you.
Related posts