Mesa resident, veteran pens new WWI fiction thriller
Published: 8 February 2023
By Josh Ortega
via the Mesa Tribune newspaper (AZ) web site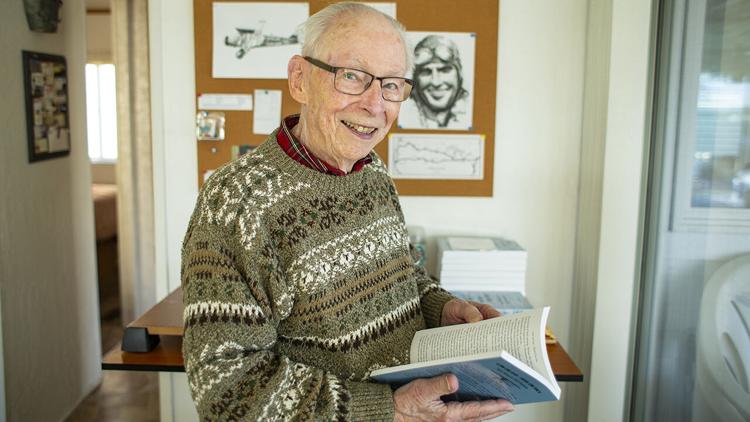 A

t age 92, Navy veteran J.B. Rivard uses cinematic storytelling for his newest book that almost went up in smoke.

"Low on Gas – High on Sky," about record-setting aviator Nick Mamer, partly inspired Rivard's newest novel that debuts on Feb. 7. 

His "Dead Heat to Destiny" follows the lives and loves of three people imperiled in the cataclysm of WWI. 

But both books almost never happened due in part to the 1973 fire at the National Personnel Records Center just outside St. Louis, Missouri, that destroyed 22 million veterans' personal records.

Mamer's grandchildren held onto a trunk full of memorabilia – including thousands of newspaper clippings, photos and documents – that gave a real insight to his military service and then inspired Rivard's novel.

 "As a result of that, we got a real inside feel for this guy, and what he was like, and I'll tell you, it was inspiring because he was a true aviation whiz," Rivard said. "And this in turn inspired me to create the character Will Marra in this latest novel, because he's the same kind of guy."

In "Dead Heat to Destiny," Adrienne Boch deflects the romantic pursuit of Will Marra, an American student in Paris, while her cousin Gregor Steiner completes his training as an Imperial German Navy Officer, both unprepared for the beginning of World War One. 

As the invading German army threatens Paris, Steiner captains a U-boat, Will becomes a pilot in the U.S. Army, and Adrienne's family flees an overrun Belgium. Meanwhile in Central America, a spy is recruited to defeat the United States. 

As the story comes to a head, love hangs in the balance as the characters meet in a thrilling and emotionally riveting clash.

Spanning 1903 to 1917, the novel transports the reader to a variety of locales and – paired with his dedication to historical accuracy and his immersive writing style – Rivard offers readers a front row seat to the early 20th century's most compelling events.

Read the entire article on The Mesa Tribune web site.

External Web Site Notice: This page contains information directly presented from an external source. The terms and conditions of this page may not be the same as those of this website. Click here to read the full disclaimer notice for external web sites. Thank you.
Related posts