Memorial Park's history as site of 1917 Houston Mutiny commemorated in new exhibit
Published: 19 August 2023
By Shawn Arrajj
via the ABC13 KTRK-TV television station (TX) web site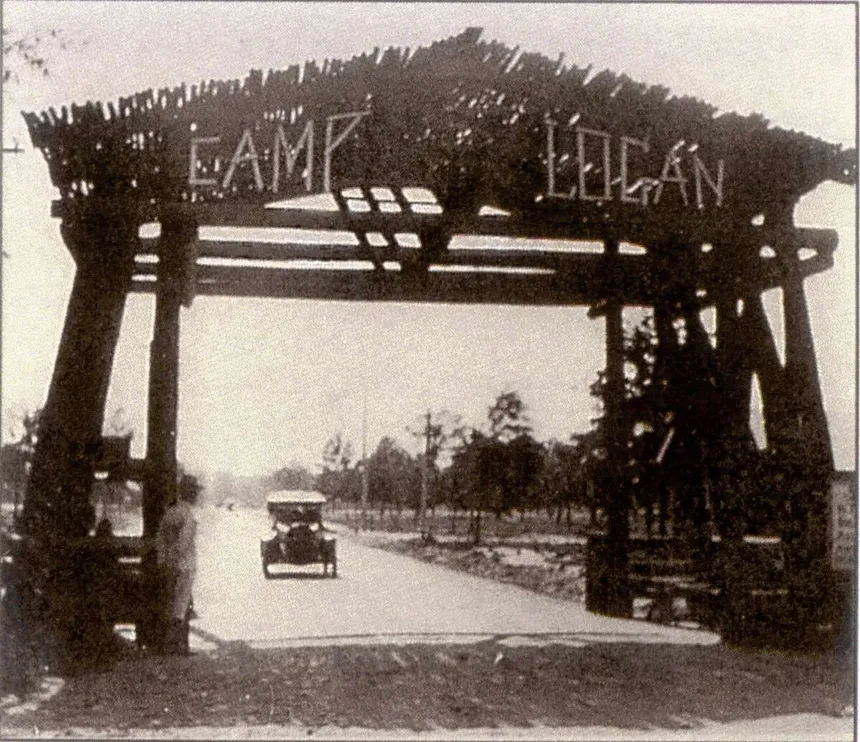 A new historical exhibit coming to Memorial Park will commemorate the anniversary of the 1917 Houston Mutiny and Riots, a World War I-era event that took place prior to the park's establishment when it was still used as a training camp for soldiers.
The area that houses Memorial Park today was once the site of Camp Logan, where more than 70,000 soldiers were trained, according to an Aug. 15 news release from the Memorial Park Conservancy.
In July 1917, soldiers of the 3d Battalion, 24th Infantry Regiment-one of the four "Buffalo Soldier" regiments in the U.S. Army-were ordered to guard the construction of Camp Logan. During this time, the soldiers endured virulent racist abuse under the city's Jim Crow laws, which sparked violence Aug. 23, 1917, according to the release, which cites information obtained from the South Texas College of Law Houston Special Library Collection.
Nineteen people died during the event, and the U.S. Army would later charge 118 soldiers with "mutiny" and murder in three general courts-martial. Another 13 soldiers would be executed after trial with no outside review and within hours of their sentence being approved, which sparked outrage across the U.S.
The events were part of a broader series of racist violence that took place throughout the summer of 1919 and also included the St. Louis Race Massacre, according to the release. The outrage following the executions later resulted in the U.S. Army implementing the first appellate review process for military courts-martial.
To commemorate the event, the Conservancy will debut an interactive audio exhibit Aug. 23, the 106-year anniversary of the mutiny. The project is free to the public and is being brought to Memorial Park in partnership with the Buffalo Soldiers National Museum.
Read the entire article on the ABC13 KTRK-TV web site here:
External Web Site Notice: This page contains information directly presented from an external source. The terms and conditions of this page may not be the same as those of this website. Click here to read the full disclaimer notice for external web sites. Thank you.
Related posts