Lost at sea — KI man hopes late, great-uncle will be honored by U.S. Navy
Published: 12 November 2022
By Doug Bishop
via the Bay Times & Record-Observer newspaper (ND) web site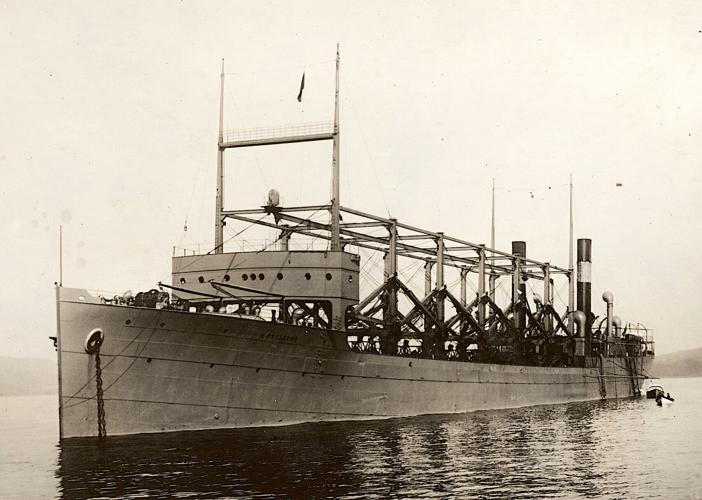 CROWNSVILLE — Marvin Barrash, 69, of Stevensville, has spent a lifetime thinking about his late, great-uncle, U.S. Navy Fireman, 2C Lawrence Merkel of Baltimore City, who died along with his shipmates, in early May 1918, during WWI, when his ship, the U.S.S. Cyclops, a military transport ship, sank in the Caribbean somewhere between Barbados and Puerto Rico. All 309 people aboard the ship apparently died. The Cyclops has never been found.
Since Merkel's body, along with those of his shipmates, were never found, Barrash investigated the history of the U.S.S. Cyclops, especially it's final assignment, attempting to bring a huge load of manganese ore from Brazil to the U.S. Manganese was considered essential for war production. The ship was scheduled to arrive with its cargo in Baltimore. There was extensive front page coverage of the ship's disappearance in the newspapers of that time.
Barrash, a U.S. Army National Guard member of seven years, and who spent 43 years working for the Department of Defense, said, "Prior to the last assignment, the ship had previously carried coal and fuel to ships used during the war. No one knows for sure what happened to the Cyclops. There are several theories about how the Cyclops sank. There has been speculation that the ship was top heavy, and easily rolled from side to side in rough waters. It that happened during a storm with the load of manganese the ship was carrying, the ship could have gone down almost instantly."
The ship's construction began in 1909, and was launched May 7, 1910. It received its first crew on November 7, 1910 (long before WWI began). The U.S. entered WWI in April, 1917. The Cyclops captain was George W. Worley. Lawrence Merkel was among the first 800 Marylanders to enlist in the U.S. Navy to go fight in the war. For doing that, his name was inscribed on a large bronze tablet known as "The Honor Boys" which is posted inside the Maryland state house in Annapolis.
Read the entire article on the Bay Times & Record-Observer web site.
External Web Site Notice: This page contains information directly presented from an external source. The terms and conditions of this page may not be the same as those of this website. Click here to read the full disclaimer notice for external web sites. Thank you.
Related posts