Local WWI Veteran's Gravestone Corrected
Published: 10 November 2022
By Laura Boaggio
via the Daily News-Record newspaper (VA) web site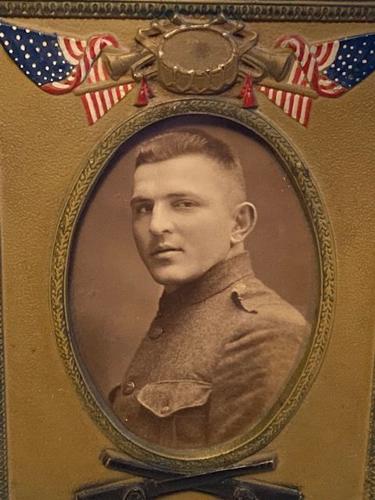 "Someone who dies for their country should have everything correct on their marker as accurate as possible."
Chaz Haywood first saw a photograph of Winton Paul Burtner in a framed portrait at his wife's family home. Haywood asked his wife, "Who's that fella?"
Ginny Haywood responded that the man was her great-uncle, who was killed in June 1918 at the Battle of Belleau in France during World War I.
It wasn't until Haywood started digging around online and pulled up a photograph of Burtner's gravestone, located at Arlington National Cemetery, that he noticed something strange — the marker was labeled Maryland instead of Virginia.
Ginny Haywood said Burner used to live in a family home located on Earmans Loop in Harrisonburg.
"It didn't make sense," Haywood said. "He was born here, raised here."
And this wasn't the only mistake made on his gravestone.
Around 10 years ago, Ginny Haywood said a relative, Philip Huntingdon, filed paperwork with the military to get Burtner's name corrected on his gravestone.
"When you see something like a name misspelled or a date wrong or something like that, there's a little bit of a disconnect," Ginny Haywood said.
It was around 2020 that Chaz Haywood reached out to the military to have corrections made for the location listed on Burtner's gravestone.
After a pause in the correction process, the Haywoods decided to reach out to U.S. Rep. Ben Cline, R-Botetourt, for help.
Read the entire article on the Daily News-Record web site.
External Web Site Notice: This page contains information directly presented from an external source. The terms and conditions of this page may not be the same as those of this website. Click here to read the full disclaimer notice for external web sites. Thank you.
Related posts